AMI
Asia Pacific smart water metering market is expected to make remarkable inroads in the global smart technology space, primarily pertaining to the increasing deployment of smart infrastructure in the utility sector. Lately, there has been a rapid expansion in advanced water metering technology, especially in the developed economies of the Asia Pacific, given that smart water meters consist of a two-way communication or drive-by reads that provides utility companies with an additional connection to be offered to customers. In addition, a smart water meter can better understand water quality and distribution parameters, thereby enabling service reliability and efficiency across the electricity, water/sewer, natural gas, and oil sectors. These factors have naturally led to improved financial benefits to the utility industry as well as enhanced satisfaction for customers, providing a viable base for the expansion of APAC smart water metering market.
China Smart Water Metering Market Size, By Application, 2017 & 2024 (USD Million)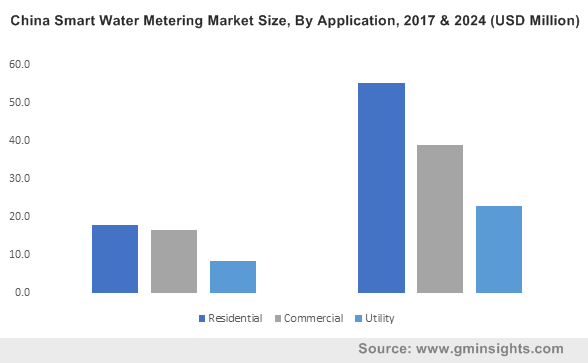 Asia Pacific, being a powerhouse of the manufacturing and construction sectors, has been the recipient of exorbitant electricity bills since quite a while. Indeed, the per capita consumption across some of the Asian nations has been reported to be among the highest across the globe. It is thus rather overt, that the deployment of advanced smart water meters, that have reportedly given water utilities accurate and timely data that better help serve their customers and also offer additional tactics for conserving water, thereby lowering water bills, is extremely crucial for the continent.
Due to rapid advancement in the water metering industry, utilities across the APAC now use cloud based IoT and analytics driven smart water metering solutions that potentially help end-use industries and consumers in making better decisions towards the conservation of natural resources. In addition, big data technology has also led to managing industry related challenges such as identify performance related issues, improving customer service and recording trends of events, eventually enabling industries experience the benefits of reduced operating costs and better prioritized infrastructure investments. Powered by the robust deployment of big data enabled water metering solutions, APAC smart water metering market is projected to experience substantial momentum ahead.
Get a Sample Copy of this Report:@ https://www.gminsights.com/request-sample/detail/2904
APAC smart water metering market to accrue hefty proceeds from China
China is expected to emerge as one of the most pivotal revenue grounds for APAC smart water metering market, particularly on account of the extreme water scarcity and the poor quality of water in the country. The issue is vividly being addressed by the government by means of active promotional programs in tandem with the implementation of digital devices.
Reports claim that Chinese government, in its 12th & 13th five-year plans, has launched the smart city investment hub to propel the deployment of smart water and electricity meters across the country. Powered by the support of government authorities, APAC smart water metering market size from China is anticipated to grow at a CAGR of 15% over 2018-2024.
India to be a prominent revenue pocket for APAC smart water metering market
APAC smart water metering market size from India is projected to grow at an appreciable pace in the ensuing years, driven by the  aging commercial infrastructure in the nation. Not to mention, India, for the longest time, has been remnant of leakage issues and non-revenue water loss. That said, the ever-expanding populace of the country is also responsible for the growth of the regional industry. Sources predict that by 2050, almost 70% of total Indian population will reside in its urban cities. With shrinking water reservoirs, low rainfall, and high population density, fulfilling the region's water requirement has emerged as quite a challenge. In the face of this ordeal, the adoption of smart water meters equipped with sensors that deliver real time monitoring could help identify and reduce water leakages and water wastage considerably.
The APAC smart water metering industry size from India will also be aided by a plethora of supportive regulations that intent to replace existing meters in the country. The Indian government's smart city programs are also expected to help propel the deployment of smart water meters in the nation. Indeed, in 2015, the government of India, under its Smart Cities Mission, declared that it plans to set up 100 smart cities, in the consideration of which the cabinet has already given the green signal for a funding of USD 13 billion. Aided by a favorable regulatory spectrum and the proposed large-scale urbanization, APAC smart water metering market size from India is anticipated to increase in the years to come.
Major players across the Asia Pacific smart water metering market include Schneider Electric, Honeywell Elster, Siemens, Badger Meter, Aclara Technologies, Diehl Metering, Arad Group, Kamstrup Metering Solutions, Sensus and Jiangxi Sanchuan. The adoption of tactics such as collaboration and acquisitions with leading tech providers has helped industry players provide high-grade and cost effective smart metering technologies to customers. Powered by the deployment of cloud IoT, big data and analytics, the issues surrounding water bill management and unwanted leak avoidance are being suitably dealt with, in the emerging APAC economies. As per reliable estimates, APAC smart water metering market size, by the end of 2014, is likely to cross an annual installation of 6 million units.
Author Name : Mateen Dalal
Smart electric meter market over the recent years has garnered considerable traction in the sustainable ecosphere. Endowed with improved connectivity & advanced features, smart meter technology has emerged as a viable alternative to conventional meters. Indeed, this extraordinary evolution from the conventional models to their smart counterparts has ensured a lucrative growth for the overall electricity sector, which is rather a focal vertical for the energy saving rollouts. Evidence in support of the aforesaid is smart electric meter market valuation of over USD 7 billion in 2017, led chiefly by favorable governmental initiatives and sustainable energy mix protocols. A report by Global Market Insights, Inc., claims that with further awareness regarding climate change & GHG emissions, the  worldwide smart electric meter market is likely to surpass annual installations of 190 million units by 2024.
UK Smart Electric Meter Market Size, By Application 2015-2024 (Million units)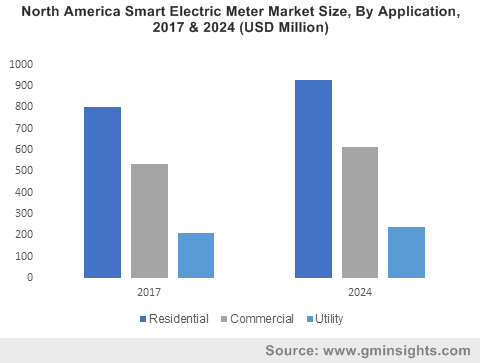 Elaborating further, the recent years have remarkably witnessed smart meters penetrating the utilities domain mainly on the cusp of rapid growth in industrial IoT. The technology adoption has ensured a more accurate real-time power diagnostics and billing. These meters are enabling consumers to optimally utilize the energy, further reducing the overall carbon emissions. In fact, analysts foresee a mass acceptance of this environment-friendly and cost-effective technology in the electric domain, which will have a pronounced impact on the global smart electric meter market trends.
Particularizing on the geographical landscape, the year 2017 witnessed China accounting for more than 70% of smart electric meter market share across the Asia Pacific belt. Reports claim that the country's 12th and 13th five-year plan that includes development of smart cities has generated extensive demand for effective water and electricity monitoring, which in turn have positioned China into a favorable business ground for smart electric meter market players. Add to it, the Asian Development Bank's support in smart meter roll-outs in line with the adoption of smart-grid & sustainable technologies have phenomenally impacted the regional trends.
Get a Sample Copy of this Report @ https://www.gminsights.com/request-sample/detail/1503

India has also recently entered the global smart-meter deployment race and has emerged as the next lucrative growth ground for potential stakeholders. The country has recently grabbed the headlines with its move to replace 40 lakh conventional electric meters with the smart ones. The move is headed by the UPPCL (Uttar Pradesh Power Corporation) in association with EESL (Energy Efficiency Services) that aims to address the state's energy efficiency woes and ensure customer convenience. Another important move fortifying the regional smart electric meter market share is of the Bihar state energy department, that aims to install 200,000 prepaid smart electricity meters in cities including Ara, Patna, Bhagalpur, and Aurangabad. Experts deem the Rs 800 crore (approximately USD 117 million) project to offer fair investment opportunities, in turn categorizing India into one of the profitable avenues for expansion of the smart electric meter industry.
Smart electric meter deployment trends are also catching up in other prominent regions including Germany, UK, the United States, and Canada. As per estimates, U.S. smart electric meter industry share is set to cross the billion-dollar mark by 2024. As per a EIA report in 2015, smart meter deployment across the residential sector in the U.S. stood at 40%.  Also, the regional electric utilities registered an AMI (Advanced metering infrastructure) installations of over 70 million till 2016. UK on other hand is targets to deploy 50 million smart meters in 30 million households by 2020, with an aim to lower the domestic energy consumption by 5 to 15%.
Analyzing these geographical trends, it comes as no surprise the smart electric meter industry will bring about a revolution of sorts in the utility sector. Analysts deem that this business sphere is all set to witness steep growth with more than 190 nations taking part in the UN Climate Change Conference to reduce emissions. Toshiba's Landis+Gyr, Silver Spring Networks, Siemens, Itron, and Schneider are some of the prominent smart electric meter providers working in tandem with system integrators like IBM and Accenture to further take the global smart electric meter market size to new heights of expansion.
Author Name :Ojaswita Kutepatil
The shifting trends toward a smart power infrastructure have been considerably influencing smart metering systems industry share. Of late, analog meters are being extensively replaced with digital meters in various residential, commercial, and industrial sectors, owing to their precise energy measuring capability. Taking into account the growing deployment rate and popularity of smart meters, many giants in smart metering systems market are focusing on brainstorming and manufacturing advanced versions of the existing products. In addition, it would be prudent to mention that regional government bodies have a pivotal role to play when it comes to the progress of smart metering systems industry.
UK Smart Metering Systems Market Size, By Application, 2017 & 2024 (Million Units)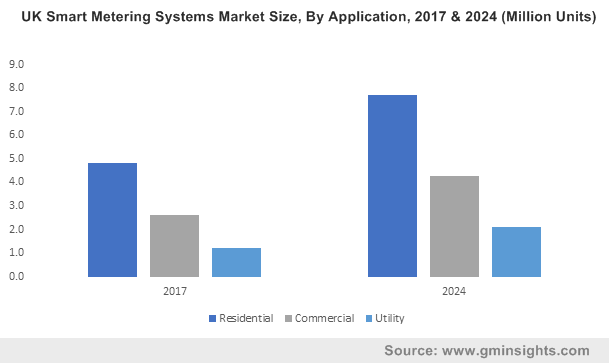 The competitive hierarchy of smart metering systems market is inclusive of quite a few prominent big shots that have been adopting strategies like facility expansions and acquisitions to consolidate their space in this business and explore the plethora of opportunities that this vertical offers. Long-term contract agreements between product suppliers and manufacturers is also rather commonplace, in order to meet the ever-rising demand for these products. Merely a few days ago, a smart metering technology company, intelliHUB acquired the digital smart meter subsidiary of Origin Energy Australia Origin for USD 267 million. The acquisition comes on the heels of the fact that the rate of smart meter installations across South Australia, Tasmania, Queensland, and New South Wales (NSW) has been growing commendably, providing novel opportunities for APAC smart metering systems market firms. In fact, estimates claim that in the aforementioned regions, the number of smart meter installations have hit 400,000.
Get a Sample Copy of this Report @ https://www.gminsights.com/request-sample/detail/1180
Sustainable energy consumption has lately emerged as a new trend across the globe for reducing energy consumption. In fact, governments of various countries are encouraging the masses to adopt smart utilities for commercial as well as residential purposes. For instance, the European Union (EU) has decided to replace more or less 80% of the electricity meters with smart meters by the end of 2020. In this regard, in 2016, the EU circulated a proposal requesting all consumers to deploy smart meters. Based on the guidelines provided by the European commission, many EU countries have already implemented the policies, quite overtly propelling smart metering systems industry size. The shifting trends toward the development of smart cities are also poised to augment product demand, thereby impelling smart metering systems industry share in the ensuing years.
It would be imperative to state that with the rise in the deployment of smart metering systems, concerns regarding data security have also increased. In order to resolve the same, smart metering systems industry contributors have been ensuring that advanced security features are integrated in smart metering system utilities. The advent of new technologies such as augmented reality, IoT, and cloud computing have made it easier for this to happen, as their deployment for data security has been stimulating software enabled smart metering systems market share.
The launch of advanced products integrated with different types of functionality has been giving rise to potential new opportunities for smart metering systems market firms. Additionally, a slew of investments are pouring in for product development and facility expansions, further influencing the industry growth. Powered by favorable governmental strategies related to the deployment of these products across residential as well as commercial sectors, smart metering systems market size is expected to cross USD 21 billion by 2024.
Author Name : Sunil Hebbalkar