Analyzer
Automotive diagnostic scan tools market share is gaining immense traction owing to integration of modern electronic components and various innovative scanning devices being introduced for different purposes. With the advent of technological advancements and supportive policies to curb emissions, maintaining vehicle performance and ensuring maximum fuel efficiency has become more important than before. Car manufacturers, dealers, and suppliers are looking to add more electrical systems in vehicles to boost connectivity and ease performance adjustment, offering notable prospects for automotive diagnostic scan tools industry players.
Canada Automotive Diagnostic Scan Tools Market Revenue, By Vehicle Type, 2018 & 2025 (USD Million)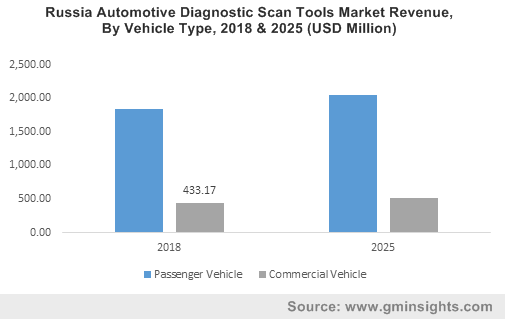 Major automakers have incorporated a vast amount of technologies into their products due to the shifting preferences of consumers from manual functions to hi-tech automated systems. Such transformations will ultimately advance automotive diagnostic methods for easily identifying problems and provide easy to operate interface to the consumers. More than 95.6 million vehicles had been produced in 2018 worldwide and the tremendous population of vehicles on road today will ensure consistent demand for automotive diagnostic scan tools industry over the years to come.
Today's automobiles represent the most sophisticated electronic control units that are responsible for functions like infotainment control, automatic gear shifts and fuel injection. ECUs are also enabling advanced driver assistance technologies that meet consumer needs for convenience, comfort, and safety as well as improve performance and energy efficiency. Adoption of these technologies makes diagnosis of system failures or malfunction more difficult. Addressing these challenges, OEMs as well as their hardware and software partners will consistently seek developments in ECU diagnosis solutions, propelling automotive diagnostic scan tools market size.
Get a Sample Copy of this Report:@ https://www.gminsights.com/request-sample/detail/3262
Over the past decade, the transportation sector has changed considerably owing to social trends, various converging market forces, and quick availability of auto and business finance. Apparently, the most transformative process which holds the potential to revamp the experiences for transport agencies and commuters is the inception of the Mobility-as-a-Service (MaaS). Automotive diagnostic scan tools will become a vital part of every-day operations of mobility providers as increasing penetration of MaaS is boosting the demand for commercial vehicles, which in turn will escalate diagnostic requirements.
Increasing potential for diagnostic tools can be understood from the fact that a developing country like India is anticipated to be a frontrunner in shared mobility by 2030. It projected that shared miles in the country will account for 35% of all the miles travelled in India and will further rise to 50% by 2040. Increase of shared mobility simultaneously gives rise to vehicle sales and strong customer demand for self-driving taxis in low-density locations. This network will open up a huge market for professional and DIY diagnostic scan tools, augmenting the regional industry trends.
Asia Pacific automotive diagnostic scan tools industry size is slated to witness a CAGR of around 8% over the projected period. The automotive manufacturing sector in the region is growing rapidly owing to an active push towards infrastructural development and growing industrialization, which has created plethora of opportunities for automobile OEMs. In addition, local OEMs are thriving with their in-depth understanding of regional consumers. Strategic advantages could certainly influence the ability of OEMs to place vital diagnostic solutions across dealerships, reinforcing automotive diagnostic scan tools market outlook over the forecast period.
The Bosch Group and Byton, an electric vehicle developer, had signed a strategic cooperation agreement in 2018 which was fully focused on driver assistance systems, braking systems, and powertrain technology. This partnership aimed to provide safe and steadfast electric mobility solutions to the consumers. Indeed, such collaborations will certainly benefit enterprises and represent the opportunities for automotive diagnostic scan tools industry from electric vehicle applications in the future.
Several prominent companies and manufacturers are augmenting the scope of their business by unveiling unique product portfolios equipped with the latest technologies. DG Technologies, Actia Group, Snap-on Incorporated, General Technologies Corp, Autel Intelligent Technology, BMW, Bosch Automotive Service Solutions, Delphi Automotive, Volkswagen and Volvo Group are some of the key players operating in the industry. Global Market Insights, Inc. has projected that automotive diagnostic scan tools market size will reach USD $49 billion by 2025.
Author Name : Deeksha Pant
The new market research report by Global Market Insights Inc. estimates global Blood Gas And Electrolyte Analyzers Market size to grow at 4.8% from 2016 to 2023.
Strong product availability has helped improve the care of critically ill patients. Growing demand for highly developed sleek handheld devices with short turnaround time has led to the development of sleek, handy and more compact point-of-care devices. The report encapsulates market trends & issues, market profiling, growth drivers and inhibitors, opportunities and challenges, current industry overview, product innovations.
View a summary of the "Blood Gas and Electrolyte Analyzers Market Size, Industry Analysis Report" @ https://www.gminsights.com/industry-analysis/blood-gas-and-electrolyte-analyzers-market
The report covers:
Current market scenario
Market Estimates and Forecasts for 2016-2023
Segmentation on the basis of product, region and competitive landscape
Product Segments Analyzed in Volume and Value Terms
Growing geriatric population, prevalence of chronic end-of-life diseases, leading to high number of hospital admissions and increasing demand for health parameter monitoring devices are key factors contributing to blood gas and electrolyte analyzers market growth. A consequent rise in demand for high throughput and integrated systems is also likely to drive the market growth. Growing aging population is another key factor to impel the growth.
North America led by the U.S. blood gas and electrolyte analyzers market share dominates the regional market globally. APAC region driven by India and China tops the fastest growing market both in terms of volume and value. The region is projected to exhibit growth over 6.6% during the forecast period. The increase is attributed to rapidly developing healthcare infrastructure and changing dynamics of healthcare consumption. Furthermore, growing awareness about health is likely to influence the market growth positively.
LATAM market size is projected to witness a surge in coming years.
High impact factors rendering growth are
Advent of new technology
Prevalence of chronic diseases
Growing number of patients in critical care and emergency departments,
Increasing demand for blood gas testing
Rising healthcare expenditure levels
Growing preference shift towards point-of-care testing
Emergence of multi-parameter monitoring devices
Portable analyzers lead the product segment and are likely to continue dominance over the predicted time frame. Combined analyzers are expected to witness significant growth at 5.5% CAGR over the next few years.
Get a Sample Copy of this Report @ https://www.gminsights.com/request-sample/detail/428
Major participants in global blood gas and electrolyte analyzers market include:
Cerner Corporation
Roche Diagnostics
Alera Medical
Siemens Healthcare
Instrumentation Laboratories, Inc.
Merger and acquisition and strategic collaboration are the key strategy to focus on to achieve product portfolio expansion and maintain leading position.
Author Name : Dhananjay Punekar