Animal Feed Enzymes Market
The growth graph of Animal Feed Enzymes Market is forecast to display an upward trend over the coming years, owing to the growing consumer preference for nutritious diet along with a substantial rise in the disposable incomes across emerging economies. According to the OECD (Organization for Economic Co-operation and Development), the average meat intake per individual across the globe is nearly 75 pounds in a year. This figure is an indication of the growing product popularity across the world. Global Market Insights, Inc., claims that animal feed enzymes industry revenue, which was estimated at USD 1.1 billion in 2016, is anticipated to surpass USD 2 billion by 2024.
U.S. Animal Feed Enzymes Market Size, By Livestock, 2016 & 2024 (Kilotons)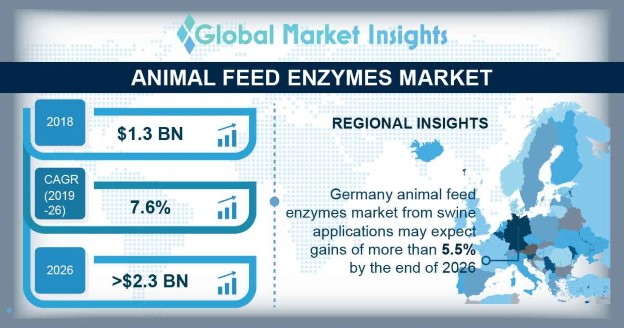 Having said that, Europe animal feed enzymes industry is expected to hit USD 860 million by 2024, growing at a rate of more than 6% over the period of 2017-2024. The heavy presence of key business players in the region along with a robust distribution network is projected to drive the industry landscape. There has also been a significant increase in livestock production and pork consumption across some of the nations in the continent, which are expected to further contribute towards the business revenue. Spain, Russia, and Germany are foreseen to be the major revenue drivers.
Asia Pacific animal feed enzymes market, which collected a revenue of more than USD 220 million in 2016, is predicted to grow at the highest rate of 7.5% over the coming timeline. Growing consciousness regarding livestock diseases coupled with the rapidly flourishing dairy sector is predicted to contribute considerably toward the regional share. High intake of meat across the regions such as China, Japan, and India are expected to push the product demand.
Get a Sample Copy of this Report@ https://www.gminsights.com/request-sample/detail/1824
Implementation of strict legislations regarding food safety along with the high presence of the livestock manufacturing firms is expected to beneficially impact U.S. animal feed enzymes industry landscape. The U.S. consumes a major chunk of fodder additives such as emulsifiers and vitamins, thereby influencing the regional market.
Carbohydrase, non-starch polysaccharides, phytase, and protease are the major animal feed enzyme products. Phytase animal feed enzymes industry, which contributed more than 40% of the overall market share in 2016, is slated to record a cumulative growth rate of nearly 6.5% over the years ahead. High phosphorous content in phytase enhances the digestion and reproductive capabilities of the livestock, leading to escalating demand for the product.
Protease animal feed enzymes industry, which produced a revenue of more than USD 150 million in 2015, is projected to witness a tremendous surge over the next few years. Escalating product need as a protein digesting molecule will fuel the industry growth.
Animal feed enzymes of high nutritional value have the ability to improve the livestock health, owing to which they are fed to ruminants, pigs, and fish. Aquaculture animal feed enzymes market is forecast to grow at an annual rate of 7.5% over the coming timeline. The ever-expanding fishing sector is expected to favorably influence the business space. Poultry, which produced a revenue of more than USD 500 million in 2016, is expected to make substantial contributions toward animal feed enzymes market share. Rising demand for eggs and meat owing to its high protein contents will steer the industry growth.
Ruminants are expected to generate a revenue of more than USD 450 million by 2024 and will significantly influence animal feed enzymes market growth over the coming years. Escalating product requirement for increasing the protein proportion to improve the animal health will spur the industry size. Swine animal feed enzymes industry is anticipated to register a CAGR of more than 6.5% over the span of the next few years, owing to the large intake of pork in the countries such as Indonesia, China, and Thailand.
Animal feed enzymes are available in liquid and dry forms. Exceptional ability to maintain the temperature at the time of fodder processing along with enhanced enzyme activity will spur dry animal feed enzymes market size in the future, which contributed over 75% towards the overall industry size in 2016.
Key participants of animal feed enzymes market include Novozymes, D.D. Williamson & Company Incorporation, Foodchem International Corporation, Flavorchem Corporation, Nutralliance Incorporation, Chr. Hansen A/S, Koninklijke DSM N.V., and BioExtract.
Author Name : Dhananjay Punekar
Being one of the most diverse and essential component of numerous end-use industries, the enzymes market has witnessed unprecedented growth over the past decade. The importance of these chemical elements during the production of distinct household and industrial products, particularly for achieving desired properties, has fueled their demand. Increased consumption of food and beverage products, cosmetics, pharmaceuticals and several home care products have propelled the enzymes market revenues.
U.S. Enzymes Market, By Product, 2017 & 2024 (USD Million)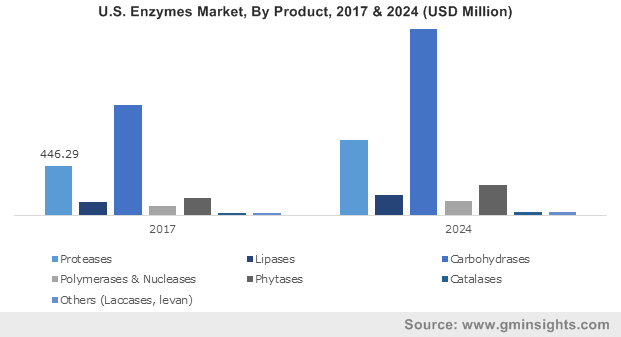 Consistent development of efficient production methods and innovative applications to cater to various unmet needs of emerging industries, such as biofuels, has endorsed the advantages of these catalysts. Rising disposable incomes around the world will certainly stimulate manufacturers to expand production capacities, inadvertently benefiting the enzymes industry.
Owing to the continuous shift in consumer and lifestyle trends, coupled with the rapidly growing population, processed and packaged food products have gained enormous momentum in recent years. Food and beverage industry has contributed significant proceeds towards the enzymes market, as more sustainable production of bakery, confectionary and several dairy products is made possible by these catalysts. Even the brewery industry represents a potentially large consumer of enzymes, which can easily be added to any prevalent brewing processes followed by producers. Subsequently, unwavering demand for popular processed food products and drinks will warrant a reliable customer base for the enzymes industry.
Unveiling the scope of the global enzymes market with respect to the food and beverage segment
Dairy
Worldwide, a broad range of dairy products are consumed by all age groups, from liquid products to cheese, butter and other solid consumables. Enzymes have found their way into the production processes of distinct cheese products such as cheddar, mozzarella and several other kinds. With dairy products being used in innumerable food recipes, the segment indicates a sustainable target for players in the enzymes industry. It was reported that more than US$45 billion worth of dairy products had been exported globally in 2017, where Germany itself had registered nearly US$4.4 worth of cheese exports in the year.
Baked food
Manufacturing baked consumables such as cookies and snacks involve notable investments in facility and equipment, making it an imperative for the producer to control the cost and the quality of products. Enzymes can help to speed up the baking process while keeping the costs low, along with enabling more sustainable production of snacks and biscuits. As reported by the Association for Packaging and Processing Technologies, the snacks segment is expected to display the fastest growth among all the packaged food segments over the coming years.
Get a Sample Copy of this Report:@ https://www.gminsights.com/request-sample/detail/743
Brewing
Enzymes, including proteases and amylases, are deployed in the brewery industry for simpler and faster production of beer and to ensure a more sustainable brewing process. Providing a more cost-friendly production method by allowing to replace malt with unmalted barley, the enzymes industry has garnered significant pull from the beer industry. In 2017 nearly 1.95 billion hectoliters of beer was produced globally, confirming the massive demand potential for the enzymes market, supported by the presence of several large producers in the U.S., Germany, China as well as the existence of hundreds of emerging players across every region.
Fruit Juices
The juice industry utilizes enzymes for enhancing the yield of fruit pulp and clarification of the juices, in addition to being a natural way of intensifying the color of the juice being produced and packed. The catalysts also allow for a shorter production period and help to retain the nutritional value, flavor, simultaneously extending the shelf-life and lowering the risk of loss due to microbial decomposition. The lucrative nature of the segment can be determined from the fact that in the U.S., almost 971 million cases of juice and juice drinks are reportedly sold each year.
All in all, with vast populations living in regions such as Asia, Europe and South America, one can surmise the tremendous future for the food and beverage industry, derived from evolving consumption habits and growing international trade. Combining this with continuous growth of other application segments, the enzymes market is projected to accrue more than US$10 billion in remunerations by 2024. Key industry participants include BASF, Novozymes, Danisco and DSM, who are perpetually looking towards advance technologies for offering more improved enzyme products.
Author Name : Pankaj Singh