Animation
Rising demand for real-time rendering has created an expansive growth scope for 3D rendering market which has witnessed increasing investment in recent times. As technology advances and companies become increasingly digitalized, the complexity of the business process will also increase. To address these challenges, organizations are looking for more efficient, faster, and real-time rendering solutions, adding impetus to 3D rendering market trends.
Canada 3D Rendering Market Revenue, By Component, 2018 & 2025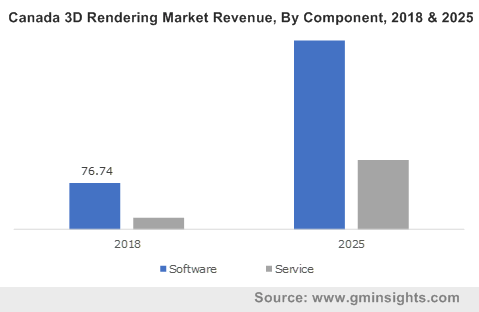 3D rendering is the process of fabricating an image based on 3D data stored within a computer. As the construction and real estate industries are witnessing exponential growth, real-time visualization and use of 3D rendering software have become integral part of the designing process, offering huge efficiencies to architects and engineers.
Architects, engineers and designers use architectural rendering software to transform their ideas into real-time design by exploring multiple options. In architecture, three dimensional images offer architects to review interiors and construction decisions before starting the project. This results in dramatically lowering costs, as expensive changes do not have to be made during the construction stage. Customers also get to view what the building may look like, including its interiors, before investing in it.
The healthcare sector is increasingly adopting advanced technologies, such as 3D medical animation and virtual reality, to create patient-specific surgical replication and personalized 3D printed medical devices. 3D medical modeling helps to understand the functions of body parts, the support of veins to muscles, internal organs and their functions, and its consistent adoption is also likely to fuel 3D rendering industry outlook.
Get a Sample Copy of this Report:@ https://www.gminsights.com/request-sample/detail/3953
3D biomedical image rendering provides a clear view of the complex process of the human body. By gathering data via 3D imaging from patients and integrating it with virtual rendering technologies, doctors are enabled to pre-plan the best approach for surgical intervention. 3D modeling platforms will allow medical scientists to generate high-quality models from complex data sets and integrate scan data with CAD product designs for research purposes and teaching. Deploying 3D rendering services in healthcare will positively impact the 3D rendering market share. As per Global Market Insights, 3D rendering market size from healthcare will grow at a CAGR of 25% over 2019-2025.
The gaming industry is expanding rapidly due to high internet connectivity and growing popularity of virtual reality games to bring immersive experiences to users. A trend has been witnessed where major gaming companies are investing both time and capital to provide their customers with the most absorbing gaming experience. Mounting developments in interactive graphics software, especially in the gaming industry will augment 3D rendering market share.
3D rendering industry is also gaining significant momentum from the growth of automotive industry and rapid growth of emerging economies of Asia Pacific region. In Asia Pacific automotive industry, 3D product modeling has gained momentum, as it helps to minimize the time associated with end-product development and allows designers to visualize the product and test it thoroughly before it is built. The mounting growth of the automotive industry has resulted in the adoption of 3D visualization and rendering services to save both time and cost associated with the manufacturing of a vehicle parts.
Asia Pacific 3D rendering market is estimated to grow at a CAGR of over 24% over 2019-2025. Rapidly expanding urbanization and industrialization will play crucial roles in the growth of 3D rendering industry.
Product marketing has been revolutionized by the advent of 3D rendering services. Marketers of hardware products have always been placed in a challenging position when it came to communicating functions, value and differentiators of their product. The challenge has been almost insurmountable for startups due to their tight marketing budgets. However, 3D rendering of products has helped in greater engagement of consumers on limited marketing expenditure. 3D rendering industry is expected to record 23% CAGR over 2019-2025 from product design & modeling segment.
As 3D visualization is becoming a crucial part in various industries including architecture, IT, healthcare, gaming, etc., 3D rendering market is projected to witness exponential growth over the forecast timeline.
Author Name : Aakriti Kakkar
One of the most swiftly progressing verticals of the global smart technologies space, light field market has come a long way since its inception owing to pathbreaking inventions to capture the 3D and 4D light fields. The gradually rising popularity of light field cameras across several business verticals such as industrial, healthcare, retail, entertainment and media, and automotive has certainly propelled the product demand in the recent years. As light field cameras are equipped with thousands of micro lenses between the main lens and the sensor, it lets the user shoot first and focus later which ensures an improved image resolution. Numerous companies appear proactive in adopting light field technology and are developing high-grade products – a factor that would widen the horizon of light field industry in the years ahead.
Japan light field market, by application, 2017 & 2024 (USD Million)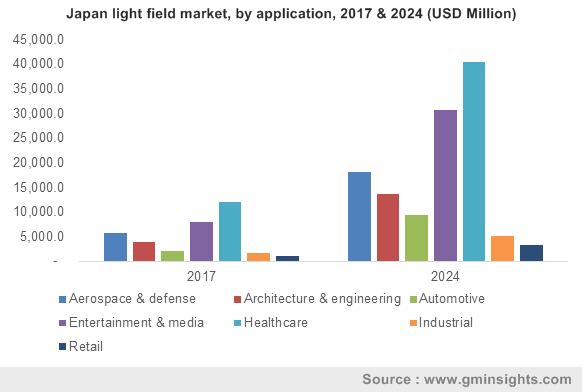 Adoption of light field technology in the entertainment and media sector is altering the contours of the overall industry
One of the major factors that has provided a significant impetus to the light field industry progression is the rapidly expanding entertainment and media application of this technology. In fact, as per a research report prepared by Global Market Insights, Inc., the entertainment and media application apportioned more than 25 percent of the total revenue share of the industry in 2017 – impressive statistics that signify the extensive future growth of this application. This technology is being increasingly incorporated in numerous entertainment medias including amusement parks, theaters, gaming, museums, and apps, predominantly through virtual reality (VR) headsets. Apparently, the light field technology has seemingly demonstrated a new level of how convincing VR experiences can be.
A recent instance lending credibility to the claims of using light field technology effectively in VR is of Google, who has been experimenting with this technology over the last few years. In 2018, the search engine giant released a free application, named 'Welcome to Light Fields', mainly to exhibit the potential of this technology. Notably, the application has been made available on Steam VR for Windows, Oculus Rift, and HTC Vive VR headsets.
Get a Sample Copy of this Report:@ https://www.gminsights.com/request-sample/detail/2664
Speaking along similar lines, it has also been recently reported that Google acquired Silicon Valley-based imaging startup Lytro, which is best known for developing the world's first light field camera and has numerous patents to its name in VR-related imaging technology. With this acquisition, it is being speculated that the company might be looking to strengthen either its VR gaming initiatives or its camera offering in Pixel phones, which is quite unsurprising as prominent players operating in gaming sector are improving customer experience by integrating VR into games. Considering the impact of the top of the line acquisitions and innovative products being unveiled by major tech magnates like Google, the entertainment and media application of the light field industry is undoubtedly set to escalate at an exceptional pace in the ensuing years.
Latin America to emerge as a major revenue pocket for light field industry
Anticipated to register an annual growth rate of more than 16 percent over the forecast timeframe, Latin America has gradually emerged as a lucrative investment avenue for potential stakeholders. The rapidly expanding retail sector in Latin American nations has compelled the major retailers to adopt and leverage new technologies to gain competitive advantage. In this regard, it would be prudent to mention that the proliferation of AR and VR technologies has been assisting the retail sector to improve customer experience and brand engagement ratio.
The brick-and-mortar retail outlets are launching interactive experience devices such as mixed reality headsets to enhance the shopping experience, essentially fueling the growth potential of Latin America light field industry. In addition to the retail sector, the light field technology is being increasingly utilized across other business verticals such as automotive and hospitality, which would, in turn, strengthen the product demand in the times to come.
With light field technology being increasingly used in imaging solution processes along the likes of layout & animation, image construction, 3D scanning, 3D rendering, and 3D mapping and modeling, it remains to be seen how this technology impacts the future of mixed-reality products. However, it is quite imperative to mention that the growth trajectory of light field market appears highly-promising owing to the technology's potential to drastically change the product portfolio of several business verticals. For the record, the commercialization scale of the global light field industry is slated to surpass USD 1.5 billion by 2024.
Author Name : Saif Ali Bepari