Apparel
Over the last few years, body worn insect repellent market has emerged as a lucrative yet challenging investment avenue, against the backdrop where bug-borne diseases has turned out to be a global concern. According to the World Health Organization, Malaria is prevalent across 91 countries worldwide, placing around 40% of the global population at risk. Reports indicate that nearly 500 million populace suffers from Malaria every year, leading to almost 2.7 million casualties annually. It is important to mention that of all the disease transmitting insects, mosquito is claimed to be one of the greatest menaces, spreading catastrophic Malaria, Dengue, Yellow Fever, etc. In fact, Dengue is deemed to be world's calamitous mosquito borne virus disease, with nearly 2500 million people at risk of infection globally. These statistics depict the increasing pressure on body worn insect repellent market players to come up with state- of-the-art solutions that would somewhat mitigate this afflictive situation.
U.S Body Worn Insect Repellent Oils & Creams Market, 2017 & 2024 (Kilo Tons)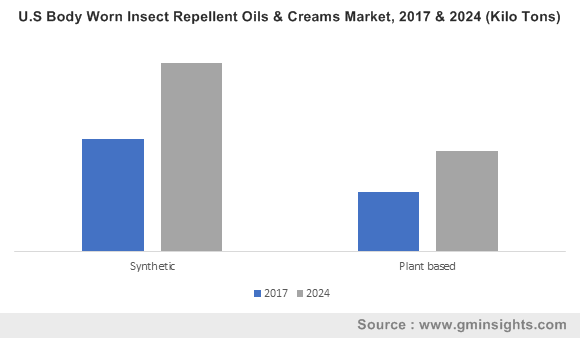 North America is a prominent regional share contender having held almost 30% of the global share in 2017, courtesy – the widespread American and Canadian populace vulnerable to flea borne diseases. According to a latest survey by Centers for Disease Control and Prevention, tick and mosquito borne diseases in U.S. had almost tripled over the period of 2004-2016. For the records, in the year 2004, the country witnessed 27,388 cases of vector borne diseases, while in 2016, the figure reportedly got upscaled to 96,075 cases. The astoundingly mammoth prevalence has undeniably generated a massive demand for advanced insect repellents, substantially impelling the U.S. body worn insect repellent market size.
Regional government has a big role to play in proliferating the industry trends. The U.S. Environmental Protection Agency, for instance, has taken significant initiatives to promote DEET utilization in manufacturing of bug repellent products, especially for those that are sold locally. This in consequence, has created an increased awareness among the Americans regarding insect borne diseases and also about the specific preventive measures that need to be taken to combat the issue. Considering these aforementioned aspects, it would not be incorrect to state that U.S. would continue its dominance in North America body worn insect repellent industry, given that the country boasts of an extensive product array as of now due to the presence of large distribution channel.
Get a Sample Copy of this Report@ https://www.gminsights.com/request-sample/detail/1807
Spreading vector borne diseases such as Dengue, West Nile, Chikungunya, and Malaria ironically are the prime factors fueling body worn insect repellent market demand.  A host of new body worn mosquito control repellants has been widely discussed, tested and put forth in the market over the recent years, however, whether these repellents prove to be fruitful in long term is yet to be determined. The extensive research activities that body worn insect repellent industry is presently characterized by mainly focusses on utilizing more of Lemon Eucalyptus and DEET in various bug repellents products. These days, sprays have become a universal choice among consumers, subject to its ease of application on skin as well as in apparels. Companies have been highly focusing on extending their product landscape along with distribution channel expansion, which in essence is impacting the overall body worn insect repellant industry share.
Grounding on numerous experimental studies, experts have apparently come down to a conclusion that repellent technology represent a fundamental aspect in mosquito borne disease transmission prohibition, which is why body worn insect repellent market is gaining a substantial traction in terms of revenue streams. However, some unhealthy instances such as breathing trouble, skin irritation, and unpleasant odor on its application, somehow act as a stumbling block in the industry growth. Nonetheless, driven by the continuous developments on product front in tandem with a highly supportive regulatory framework, body worn insect repellent industry is set to record a revenue of USD 1 billion by 2024.
Author Name : Satarupa De
The rising requirement for fabrics that are longer-lasting, need less maintenance, and are comfortable have chiefly propelled blended fibers market. It goes without saying that the apparel and home furnishing sectors are the key arenas driving blended fibers industry growth. As the population of millennials with disposable incomes is on a rise, coupled with consumer interest for luxurious lifestyles, it is estimated that blended fibers market size will exceed 18 million tons by 2024 in terms of volume.
North America Blended Fibers Market, By Application, 2016 & 2024, (Kilo tons)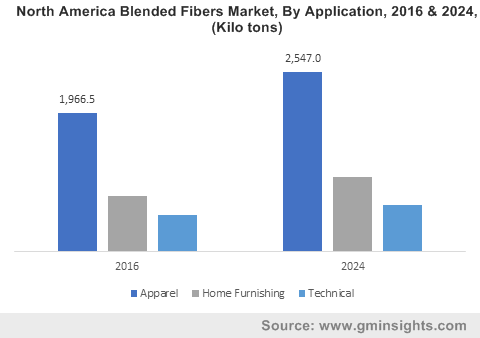 Blended fibers market had first come to evolve with the idea of 'blending' fibers to yield a fabric with unique properties that is much more comfortable than the original and is less taxing to care for. In this regard, a blend of cotton and polyester is one such fabric that has gained mass prominence in this business space. In 2016, cotton/polyester based blended fibers industry size was valued at USD 7 billion. It is noteworthy to mention that cotton is a natural fiber that is comfortable to wear but wrinkles easily. On the other hand, polyester is a synthetic fiber that is not very comfortable to wear but when mixed with cotton keeps the fabric from wrinkling. Blended fibers industry outlook thus depends on the identifying a balanced amalgamation of fibers that complement each other to produce the perfect fabric. A nylon/wool blend is another popular fabric that drives blended fibers market share, as nylon is resilient while wool adds to the warmth and softness of the garment. This blend is deemed perfect for winter wear apparels owing to its enhanced durability and quick-drying quality, thus marking significance in blended fibers market.
Get a Sample Copy of this Report:@ https://www.gminsights.com/request-sample/detail/1718
With the evolving fashion industry and the rising proportion of fashion consciousness consumers, it is important for the apparel industry to delve deeper in blended fibers market to brainstorm new mixed fabrics that will lend a certain charm and appeal to an ordinary piece of clothing. For instance, a draped cardigan made of a warm fabric like Merino can give the warmth of a cardigan but will not drape as beautifully as required. If the same cardigan is made of viscose it may be draped beautifully but will miss out on providing warmth. Ultimately, if a blended fabric like Merino Modal is used, i.e., 60% Merino and 40% Modal, the cardigan will have a beautiful drape while being essentially warm. Driven by appealing challenges such as the aforementioned, blended fibers market share from apparel applications is estimated to witness a CAGR of 3% over 2017-2024.
The home furnishing arena is another lucrative end-use domain of this business vertical. In 2016, 20% of the market valuation was attributed to the home furnishing industry. Rising urbanization, expanding real estate and easy access to home décor items made available through online portals like Amazon, Alibaba and eBay have thus provided a lucrative boost to the home furnishing domain, inherently fueling blended fibers market size.
Asia Pacific is one of pivotal regional markets for blended fibers industry. In fact, APAC market is forecast to surpass 9 billion tons by 2024, driven by the fact that several countries like China, India, Indonesia and Taiwan have expanded their apparel and home décor export base with a surge in demand of handcrafted products and government encouragement campaigns to boost indigenous production. Blended fibers industry has also been expanding in North America – estimates claim the continent to have contributed to 20% of the overall industry share in 2016. The introduction of nanotechnology as well as growing demands for new fabrics in the apparel and home furnishing industries has fueled North America industry trends.
The surging demand for better textile products with enhanced durability and a rather appealing visual appearance will drive blended fibers market. Blending expensive fibers with inexpensive ones offsets the production cost of the overall fabric as well, thus making the fabric more affordable and reliable. Growing economies comprising highly an urbanized, millennial population with disposable incomes will lead to a massive growth in the home furnishing and apparel sectors, thus directly stimulating blended fibers market size.
Author Name : Paroma Bhattacharya