Application
Pertaining to the rising demand for latex binders in the paper, construction, and adhesives sectors, styrene butadiene latex market is expected to carve out a rather profitable growth path in the ensuing years. The product is essentially a type of emulsion polymer that has a higher crosslink density and tensile strength as compared to styrene butadiene rubber. It also exhibits other favorable qualities such as increased flexibility, resistance to oils and abrasion, lower water permeability and dimensional stability, subject to which styrene butadiene latex industry outlook is forecast to witness majorly lucrative transformations over 2017-2024. Global Market Insights, Inc., states that styrene butadiene latex market share will grow at a CAGR of 3.5% between 2017 and 2024 and will exceed USD 9 billion in the forecast time span.
U.S. styrene butadiene latex market size, by application, 2013 – 2024 (USD Million)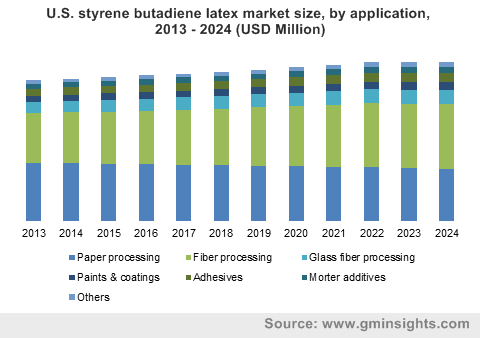 The paper processing sector stands as one of the major application arenas of styrene butadiene latex market. The product is extensively used for paper coating in magazines, newspapers, flyers, catalogues and paper food cartons, given that it enhances the pigment's binding ability and makes the end-product brighter, stiffer, glossier and water resistant. With rising global demands for innovative paper products and the exponential growth of the paper industry, styrene butadiene latex industry is likely to witness considerable growth prospects.
The upward trajectory of the styrene butadiene latex market can also be credited to the product's deployment in the carpet industry. Styrene butadiene latex has a greater crosslink density – that is to say, when stretched and released, it recovers closer to its original shape, making it ideal for back coating on tufted carpets. In fact, these are the most common type of carpets found in America – over 90% of all commercial carpets in the region are tufted. In consequence, this would also majorly impact the sales graph of North America SB latex industry share from the carpet sector, additionally driven by the product's high pigment binding capability and strength.
Get a Sample Copy of this Report:@ https://www.gminsights.com/request-sample/detail/2199
It is prudent to note that styrene butadiene latex also finds usage as a popular polymer for mortar additives. With the robust growth in the construction industry, the demand for cement and mortar has considerably increased. Adding styrene butadiene latex in mortar gives it greater compressive and tensile strength, increases its adhesive power, and makes it water resistant. In essence, the growth of the construction industry will have a direct impact on the expansion of styrene butadiene latex market. Additionally, it is important to state that the product is also used in glass fiber processing as a binder for surface treatment and is added in paints and coatings to impart a superior look to the end-product. Thus, it would not be incorrect to declare that the massive application portfolio of styrene butadiene would heavily augment the revenue graph of SB latex market.
Currently, Asia Pacific leads global styrene butadiene latex market in terms of volume and revenue, pertaining to the growing carpet and paper sectors in the region. China for instance, was the largest producer and consumer of paper in 2016, which has majorly influenced the regional styrene butadiene latex market. Concurrently, owing to the highly developed paper domain, Europe also holds a considerable share in styrene butadiene latex industry.
The frequent fluctuation of raw material prices is one of the major obstacles in the consistent growth of the styrene butadiene latex market. Styrene and butadiene are both downstream derivatives of crude oil – thus, the fluctuating price of crude oil would have quite an impact on styrene butadiene latex industry. In order to eliminate this uncertainty regarding raw material price, the key players of the styrene butadiene latex industry are investing largely in advanced R&D programs to find other methods of styrene butadiene latex production to stabilize the price trends. These commendable efforts, in tandem with the expansion of the niche end-users of SB latex, are certain to propel styrene butadiene latex market in the years ahead.
Author Name : Paroma Bhattacharya
High temperature insulation market, one of the most pivotal sub-spheres of polymers and advanced materials sector, is likely to witness lucrative growth prospects over the forthcoming years. The surging demand for insulating materials across abundant end-use domains such as cement, aluminum, petrochemical, ceramics, iron and steel, and glass among others has left a tremendous influence on the overall high temperature insulation industry share, which commanded a total valuation of USD 3 billion in 2016. Furthermore, the rising inclination toward utilizing temperature intensive applications which assist in energy conservation, heat transfer reduction, safeguarding materials from thermal impairment and need to constrain the detrimental impacts of global warming by lowering greenhouse gas emissions has, in turn, necessitated the incorporation of high temperature insulation products in these high temperature applications and systems. Apparently, as a consequence of all the aforementioned considerations, high temperature insulation market size is bound to expand at a rapid over the estimated time span.
Asia Pacific High Temperature Insulation Market Size, by Product, 2013 – 2024 (USD Million)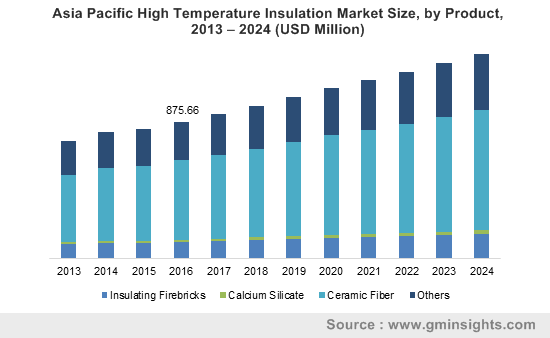 A spurt in research and development ventures to enthuse high temperature insulation industry size:
While elaborating further, it is quite imperative to take note of the recent research and development activities being undertaken across the globe to augment the existing product spectrum of high temperature insulation market. The persistent efforts being made by research scholars and scientists across various universities and research labs have provided a renewed vigor in accelerating the pace of product upgradation and enhancement, which has accentuated the swift expansion of high temperature insulation industry size worldwide. Following are a few instances of the vigorous initiatives pertaining to R&D in the worldwide high temperature insulation market:
In an endeavor to pinpoint a solution to store surplus renewable power generated when the requirement is low, a team of researchers from the Massachusetts Institute of Technology (MIT) rediscovered the potential of firebricks. These firebricks are said to tolerate high temperatures and preserve heat for a longer duration when insulated. In what is being described as a reinvention of an ancient technology that can be utilized in the modern-era, the researchers have dubbed their latest finding as FIRES (Firebrick Resistance-heated Energy Storage). Reportedly, this new firebrick thermal storage system is said to be about fortieth of the cost of prevailing practice of storing electricity on a pumped hydroelectric system or in batteries. Furthermore, the researchers have been claimed that FIRES could increment the minimum price of electricity in the utility sector, which at present can depreciate to zero at times of low demand and high production. The team has set the deadline as 2020 to create large-scale firebrick storage systems to test it in real time conditions.
If recent news reports are to be believed, the researchers at Tsinghua University in collaboration with subject experts of Brown University have developed a sponge-like material that has an extraordinary resilience to withstand a temperature of 800 degree Celsius and can rebound after straining up to 50 percent. It is being said that such the existing ceramic insulation materials are bereft of such unique properties. Furthermore, the material has demonstrated an excellent ability for high temperature insulation which makes it one of the most ideal products of high temperature insulation market.
Get a Sample Copy of this Report:@ https://www.gminsights.com/request-sample/detail/1770
Speaking in the similar context, the leading high temperature insulation market players, of late, have been increasingly aiming to revamp the existing product landscape by launching upgraded and advanced versions of their insulation products. Concurrently, it would be prudent to mention the instance of the leading high temperature insulation industry giant, Johns Manville Industrial Insulation Group (IIG) which has recently unveiled the first water resistant, high temperature calcium silicate insulation material in North America, named as Thermo-1200™. The latest product, an updated variant of its predecessor, Thermo-12 Gold, would reportedly prove to be of immense benefit to the contractors as it will provide them with more time to install the insulation. Thermo-1200™ would prevent water to soak into the insulation and shield the freshly installed insulation from rainfall or moisture. Apparently, it goes without saying that such innovative products equipped with better performance and quality shall compel the other high temperature insulation industry players to release enhanced versions of their products which would, in turn, impel the high temperature insulation market size progression. As per a recent study collated by Global Market Insights, Inc., high temperature insulation market is estimated to surpass a valuation of USD 4 billion by 2024.
Author Name : Saif Ali Bepari