Aquaculture
Increasing demand for poultry in countries like the U.S. and China will drive the global refined functional carbohydrates market size in the upcoming years. Lately, people are becoming aware about animal health and the impact of consuming the meat from infected animals, and are subsequently feeding animals with highly nutritious food. A great number of animals are commonly afflicted UTI, which can also be cured with RFCs. Rising need to consume healthy animal products and enhance overall feed efficiency will augment refined functional carbohydrates market to witness growth.
U.S. MOS Refined Functional Carbohydrates Market Size, By Application, 2018 & 2025, (Tons)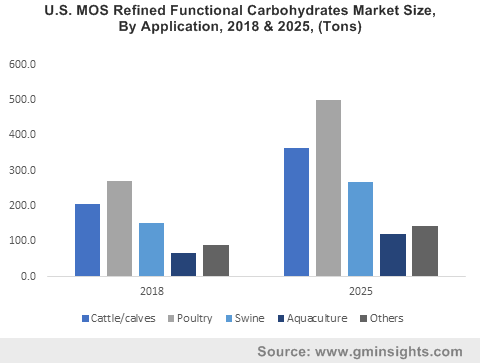 Rising need for processed food is likely to drive the industry trends. As a rule, grains, vegetables, meats and fish are unpalatable in their raw state, and some foods, such as cassava, are dangerous if eaten without processing. Processing can also help to decrease food waste by extending shelf life of the food. Without processing, as much as 50 to 60 percent of fresh food can be lost between harvest and consumption.
India's export of processed food was INR 31,111.90 Crores in FY 2018-19, including the share of products like mango pulp, processed vegetables, cereals, and many more. The preference for processed food is likely to grow in the years ahead and increasing production will provide a push to refined functional carbohydrates market share.
Owing to the beneficial use of RFC for improving egg production efficiency, the demand for refined functional carbohydrates is likely to increase across layer industry. Substantial benefits of RFCs for animals will prove to be a major growth driver of refined functional carbohydrates industry landscape.
RFCs act as a prebiotic and boost the growth of healthy bacteria in the gut. Lack of enough prebiotics can result in health issues such as devitalized immune system, lower pH and a poor digestive system. Rising demand to maintain good gut health in animals will drive RFC industry share.
Get a Sample Copy of this Report:@ https://www.gminsights.com/request-sample/detail/3442
D-mannose is one of the most vita RFC products. Being an essential glyconutrient, D-mannose is widely used to cure UTI in animals. Apparently, almost 14 percent of dogs experience a UTI during their lifetime, with an increased risk observed in spayed females.
The most common cause of UTI is a rising infection affecting normal bacteria present in the distal urogenital tract. Around 42% of dogs with hyperadrenocorticism, diabetes mellitus, or both diseases have been observed with concurrent UTI. Increasing demand of D-mannose across animal feed industry will drive refined functional carbohydrates industry over the years ahead. As per estimates, D-mannose refined functional carbohydrates market size is likely to witness a consumption of more than 3 kilo tons by 2025.
Regionally speaking, China D-mannose refined functional carbohydrates market demand is expected to grow at a CAGR of more than 4% over 2019-2025, owing to the momentous progress in the consumption of poultry and pork meat in the country. In 2019, chicken meat production in China is predicted to reach 12.65 million metric tons, representing 8 percent year-on-year growth.
China is currently the world's second largest poultry consumer after the United States. Despite the highly pathogenic avian influenza (HPAI) ban on key suppliers of animal products, owing to the unmet domestic demands in 2019, Chinese imports are anticipated to grow by 32 percent to 450,000 MT. Rising demand for meat has led to the increased requirement of proper diets for animals which will accelerate the growth graph of refined functional carbohydrates industry.
The U.S. is another region that is expected to contribute considerably to refined functional carbohydrates market. As per estimates, U.S. beta glucan refined functional carbohydrates market size may register a CAGR of 6% over 2019-2025, owing to the fact that the incorporation of beta glucan in animal feed helps to cure various problems such as high cholesterol and skin irritation. The country has also been reported as the world's largest poultry consumer, which will further augment regional industry growth.
The rapidly increasing demand for poultry food worldwide will significantly push the growth graph of refined functional carbohydrates industry. Growing requirement of processed food will also have a major impact on the expansion of refined functional carbohydrates market. According to a research report by the Global Market Insights Inc., refined functional carbohydrates market size may exceed $300 million by the year 2025.
Author Name : Anchal Solanki
Animal feed additives market, which is strongly characterized by the presence of established industry giants, has been witnessing phenomenal advancements in terms of feed quality and product diversification, over the recent years. The substantial upsurge in livestock breeding and rising global meat consumption are some of the important factors that have prompted companies to come up with new products and make considerable investments in R&D activities. Speaking along similar lines, it would be important to take note of an instance that provides a significant testimony to the aforesaid statements. PMI Nutritional Additives, a renowned animal feed additives industry player, recently made it to the headlines with the launch of Peloton, its novel yeast feed additive, which claims to maintain the rumen health and digestive efficacy of livestock. For the record, PMI's unique Peloton yeast feed additive is a thermal stable blend of the company's Fulfill feed additive and Saccharomyces cerevisiae yeast. This activated yeast has also been reported to facilitate microbial protein flow from rumen to lower gastral track, thus supporting the gut health and integrity. In effect, analysts deemed the introduction of Peloton to reinforce PMI's portfolio and further expand its research scope in launching such innovative products. Amidst a backdrop of such documented instances of product innovations & enhancements, it is quite overt for the animal feed additives industry to witness remarkable growth avenues in the ensuing years.
China Animal Feed Additives Market Size, By Product, 2016 & 2024 (USD Million)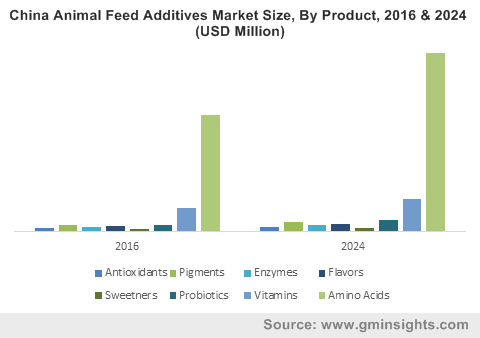 Estimates claim that there has been a subsequent surge in the demand for meat and meat products at a global level. In fact, statistical reports state that the global average meat consumption has surged to 41.90 kg per person per year, which is majorly driven by the poultry demand. As animal feed additives play a vital role in poultry diets to improve the overall integrity of lower gastrointestinal track of the livestock, the rising meat consumption is in turn working in the favor of expanding business scenarios. In fact, industry experts anticipate the animal feed additives market from the poultry application to generate a remarkable valuation of over USD 10 billion by 2024.
Speaking of the growing demand for nutritional additives from the poultry application, China is one of the most lucrative growth grounds for animal feed additives industry expansion. High livestock production and extensive animal breeding in the region has been identified as the two crucial factors fortifying the regional animal feed additives market demand. The increasing meat consumption in China has, in turn, prompted the regional industry players to incorporate additives for maintaining the quality of meat. According to reports, the meat consumption in China exceeded 50 kilo tons in 2016 and is further anticipated to surpass 60 kilo tons by 2024. With other countries, such as India, Malaysia, Thailand, and Indonesia following similar growth patterns with regard to massive livestock production, the animal feed additives market, across the Asia Pacific belt, is certain to account for above-average growth. It has been reported that in the year 2016, Asia Pacific witnessed highest feed production capacity, surpassing 350 million tons.
Get a Sample Copy of this Report:@  https://www.gminsights.com/request-sample/detail/144
It would be prudent to mention that the growing consumer demand across these continents have expanded the scope for animal feed additives market participants and have encouraged them to expand their global reach. According to research study, new product launches and M&As have been the most adopted strategy by the animal feed additives industry players. For instance, in a bid to strengthen its position in the global animal feed additives market, Coppens International recently unveiled its product breakthrough for aquatic feed additives. Elaborating further on this move, the company introduced several new algae products that replaced the use of fish oil and inorganic trace minerals in the additives. The new product range introduced by the company in the regional animal feed additives market comprised ForPlus, Bio-Mos, Bioplex, and Actigen, which are designed to strengthen gut integrity, promote good bacteria, and optimize overall fish health.
Taking into account the aforementioned trends, it is quite overt that the animal feed additives industry dynamics are majorly influenced by the rising meat consumption leading to further rise in livestock production. Moreover, given the changing food habits, it wouldn't be wrong to say that animal feed additives market size surge has been synonymous to growing appetite for protein rich food. However, this is not the only reason that is promoting the use of additives in animal feed. Industry experts also illustrates the growing concerns of disease outbreaks in livestock to be a crucial factor for incorporating additives in animal fodder. Bird flu, animal foot & mouth infections, and swine flu are some of the popular plagues that have taken the world by storm in past decade. In this scenario, proper care of animal health, while incorporating nutrition & antibiotics in animal feed, has been prevalent worldwide, in turn impacting animal healthcare market. Given the pivotal role that these additives play in boosting animal health and eliminating the toxic effect, the expansion of animal feed additives industry has been quite imperative. Indeed, there is satisfactory data that supports the growing animal feed additives market share, which according to reports, is claimed to attain a global valuation of USD 25 billion by 2024.
Author Name : Ojaswita Kutepatil