Artillery
One of most profound factors driving the growth of India aerospace & defense market is the extensive number of initiatives undertaken by the Indian government. The government's decision taken a few years before, for instance, to increase the FDI limit from 26% to 49% in the defense sector, is remnant of the fact that India aerospace & defense market represents a vital sector in the national landscape. The raise in the FDI limit had apparently permitted foreign institutional investors, venture capital organizations, and foreign portfolio investors to make maximum capital investments up to 24% in defense firms thereon. With the ample availability of a highly-skilled workforce and the 'Make in India' initiative gaining greater prominence across the country, Indian firms are expected to play a vital role in the aerospace & defense value chain comprising research & development, training, production, quality control, and maintenance, which would further transform India aerospace & defense industry outlook.
India aerospace & defense market size, by air solution, 2016 & 2024 (USD Million)

India procures nearly 70% of its defense supplies via imports, through which the country has earned the tag of being one of the largest importers of aerospace & defense equipment across the globe. The remainder of the 30% of defense equipment is supplied by the private sector, the Ordnance Factory Board (OFB), and the Defense Public Sector Undertakings (DPSU). A substantial number of components for the defense materials are also procured from the overseas. The Indian government has been undertaking tremendous efforts to overcome this drawback through its 'Make in India' Program, which may certainly have a remarkable impact on India aerospace & defense market trends in the ensuing years.
Get a Sample Copy of this Report@ https://www.gminsights.com/request-sample/detail/2113
In a recent move that has been anticipated to spur India aerospace & defense industry share, Sika Interplant Systems Limited, a Bangalore-based engineering firm providing services to marine, aerospace, and automotive sectors, has formed a joint venture with a UK-based aviation & aerospace giant, Aerotek Aviation Engineering Limited, in India. The strategic partnership is a part of 'Make in India' initiative and will offer services such as production and MRO (maintenance, repair, and overhaul) of landing gears for airplanes and helicopters.  A recent unveiling of new aerospace & defense component manufacturing facility by Nucon Aerospace, a key participant across marine, ground & aerospace sector, in Hyderabad is also expected to provide a boost to the 'Make in India' program, which would ultimately stimulate India aerospace & defense market size.
Aerospace & defense equipment are extensively used by the Indian military, navy, and the air force.  Thus, the large -scale production of aircrafts, communication equipment, helicopters, and missiles in the country have contributed significantly toward augmenting India aerospace & defense market revenue. In addition, the escalating need for increasing the aircraft fleet size with the inclusion of supporting aircrafts such as rescue, emergency & repair, and medic aircrafts have been forecast to impel the business landscape.
Major firms such as Bharat Dynamics Limited, Tata Advanced Systems Limited, Hindustan Aeronautics Limited, Lockheed Martin, BAE Systems AB, and Tata Power Strategic Engineering Division have been attempting to innovate numerous equipment, in a bid to substantially augment India aerospace & defense market share. Aided by substantial government support, India aerospace & defense industry size has been forecast to surpass USD 23 billion by 2024.
Author Name : Dhananjay Punekar
The rising terrorist activities across the world has led to high demand for arms & ammunition, thereby fueling global ammunition market size. Stringent measures introduced by the governments of various countries to fight against terrorism and heated inter-continental disputes will also spur the industry trends.  According to Global Market Insights, Inc., "Worldwide ammunition market was worth USD 9 billion in 2015 and is slated to record an annual growth of 2.8% over the period of 2016 to 2025." The growing investments in R&D activities to enhance and develop technologically advanced weaponry coupled with the concerns regarding national security will bring forth lucrative avenues for the global ammunition industry.
Europe Ammunition Market size, by caliber, 2014, 2015 & 2025 (USD Billion)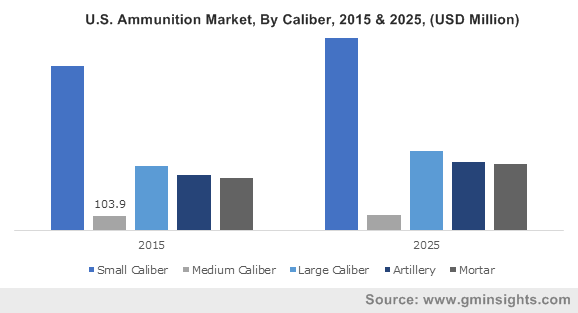 Taking into consideration the products, ammunition industry is segmented into artillery, medium caliber, mortar, large caliber, and small caliber. Mortar ammunition market will exhibit an annual growth rate of around 3.3% over the period of 2016 to 2025, owing to its surging usage in low firing pressure arms. Small caliber ammo is predicted to record notable growth rate over the coming eight years. The product demand can be attributed to its high demand across civil and military applications, owing to its ease of application and easy availability.
Get a Sample Copy of this Report @ https://www.gminsights.com/request-sample/detail/261
Defense and civil sectors are the two prominent application areas of ammunition market. Defense sector led the application landscape in 2015 and will continue its dominance by occupying more than 50% of the total industry share over the period of 2016 to 2025. Ammunition market size in civil applications will also grow lucratively over the coming timeframe, driven by its high demand in Law enforcement, self-defense, entertainment, and sports activities.
Considering the regional landscape, North America ammunition market is slated to exhibit noticeable growth rate over the coming eight years. U.S. will cover more than 90% of the North America regional share by the end of 2025. The growth can be attributed to its increasing requirement for shooting sports and the defense sector.
Asia Pacific ammunition industry accounted for 28% of the global revenue in 2015 and will register a lucrative growth rate over the period of 2016 to 2025, owing to the huge allocation of financial budgets for the defense sector. The rising demand for ammunition in sports and entertainment activities will also favor APAC market growth significantly.
Russia ammunition market will generate considerable revenue over the next few years, as it is a prominent arms producer. In addition, Russia is the main distributor of the defense equipment across the world.
The market is highly fragmented in terms of regional manufacturers. Most of the industry giants are looking forward to develop cost-effective and advanced products as compared to their competitors. To multiply the revenue generation, key players are adopting business strategies such as mergers & acquisitions to sustain their market position. Notable participants in ammunition market are General Dynamics Corporation, Nammo AS, Olin Corporation, Remington Arms Company, Inc., Orbital ATK Inc., Federal Premium Ammunition, BAE Systems, Denel PMP, Global Ordnance, RUAG Ammotec, Hornady Manufacturing, Maxam, Poongsan Corporation, and Nexter Systems.
Author Name :Sunil Hebbalkar