Asia Pacific Rotomoulding Powder Market
Owing to a rising demand for numerous plastic products during construction activities, Asia Pacific rotomoulding powder market has gained immense traction in recent years. Products made from rotational moulding process, also known as rotomoulding, encompass a wide range of applications including storage tanks in residential, agricultural and commercial sectors as well as industrial equipment.
Asia Pacific Rotomoulding Powder Market, By Material, 2017 & 2024 (USD Million)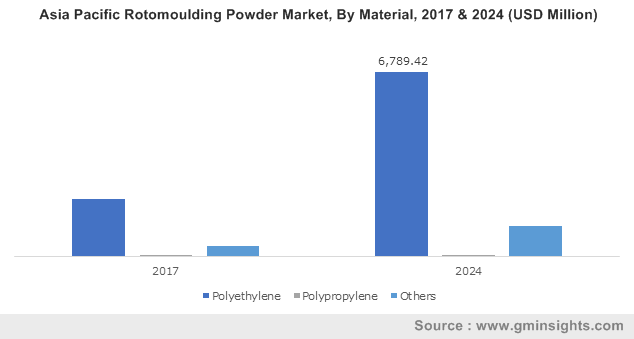 Foreseeing an increased demand for rotomoulded products, rotomoulding powder manufacturers are offering a variety of polyethylene and polypropylene materials to meet the demand for high-quality plastic parts and equipment.
With a slew of material suppliers and molders present across Asia Pacific, the region continues to drive the development of cutting-edge technology for producing various aesthetic and industrial products. Realization among manufacturers that novel eco-friendly materials can now be produced has created new opportunities for APAC rotomoulding power industry.
A prominent study reveals that currently, major industries in APAC are heavily dependent on Polyethylene (PE) composites and most of the rotomoulded products are made from this material, as it is an easily mouldable, versatile, and readily available polymer which can help deliver a variety of styles, colors, and surface finishes.
Growing infrastructure spending in emerging economies of Asia is expected to boost the consumption of rotomoulded products. Nowadays, many developers are broadly using components made from PE that are designed to minimize the environmental impact of plastics on the planet by deploying them in wall coverings, window & door frames, water proofing, and flooring, enhancing the scope of APAC rotomoulding powder market.
Get a Sample Copy of this Report:@ https://www.gminsights.com/request-sample/detail/3341
Modern flooring has already become the latest trend among infrastructure players, with stylish homes and workplace décor representing an image of high living standards. For high quality flooring, protection from moisture is vital because floors inside the buildings are usually covered with tiles and carpet, where penetration of water vapor through concrete slabs could lead to the failure of adhesive in tiling, staining of flooring products and fungal growth. Due to its durability, chemical resistance and load rating properties, PE is widely being accepted among rotomoulding powder manufacturers to meet different flooring needs.
Plastic industry is one of the fastest growing segments in India and PE is the most largely used plastic material by Indian companies, which accounts 43% of total consumption and indicates considerable potential for APAC rotomoulding powder market in the future. PE floorings are also being offered for outdoor tile applications to improve the aesthetic appeal of commercial and residential surroundings. APAC rotomoulding powder market is poised to register remarkable proceeds from augmented construction of housing complexes and industrial or IT parks in developing nations.
Waterproofing of the concrete structures has always been a challenging task and for simplifying the job, they are focusing more on quality of concrete and subsequent proofing solutions that play a vital role in the durability of a structure. Waterproofing a structure may account for only 2% to 3% of the overall building expenditure, but defects arising out of waterproofing failures could lead to nearly 80% of a structure's  defects. Growing need for PE waterproof membranes across emerging economies will reinforce APAC rotomoulding powder industry, with players coming up with a variety of options that not only improve aesthetics but are also environment-friendly in nature.
A large number of chemical companies have extensive operations throughout Asia-Pacific, endorsing the necessity of chemical-resistant plastic frames for industrial structures. Increasing demand for these materials will undoubtedly expand APAC rotomoulding powder market share in developing countries.
Plastic is considered as one of the best suited materials for window and door frames since it is extremely impact resistant as well as impervious to water and corrosion. It is largely deployed in the food industry for professional kitchens and other humid environments. APAC is home to several countries which experience harsh weather conditions and heavy rains are witnessed across the region, which escalate the demand for corrosion resistant door and window frames. Need for suitable plastic materials like uPVC for these products will fuel APAC rotomoulding powder market growth.
APAC rotomoulding powder industry has recently witnessed a rapid adoption in low and medium-income nations in the continent, generating considerable revenues from a host of vital applications. In fact, reports estimate that Asia Pacific rotomoulding powder market will exceed annual valuation of USD 7 billion by 2024.
Author Name : Deeksha Pant