Asset Tracking
Owing to the rising deployment of LPWA technologies, including LTE-M, NB-IoT, and LoRa, low power wide area network (LPWAN) market share is witnessing an increased traction in the recent years. Interestingly, LPWAN networks have emerged as popular choice among enterprises to support various IoT use cases and solutions for business sectors such as agriculture, manufacturing, logistics, and healthcare, among others. Enumerated below are three major factors that are shaping the growth prospects of LPWAN market.
Europe Low Power Wide Area Network (LPWAN) Market Share, By Platform, 2018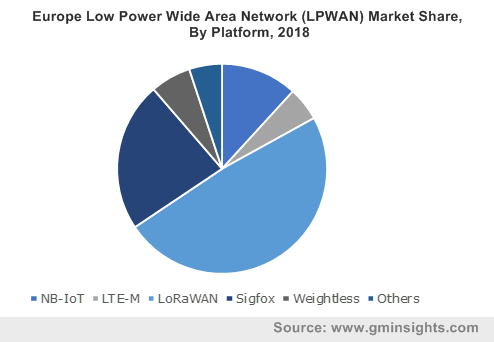 Increasing investment by telecom operators in laying NB-IoT and LoRaWAN networks across various cities is benefiting the overall LPWAN industry size
In 2018, the British telecom operator Vodafone announced NB-IoT network expansions in Spain and Germany, with ambitious plans to double the size of its NB-IoT footprint in Europe by the end of this year.
The NB-IoT network of Vodafone was deployed across Madrid and Valencia in 2017 in a number of verticals such as retail, electricity, agriculture, waste management, and smart city services. This technology has now been expanded to all localities in the cities of Seville, Malaga, Bilbao, and Barcelona, covering a population of about 25,000.
In 2016, South Korea's national telecommunications operator SK Telecom joined hands with semiconductors manufacturer Semtech Corporation to roll out LPWAN network across the nation. Additionally, the operator had also declared that it plans to provide 100,000 LoRa devices free of cost to its customers as part of its 'Partner Hub Program'.
This program has apparently played a vital role in scaling the development and deployment of LoRa devices (based on IoT solutions) and has been of immense significance for expanding the South Korea LPWAN industry size.
Digital Catapult, the UK's foremost agency for adoption of digital technologies, announced in 2016 that it is working closely with British telecom firm BT and a few educational institutes to boost the IoT network in London. To that effect, the company launched Digital Catapult Things Connected which will provide about 50 LoRaWAN base stations situated across London – an effort to establish the UK's largest IoT LoRaWAN network.
Needless to mention, this network and support program will provide an opportunity to digital start-ups and small and medium-scale enterprises to use IoT and drive innovation across London.
Apart from massive expansion programs and large-scale investment, the use of licensed spectrum enables the telecom operators to provide customers with the same levels of security as its LTE network. This makes it immune to disruptive and alternative technologies, essentially opening up numerous business opportunities for LPWAN market players.
Get a Sample Copy of this Report:@ https://www.gminsights.com/request-sample/detail/674
The rise in industrial IoT connections is favoring the growth prospects of LPWAN industry
Besides the rising volume of investment by telecom operators, the increasing prominence of industrial IoT market in various business verticals – especially the manufacturing sector – has invariably led to an escalation in the demand for LPWA technologies. This momentum is expected to remain consistent in the upcoming years as the industrial IoT connections are slated to increase by about five times by 2025.
In fact, the German wing of PwC released its findings last year of what the firm expects of the impact to be created by industrial IoT in the German manufacturing sector. Apparently, these findings note that about 90 percent of the respondents are investing in digital factories and a lot of these companies expect a 12 percent efficiency gains over the next five years owing to industrial IoT. Unsurprisingly, these statistics present an optimistic picture of the adoption of industrial IoT solutions, which will consequentially assist the regional LPWAN industry in reaching out to a new base of customers in the times to come.
The advent of 5G technology and its impact on LPWAN market share
One of the major factors fueling the commercialization prospects of LPWAN industry is the steady increase in the volume of investment pertaining to 5G technology. In this context, it is important to take note of the fact that the mobile IoT technologies, such as LTE-M and NB-IoT, offer a cost-effective wide area coverage while ensuring the success of 5G network deployment.
The 5G technology would enable major telecom firms across the globe to provide high connectivity to support numerous IoT use cases. Taking this factor into account, various telecom firms including Orange, Vodafone, and Airtel are deploying licensed cellular LPWAN as a prominent component of their 5G development strategies.
In a nutshell, the increasing volume of investment by telecom firms in expanding the NB-IoT and LoRaWAN networks, the advent of 5G technology and its development, and the rise in industrial IoT connections has been fueling LPWAN market share. As per a research report by Global Market Insights, Inc., LPWAN industry size is slated to exceed USD 65 billion by 2025.
Author Name : Saif Ali Bepari
With the tremendous growth in the industrial, retail, and e-commerce sectors, inventory management software market has gained massive impetus over the past years. Quite undeniably, managing and tracking inventory has become an essential part of conducting business and inventory management software in this regard are efficiently solving the challenges related to vendors, inventory, orders, sale, stocks-outs and much more. This has significantly led to rapid adoption of these software programs, in turn driving inventory management software market growth which was pegged at USD 2 billion in 2017.
North America Inventory Management Software Market Share, By Type, 2017 & 2024 (USD Million)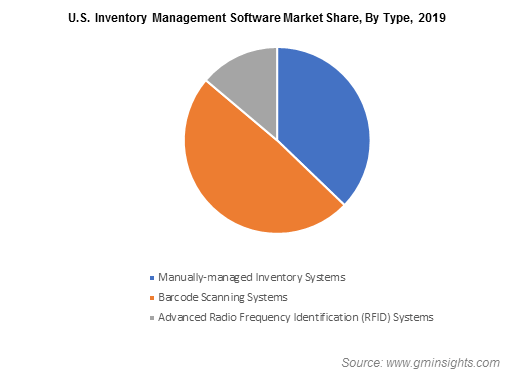 The vast expanse of omnichannel retailing and increasing penetration of smartphones have also been identified as the inherent factors impacting the revenue graph of the global inventory management software industry. If reports are to be believed, given the increasing rate of paperwork errors, supplier fraud, employee theft, and shoplifting activities SMEs, SMBs, and the retail sector are the prominent end-use segments that are rapidly adopting inventory management software systems. These activities have also been deemed as the major sources of inventory shrinkage and are therefore favoring effective implementation of IMS programs in the retail sector, which is expected to dominate the overall inventory management software industry by accounting for a 40% share over 2018-2024. It is important to mention that according to the National Retail Federation's NRSS (National Retail Security Survey) on retail theft, the retailers globally incurred inventory shrinkage losses of over USD 49 billion in 2016.
Driven by these subsequent threats leading to inefficient inventory management, the demand for robust inventory management software for optimization is expected to increase consistently in the ensuing years.  In fact, as per estimates, the global inventory management software market from inventory optimization application is expected to grow at a lucrative rate of 9% over 2018-2024.
Get a Sample Copy of this Report:@ https://www.gminsights.com/request-sample/detail/2364
The contribution of the industry participants in developing optimal inventory management systems is vast and these players are constantly looking for adopting new technologies that can improve the overall productivity. Recently for instance, HighJump, a global provider of supply chain solutions and renowned inventory management software market player has introduced HighJump Warehouse Control System integrated with the HighJump Warehouse Management System. This inventory management solution provides supply chain professionals with a comprehensive suite that can fully capitalize on the automated and connected warehouse operations the modern-day chain professionals are adapting to handle shorter delivery windows, e-commerce, and enhanced consumer expectations.
With such globally reputed players working toward introducing more technologically upgraded and value added solutions, inventory management software industry share is expected to nothing but proliferate in the ensuing years. Further endowed with the integration of recent technologies such as automation, big data analytics, RFID, cloud, Artificial Intelligence, and IoT this business sphere has become a lucrative hub for investments. Leveraging these technologies for more insightful solutions in inventory management, several industry participants are providing real-time analytics solutions and improved connectivity to supply chain and inventory management professionals. For instance, using connected networks such as computers, sensors, and smartphones, IoT can transfer the product information with the help of RFID tags/barcodes and transmit the data to the cloud-based inventory management software.
Such technological integration techniques are typically used by the large-scale organizations that move thousands of orders daily. Reports state that the barcode scanning system held more than one half of the inventory management software market share in 2017, while the RFID segment is projected to register an impressive CAGR of over 11% over 2018-2024.
Quite undeniably, these technologies have empowered the small and large-scale enterprises to grow and streamline their business models by harnessing the power of the advanced inventory solutions, in turn propelling the global inventory management software industry outlook. Lastly, it wouldn't be wrong to say that along with shrinking workforce and increasing rate of stressed logistics systems, inventory management software programs will witness massive adoption in the ensuing years. A presumption shedding light on the same is of Global Market Insights, Inc., that forecasts the overall inventory management software market share to register a CAGR of 6% over 2018-2024.
Author Name : Ojaswita Kutepatil