Atmospheric Water Generator Market Forecast
Water scarcity has taken on a serious turn for the worse in recent years, contingent to which, the growth of atmospheric water generator market has observed a new high. A research study published in 2016 claims that the Earth's renewable freshwater entirely amounts to approximately 10 million cubic kilometers. While this figure may seem large from the context that it equals around 4 trillion Olympic-sized swimming pools (assuming around 2500 cubic meters per pool), it technically aggregates to lesser than 1%, compared to the water in glaciers and oceans. In effect, water source depletion is the crisis of the hour, in consequence to which it has become crucial for global regulatory organizations and regional governments to undertake a sustenance action for betterment. This has necessitated a huge demand for atmospheric water generators – devices that extract water from humid air, which will indirectly carve out a profitable growth map for AWG industry. Large corporations, it is reported, have also been collectively making efforts to develop newer technologies to combat water shortage. EcoloBlue, a key player in atmospheric water generator market, had made a crucial decision in late 2016, of supplying AWGs to Flint, Michigan to overcome water shortages in the region, demonstrating a vital instance of corporates taking on social responsibility.
U.S. Atmospheric Water Generator Market size, by application, 2013-2024 (USD Million)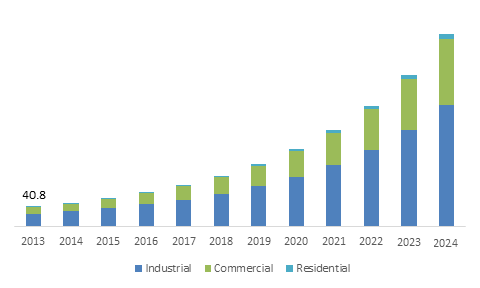 The process of water extraction from ambient air does not seem to be contemporary. Back in the days of the yore, water was often condensed from thin air, by means of fog fences, air wells, and dew ponds. Borrowing the proverbial leaf out of these ancient books, major companies have been conceiving novel technologies to generate water from air. The efforts, for most parts, have borne fruit, as depicted by estimates – in 2015, atmospheric water generator market size stood at USD 800 million. This valuation can be credited to the ever-growing population demanding a consistent increase in freshwater supply, which has been depicting a shortage due to rainfall scarcity coupled with rising temperatures. This has gradually led to atmospheric water generator industry players pioneering innovative condensing & generation engines for AWGs, to extract water from humid air. It is to be remembered that this technology works best in temperate climates only, in moderate to high humidity. Nonetheless, the technology has been touted to be highly effective, and may combat the problem of water availability in the ensuing years, thereby propelling atmospheric water generator market.
Get a Sample Copy of this Report@ https://www.gminsights.com/request-sample/detail/186

The contribution of a regulatory framework toward AWG industry growth:
The government has mandated a set of stringent regulations to be complied with, with regards to water shortage, which has undoubtedly provided a positive impetus to atmospheric water generator market.
The European Union has enforced the Drinking Water Directive to ensure clean, water supply to the European nations for commercial, residential, and industrial purposes.
The EPA and REACH have also mandated norms with regards to optimized water usage and safe water supply will also act as a catalyst to atmospheric water generator industry growth.
The WHO states that around 45% of the global pollution is caused by means of pathogenic microorganisms. In this regard, the U.S. government has launched the Safe Drinking Water Act in a bid to ensure clean water supply to the county's populace, which will majorly impel AWG market.
The SDWA has also been formed to protect the quality of drinking water in the U.S. in order to focus on all the liquids designed for drinking – from above the ground as well as under the ground.
As per analysts, atmospheric water generator industry is projected to exceed a stupendous USD 8 billion by 2024, from merely USD 800 million in 2015, thereby enlisting AWG market in the coveted billion-dollar business space. Investors staking their claim in atmospheric water generator market will thus, stand to accrue substantial profits by the end of 2014 and beyond, given the projected pace at which AWG market has been evolving.
A rather succinct insight into the application landscape of AWG market:
AWGs find widespread applications across extensive end-use sectors such as construction, manufacturing, paper & pulp, oil & gas, and steel, which will invariably boost atmospheric water generator industry from industrial applications. As per estimates, this segment is projected to record a CAGR of 25% over 2016-2024.
Commercial avenues such as office buildings, multiplexes, malls, hotels, and military camps depict an enormous utilization scope for AWGs. Analysts claim France AWG market rom commercial applications to grow at a rate of 20% over 2016-2024, given the deployment of AWGs in theaters, malls, commercial properties, and army base camps.
The residential sector is one of the most lucrative segments of atmospheric water generator industry. In 2015, the segment was reportedly valued at USD 13 million. However, the expanding construction sector, growing population, and the subsequent necessity for housing will necessitate the demand for large-scale AWG installations. On these grounds, AWG market from residential applications has been forecast to register a CAGR of more than 30% over 2016-2024, with a valuation of over 100 thousand units in terms of volume, by 2024.
Atmospheric water generator industry share may be constrained on the grounds of high electricity consumption, increasing concern toward GHG emissions and high technology costs. Despite being a rather transformative technology, its deployment may face glitches at certain times. Certain units are likely to require more than 2.5 kWh per liter of power for operation, which may lead to problems in its deployment in areas with high electricity tariffs. Nonetheless, major AWG market giants such as Island Sky Corporation, Saisons Technocom and Watair Inc., Ecoloblue, Atlantis Solar, Fujian Yuxin Electronic, and Konia have been ramping up their efforts to conceptualize innovative technologies that may reduce GHG emissions and associated costs to a great extent, which will gradually catalyze atmospheric water generator industry share in the ensuing years.
Author Name : Saipriya Iyer