Audio
Automotive electronics market, in recent times, is on the verge of emerging as a niche vertical, pertaining to the high demand for infotainment and security systems in vehicles. Many of the automotive giants of today are installing advanced and high-performance infotainment systems to enhance efficacy of vehicles. For instance, recently, Renesas Electronics signed a deal with the renowned automaker, Toyota Motor Corporation to implement its automotive technology in Toyota's upcoming self-driving vehicles. This technology consists of the high-performance R-Car system-of-chip (SoC), used as the brain for advanced driver assistance systems and in-vehicle infotainment system of vehicles.
China automotive electronics market size, by application, 2017 & 2024 (USD Million)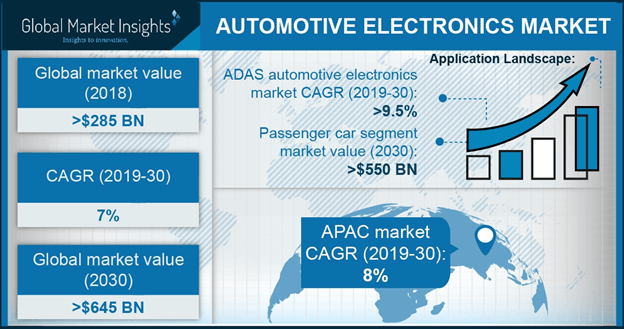 The deployment of such systems to maintain passenger and vehicle safety is thus slated to impel automotive electronics industry share. Over the coming years, the use of real-time operating systems and the development of next-generation visualization tools for automotive in-vehicle systems is likely to increase at an exponential rate. The surging awareness among people about the benefits of autonomous vehicles will thus help augment the utilization of electronic content in automobiles, thereby fueling automotive electronics market share.
The recent advancements in digital technologies such as IoT and AR are expected to substantially enhance the performance of vehicles. In this regard, some of the tech giants are looking forward to implementing image sensors to improve functional safety features. Recently, the European Parliament announced that it may be planning to mandate the use of safety equipment for all newly manufactured cars. The safety equipment includes intelligent speed assistance, autonomous emergency braking (AEB), and seatbelt reminders. Currently, the autonomous emergency braking system is becoming more common among new cars pertaining to the growing awareness about the importance of road safety. Moreover, the deployment of norms by the European Union related to the fuel economy and emission control has encouraged automakers to use more electronic content, which will significantly stimulate Europe automotive electronics industry trends.
Get a Sample Copy of this Report:@ https://www.gminsights.com/request-sample/detail/183
Of late, regional governments have been observed to be deploying stringent rules and regulation to curb environmental pollution, mainly caused due to the release of carbon content into environment. In 2012, the American National Standards Institute (ANSI) had released a standard roadmap to deploy electric vehicles and to implement changing infrastructure across the United States. In order to comply with regulatory norms, many automotive giants and start-up companies have shifted their focus toward the development of electric vehicles. In this regard, to fulfill the increasing requirement of electronic content, most the players in automotive electronics market have been making heavy investments on the advancement of supply components. For instance, Panasonic has developed a new software in cooperation with Azapa to speed up the development cycle of products. Speaking of which, some of the well-known behemoth in automotive electronics industry are Denso, Avago Technologies, Wipro, Delphi, Continental, Bosch Group, Panasonic, and Hitachi Automotive Systems.
The rising automation and digitalization in automobiles have had a considerably positively impact on automotive electronics market trends. Tech giants have been adopting tried-and-tested strategies of joint ventures and M&As to set renewed frontiers for profitability. In fact, recently, Intel and Mobileye have signed a collaboration to develop self-driving cars. Even Panasonic is reported to have partnered with Tesla to manufacture batteries for vehicles. Strategic alliances such as the aforementioned, in conjunction with the growing electrification in automotive sector are likely to boost automotive electronics market. According to Global Market Insights, Inc., automotive electronics industry will generate a mammoth revenue of more than USD 400 billion by the end of 2024.
Author Name : Saipriya Iyer
This entry was posted in Automotive & Transportation and tagged Adaptive Cruise Control, ADAS, Audio, Automated Emergency Braking, Automotive Electronics Industry Analysis, Automotive Electronics Market, Automotive Electronics Market Forecast, Automotive Electronics Market Growth, automotive electronics market share, automotive electronics market size, Automotive Electronics Market Trends, Blind Spot Detection, Body Electronics, Commercial Vehicles, Communication, Display, Engine Controllers, Exhaust, Head Up Display, Infotainment, Lane Department Warning, Navigation, Night Vision, Parking Assistance, Passenger Cars, Powertrain, Safety Systems, Transmission Drivetrain, xEV.
The exponential growth trajectory being demonstrated by unified communications & collaboration (UCC) market has been a subject of intense debate for since a while now, given the rising popularity of BOYD trend and the immense need to streamline the existing communications infrastructure across enterprises on a global scale. The rapid maturation of unified communications & collaboration (UCC) industry can also be accredited to the increased utilization of ever-evolving cloud computing technology and the swift emergence of mobile devices that have evolved from just a medium for voice conversation to smartphones with sophisticated multi-function capacities, all within a decade.
UCC Market Size, By Application, 2016 & 2024 (USD Billion)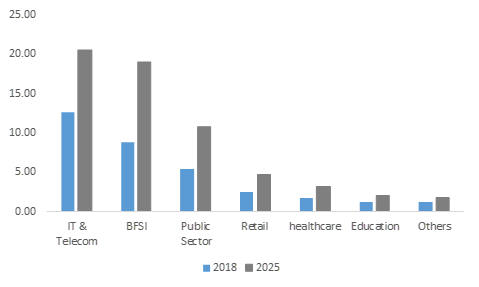 Furthermore, large enterprises appear to have realized the significance of upgrading the traditional communications network to stay relevant in a dynamic business environment, a phenomenon that has in extension propelled the global unified communications & collaboration (UCC) market size expansion. Elucidating the growth potential of the overall unified communications & collaboration (UCC) industry, Global Market Insights, Inc. estimates this business space to an impressive y-o-y growth rate over the period of 2019-2025.
The recent trend of the increasing alliances between leading unified communications & collaboration (UCC) market players and some of the world's renowned IT behemoths has vividly underlined the strategic and competitive landscape of this business space. To cite an instance, the U.S.-based UCC monitoring and analytics provider, Vyopta Incorporated has recently joined forces with Cisco Systems, Inc. to upgrade its SolutionsPlus Programs' UCC user experience by providing custom alerts, improved device availability, comprehensive analytics, live call monitoring, failure insights, and multi-vendor collaboration ecosystems. In addition to this, Vyopta would offer refined UC asset management, custom business reporting, and enhanced utilization metrics which would improve Cisco's overall ROI. Needless to mention, such remarkable partnerships are set to vigorously impel the global unified communications & collaboration (UCC) industry space over the estimated time frame.
Elaborating further, it is rather imperative to take note of the fact that UCC technology has brought about a paradigm shift in the way large enterprises communicate by streamlining diverse communication modes including video, voice, email, and instant messaging and enhance consumer satisfaction by improving business productivity. Moreover, the aforementioned factors have caused drastic reduction of infrastructure expenses by integrating telecommunication services and IT network into a single consolidated framework, something which has carved out a comprehensive roadmap for the unified communications & collaboration (UCC) industry to reap lucrative gains in the ensuing years.
Owing to the wide scale deployment of telephony applications across a host of business verticals to enable real-time communication with internal and external stakeholders, telephony platform is estimated to command a significant share of over 29 percent of the overall unified communications & collaboration (UCC) market by 2025. To highlight the rising influence of telephony platform in this swiftly evolving business space, a noteworthy instance can be cited. One of the foremost unified communications & collaboration (UCC) industry participant MegaPath, for instance, had been awarded with 2017 Internet Excellence Award for its MegaPath One ™, a unified communications platform which has been delivering commendable IP communications solutions to a range of small and large business enterprises. Furthermore, it would be prudent to mention that owing to numerous advantages over analog phones, IP phones segment of telephony platform is set to contribute immensely to the overall unified communications & collaboration (UCC) industry share.
Get a Sample Copy of this Report: @ https://www.gminsights.com/request-sample/detail/402
The growing popularity of unified communications & collaboration (UCC) market can further be attributed to the fact that as the prominent and emerging enterprises are aiming to expand their foothold in diverse geographical markets, the efficiency and effectiveness of streamlined communication functions would play a crucial role in ensuring beneficial output of business procedures. Therefore, it goes without saying that the leading unified communications & collaboration (UCC) industry players have a vital responsibility to deploy their expertise in assisting a variety of enterprises to make their presence felt in a rapidly transforming global business outlook. In terms of global commercialization potential, Global Market Insights, Inc. forecasts the unified communications and collaboration industry share to surpass a valuation of USD 60 billion by 2025.
Author Name : Saif Ali Bepari
This entry was posted in Sustainable & Smart Technologies and tagged Audio, BFSI, Cloud, Collaboration, Conferencing, Education, Email, Fax, Healthcare, Hybrid, IP PBX, IP Phones, IT & Telecom, Mobile, On-Premise, Public Sector, Retail, Services & Tools, Social Network, Telephony, UCaaS, UCC Market, Unified Communications and Collaboration Market, Unified Communications and Collaboration Market Size, Unified Communications and Collaboration Market Trends, Unified Communications as a Service, Unified Communications Industry, Unified Messaging, Video, Video Platform, Voicemail, Web.