Auto Transmission
Owing to an unprecedented rate of technological development in the automobile sector, the global
automotive transceivers market
has expanded at a remarkable pace. The influx of numerous in-built features in a vehicle, such as safety and infotainment systems, based on advanced connectivity protocols have create a need for high quality electronic components. The automotive transceivers market has experienced tremendous impulsion to meet this demand of improved communication capabilities for supporting multiple protocols. The chassis and safety segment, in particular, has become a critical application area for the automotive transceivers industry with the advent of technologies like electric power steering (EPS) as well as autonomous features.
U.S. automotive transceivers market, by application, 2017 & 2024 (USD Million)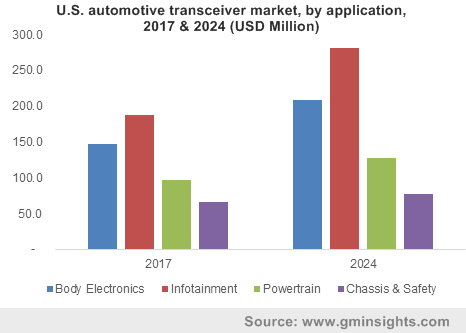 Traditionally, most of the power steering systems in vehicles are hydraulic systems, but the electric power steering systems are gaining enormous momentum due to the increased efficiency and performance they offer. Elimination of the different physical components of a hydraulic system makes EPS a smaller and lighter alternative, depending mostly on communication between electronic control units and sensors. The growing adoption of EPS in cars and commercial vehicles will propel the automotive transceivers market revenue. A key benefit of the EPS system is that it powers the EPS motor only when it is required, making it notably more efficient.
Being a low cost way to provide a more comfortable driving experience, continuous advancements in EPS technology will further push the automotive transceivers industry evolution for delivering more enhanced products. Today, EPS allows for the integration of automated driving in combination with increased safety for the driver. It has been reported that 90% of all traffic accidents are caused by human errors, which can be reduced by automated driving features. Also, EPS has lesser weight as compared to conventional steering systems and some EPS offerings, like Bosch's Servolectric, being up to 20% lighter.
Global automobile manufacturers are installing EPS in their current and upcoming models to improve driver safety and include added features. Recently, Honda unveiled a new Sport model of its HR-V lineup for Europe which has Honda's Agile Handling Assist system, a specific steering feature. It utilizes a variable EPS for adjusting the amount of feel through the wheel based on steering angle and speed. Honda claims the system delivers a steady and smoother response for different steering angles, making it safer to drive. As increasing number of vehicles are produced with similar systems incorporated within them, the automotive transceivers market can be expected to register a higher growth rate from the chassis and safety segment.
Get a Sample Copy of this Report:@ https://www.gminsights.com/request-sample/detail/3011
A significant development in vehicle technology that has strengthened the automotive transceivers industry is the advent of advanced driver-assistance systems (ADAS), which can also be combined with EPS. Several features like blind spot detection, lane assist, forward collision warning are being added into cars to improve the overall safety of drivers and passengers. With the help of innumerable connectivity solutions fused into a vehicle, these ADAS capabilities can be merged with EPS to provide an easier and more reliable safety system. Automaker Jaguar has demonstrated the same in its E-Pace model, in which the company has added considerable ADAS technologies.
Speaking further, the car has rear parking sensors and camera for assisting the driver, and this camera is also connected to the EPS for enabling blind spot detect function to reduce the possibilities of sideswipe collisions on roads having multiple lanes. Such a combination of different safety technologies in a vehicle signifies the potential of the automotive transceivers industry for boosting the advancement of these functions. Experts have predicted that efficient and proper use of ADAS functions can reduce all vehicle crasher by nearly 40% and all traffic deaths by almost 30%, displaying the necessity of ADAS in all future vehicles.
Worldwide, the mounting concerns regarding environmental pollution has put the focus on electric vehicles, which are the prime target market for the latest ADAS and EPS products. The International Energy Agency has projected that by 2030, almost 125 million electric vehicles would have hit the roads globally, indicating lucrative prospects for the automotive transceivers market over the next few years. Anticipated to reach a global valuation of more than USD 7 billion by 2024, the automotive transceivers market is characterized by the presence of small and large players, including Infineon Technologies, NXP Semiconductors, Texas Instruments, Broadcom, Inc. and Cypress Semiconductor Corporation.
Author Name : Pankaj Singh
This entry was posted in Automotive & Transportation and tagged ADAS, Auto Transmission, Automotive Transceivers Market, Automotive Transceivers Market Forecast, Automotive Transceivers Market Growth, Automotive Transceivers Market Share, Automotive Transceivers Market Size, Autonomous Driving, Body Control Module, Body Electronics, CAN, Chassis & Safety, Dashboard, Electric Power Steering, Engine Management System, Ethernet, FlexRay, HVAC, Infotainment, LIN, Multimedia, Navigation, Powertrain, Telematics.