Automotive Night Vision System Market Size
Leveraging government regulations that focus on reducing road accidents and improving vehicle safety, automotive night vision system market is anticipated to establish itself as a lucrative avenue of investment in forthcoming years. Automotive night vision can be described as a cluster of loosely-related technologies that have the capability to enhance driver's situational awareness when the vehicle encounters reduced road visibility in low-light conditions.
Germany automotive night vision system market size, by display, 2018 & 2025 (USD Million)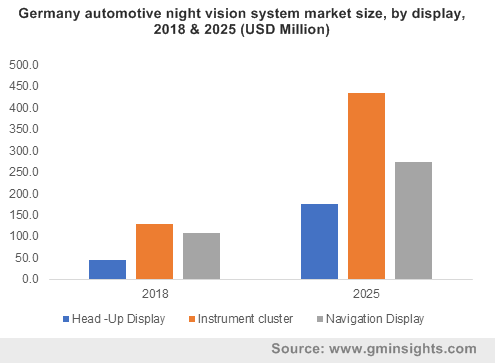 Essentially, automotive night vision consoles extend drivers' perception far beyond the limited reach of the headlights using infrared lights, thermographic cameras, heads up displays (HUDs) and other technologies. As they are capable of alerting drivers of potential road hazards significantly beforehand, they can help in preventing road accidents, promoting integration of the automotive night vision system in more automobile segments. The substantial deployment of such vehicle safety features is slated to augment automotive night vision system industry share.
Currently, looking into future business opportunities, leading automotive giants have been incorporating night vision systems in their vehicle variants. For instance, luxury vehicle brands such as Mercedes-Benz and BMW offer night vision assist features that decrease chances of road accidents in low visibility, ensuring passenger as well as pedestrian safety.
Get a Sample Copy of this Report:@ https://www.gminsights.com/request-sample/detail/2335
According to Mercedes-Benz, its Night View Assist Plus feature goes a step further by recognizing obstacles, such as large animals and pedestrians, sooner and highlighting them on the driver's console. The night vision system is also capable of distinguishing actual obstacles from irrelevant roadside objects such as bushes and road signs.
Ongoing advancement in the integral features night vision technology will strengthen overall automotive night vision system market trends. For example, BMW has incorporated a failsafe mechanism, wherein if the driver ignores initial warnings the system starts blinking red, accompanied by an acoustic alarm while also priming the vehicle's brakes for optimum responsiveness. Such technology advancements may thus contribute to reduce road fatalities by a notable proportion.
According to the reports of the National Highway Traffic Safety Administration, in 2016, nearly 37,461 fatalities had been observed due to road accidents across U.S. – a momentous rise of 5.6% than the previous year's numbers. Moreover, the U.S. based insurance and financial service company, State Farm claimed that, between July 2017 and June 2018, animal collisions accounted for 1.33 million road accident cases.
Earlier, astronomical equipment prices prevented widescale penetration of night vision systems and relegated them to the luxury vehicle segment. However, increasing affordability of components such as infrared cameras and the prevalent trend of customers and regulatory authorities demanding more road safety are expected to foster industry growth in coming years.
The anticipated rise of autonomous vehicles is expected to emerge as a major proponent for automotive night vision system industry during the forecast timeframe. Autonomous driving systems rely upon an array of technologies including radar, LiDAR, cameras and image recognition to drive the vehicle with minimal human intervention.
While the aforementioned technologies allow vehicles to be driven without human input, there are serious limitations to the conditions they can operate in. One such limitation came to light in 2018, when Uber's self-driving vehicle struck and killed a pedestrian. The accident occurred at night and a majority of blame fell on the vehicle's sensor array that consistently failed to recognize the pedestrian in low light conditions. Taking such incidents into account, regulatory bodies have been working to frame new road safety guidelines.
Stringent safety norms have put immense pressure on autonomous vehicle manufacturers to introduce state-of-the-art night vision features in their vehicles. The deployment of strict road and safety regulations is expected to generate untapped opportunities for the players in automotive night vision system market outlook.
From a regional perspective, Europe and North America are expected to have significant share of automotive night vision system market landscape during the forecast timeframe. Presence of several key automotive industry players, stringent government regulations and a customer base that prioritizes safety above all else are expected to foster market growth over 2019-2025.
Overall, automobile night vision system's changing reputation from a clever luxury feature to an integral vehicle safety feature would ensure its widespread adoption across a number of vehicle segments in forthcoming years. In fact, according to a Global Market Insights, Inc., research report, automotive night vision system market is expected to surpass a $4.5 billion valuation by 2025.
Author Name : Akshay Kedari
This entry was posted in Automotive & Transportation and tagged Active Systems, Automotive Night Vision System Market, Automotive Night Vision System Market Size, Controlling Unit, Head Up Display, Instrument Cluster, Navigation Display, Night Vision Camera, Passive Systems, Sensors.