Automotive Turbocharger Manufacturers
The progressive shift toward a greener, environment-friendly future has been a major driving force for automotive turbocharger market. In an era riddled with the fear of carbon emissions destroying the planet, automakers have been facing several challenges to optimize vehicle efficacy in the best means possible. Consequently, most of the automakers have now been working on bringing about suitable design and operational changes in turbochargers – the highly efficient components that play a major role in downsizing engine emissions. Including the likes of Honeywell and Mitsubishi, renowned companies have thus basically been targeting 2 essential factors – fuel efficiency and emission reduction to bring about a change in turbocharger production, contributing toward automotive turbocharger industry growth.
U.S. Automotive Turbocharger Market, By Technology, 2017 & 2024 (USD Million)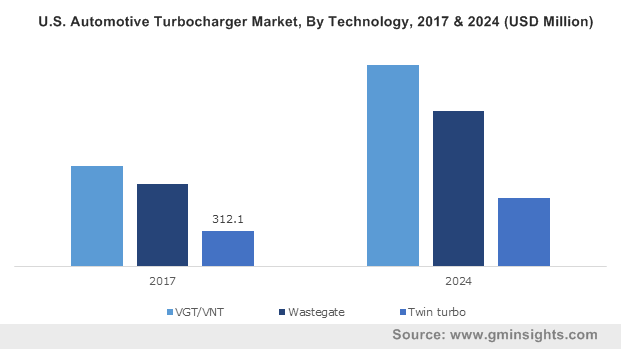 A quick insight into the developments brought about by automotive turbocharger market companies
The incredible advantages of these induction devices have ensured an escalating demand for renewed turbocharging technologies. In consequence, pivotal automotive turbocharger market players have been working toward extending their regional reach by constructing new production facilities across various geographies. An instance validating the same is that of BorgWarner having opened its new turbocharger technology production plant in Thailand recently. Through this initiative, BorgWarner aims to provide clean and efficient turbocharging solutions for hybrid vehicles and EVs across the Asian turf. BorgWarner's plan is also expected to encourage numerous other automakers to expand their already established production facilities in Thailand, that would further help consolidate Asia automotive turbocharger industry.
Incidentally, this hasn't been BorgWarner's first brush with turbocharger technology. In 2017, the company had successfully installed its advanced turbocharging technology into Jaguar Land Rover. The turbocharging system was expected to help Jaguar Land Rover achieve its engine performance target and fuel efficiency from its new SUV models. Of late, numerous light and passenger commercial vehicle manufacturers are also deploying advanced turbocharging technologies for improved fuel efficiency, suitably impelling PCV sales across major geographies. As per the estimates, PCVs are expected to stand as a dominant vehicle segment in automotive turbocharger market landscape over 2018-2024.
Get a Sample Copy of this Report @ https://www.gminsights.com/request-sample/detail/2463
Honeywell has been another lucrative player in automotive turbocharger market that has helped strengthen the competitive spectrum of this business space. The company, a couple of years ago, displayed some of its turbocharger technologies for commercial vehicles at the IAA Hannover 2016. Since then, the company has worked consistently to bring forth advanced turbo technologies for on and off-highway powertrains. The firm has also developed a supremely high-efficiency serial two-stage system to ensure optimum performance in heavy-duty long haul trucks that require to be characterized by increased fuel efficiency and lowered CO2 emissions.
Bringing about innovative product developments is expected to remain one of the prime growth strategies of automotive turbocharger market contenders. The principal aim here is to develop highly advanced products, the design of which would contribute toward maximum engine downsizing. Electric turbochargers for instance, one of the latest trends in automotive turbocharger market, has been found to eliminate turbo lag, which leads to an increase in fuel efficiency. That said, there is no dearth of R&D programs in this business space, that would help alter conventional turbocharger designs as required and further contribute toward transforming automotive turbocharger industry trends.
In the years to come, turbochargers are expected to gain extensive traction in the global automotive space, owing to their substantially high efficiency and their contribution toward environmental safety. Of late, products such as variable geometry turbochargers (VGT) have also gained mass momentum, exceeding their counterparts, due to their cost-effectiveness and technical benefits. Driven by their massive demand on account of the increasing need for a greener environment, automotive turbocharger industry, supported by a strict regulatory framework, will surpass a revenue collection of USD 24 billion by 2024.
Author Name : Saipriya Iyer