Automotive
​Enhanced productivity and the ability to facilitate manufacturers an optimal supply chain has propelled assembly machine market size significantly. Both manual and automated assembly lines improve productivity, efficiency and quality of manufacturing while reducing labor costs and cycle time. Major application segments like packaging, aerospace, pharmaceutical, military/defense and electronics have proliferated through the deployment of suitable machines on production lines, stimulating technological development.Government initiatives designed to improve a nation's economic status will substantial drive assembly machine industry forecast, for instance in India which has initiated 'Make in India', an effort to help expand manufacturing businesses in the country. The Indian government is pushing for the share of manufacturing segment to increase up to 25% of GDP by the year 2025 from the 16% in 2018.
Manufacturing units across developing economies will be adopting Industry 4.0 technologies like artificial intelligence, machine learning and robotics to transform operations with the help of semi or fully-automated assembly machinery for achieving cost efficiencies without quality compromises.
Need for automatic and semi-automatic assembly machines
Semi-automated assembly machines will be witnessing a major growth in forthcoming years owing to a steady increase in the production of new and greener automobiles, that will in turn stimulate the demand for automotive components like radiators made on use semi-automatic assembly lines.
TQC Automation & Test Solution offers semi-automatic assembly machines in order to allow a manufacturer to test automotive radiators and enable quality control. Semi-automatic machines are essentially preferred over manual machines owing to the time saving functions. These machines are mostly used by small or medium enterprises for improving the manufacturing process under decent budget, while raising productivity and reducing the operational costs.
Get a Sample Copy of this Report:@ https://www.gminsights.com/request-sample/detail/4287
Fully automatic assembly machines will gain favorable traction and influence the business outlook due to use of smart technologies with the combination of cyber-physical systems that help factories become much more productive and energy-efficient. Automated assembly machines eliminate concerns for manual handling entirely and increases output in less time, fostering assembly machine market share globally.
Expansion of automobile and cosmetic manufacturing sectors
Major advances in the robotics technology have initiated the deployment of robotic automation in the automotive segment. Across automotive component plants, assembly machines comprising robots like high speed Delta machines help assemble small components such as motors and pumps. Car assembly involves windshield installation as well as wheel mounting that require automated assembling.
The European Union produced 19.2 million motor vehicles in 2018, which account for around 20% of the total motor vehicle production globally in the year. Companies in the region use advanced technologies for the manufacturing of automotive parts, considerably fueling Europe assembly machine industry size.
With regards to cosmetics packaging applications, equipment like pump priming and leakage testing machines, thin shape lipstick tube assembling machine, finish assembling machines and high-speed mascara bottling equipment run successfully in several multi-national companies. Several such automatic assembly machinery are imported by manufacturers based in Italy, United States, Switzerland and France that have helped the users to enhance their efficiency.
Surging consciousness among people about personal care and perception of beauty standards have increased the demand for cosmetics. Japan is one of the leading markets for beauty products and generated a revenue worth USD 36 billion in the year 2017.
Impact of growing demand in Asia Pacific region
Asia pacific region accounted for nearly 40% of global assembly machine market share in 2018, with countries like India and China reportedly looking to achieve lower manufacturing costs along with less technically skilled labor. Rapid digitization in the region has helped manufacturers expand and scale businesses economically.
Several countries have initiated Industry 4.0 projects for the improvement of manufacturing sectors, including Thailand, Malaysia and Indonesia, each having their own economic agendas.
Companies like Norwalt Design Inc., Hindustan Automation, FANUC Corporation, Kawasaki Heavy Industries Ltd, Humard Automation SA, Haumiller, Extol, Intec Automation and Bystronic Maschinen AG are some of the prominent equipment manufacturers comprising the competitive hierarchy of global assembly machine market.
Players are extensively involved in collaborations and look to acquire other companies to expand their portfolio. For instance, ABB had recently entered into a partnership with Cochin Shipyard, a government owned shipping corporation of India, to be able to provide automated assembly solutions.
Author Name : Riya Yadav
Rapidly evolving trends in urbanization along with rising preference towards better-quality infrastructure will boost bitumen membranes market share over the analysis timeframe. These materials have experienced increased demand from the building & construction segment owing to various advantages including superior rust proofing and water resistance. Bitumen membranes are also widely used as sheets to make concrete structures resistant to moisture. Upsurge in construction activities, especially in the Asia-Pacific (APAC) belt, will bolster bitumen membranes industry expansion.
U.S. Bitumen Membranes Market Size, By Application, 2014 – 2025 (USD Billion)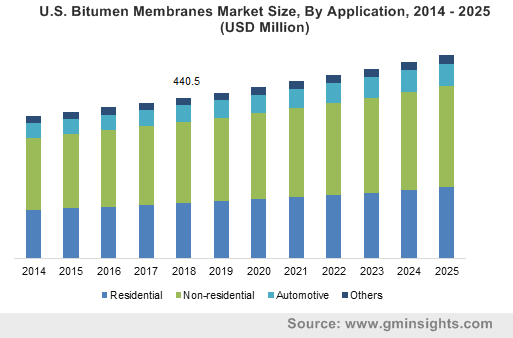 Globalization has had a deep impact on societies and communities across the world and has remarkably promoted sustainable development in emerging economies. Continuous developments and R&D efforts  have brought about considerable enhancements to existing technologies by creating innovative products, which is anticipated to increase product engagement.
Countries face different weather conditions all year round and have to tackle unpredictable climate change patterns. Subsequently, bitumen membrane, with its benefits including better resistance to water and moisture, is set to witness a jump in consumption over the coming years.
Consumer inclination towards EVs will witness an upsurge due to the need for eco-friendly transport options as well as low repair and maintenance costs. Advancements in automotive technology have led to advent of cost-effective high endurance batteries, further propelling growth of the sector.
Get a Sample Copy of this Report:@ https://www.gminsights.com/request-sample/detail/3924
The International Energy Agency (IEA) reported in 2018 that over 750,000 EVs were sold during the year and nearly 2 million electric cars were running on streets all over the globe. Consistent production of vehicles worldwide and gradual proliferation of EVs can be expected over the coming years. Extensive product use in the automobile sector will substantially complement bitumen membranes market outlook over the forecast duration.
More than half the world population now lives in urban areas which can be attributed to a rapid surge in global urbanization, escalating swiftly over the last 4 decades. UNESCO reported the current rate of urban population expansion to be 60 million individuals annually and the number of cities with 10 million or more residents is accelerating quickly. Estimates suggest that the global urban population will exceed 6 billion people by the end of 2050. Rising global population worldwide will boost the growth of construction sector, fueling bitumen membranes industry size.
Europe bitumen membranes market accounted for a notable share of the total growth in 2018. Construction segment climbed due to increased consumer spending on remodeling and renovation activities on account of rapid urbanization. In the U.S. the increasing number of housing starts will fuel the demand for bitumen membranes, with builders opting for the product due to economical rates and additional benefits.
Moreover, rise in disposable incomes and added investments on residential building construction and will favor the industry prospects. Residential re-roofing sector across the region will experience rapid product utilization as people will opt to replace older worn out roofs with latest materials.
Bitumen membranes are anticipated to witness remarkable consumption owing to rise in manufacturing activities across Asia Pacific. APAC accounts for the largest share in the global construction industry, led by India, Japan and China. Growing population, low cost labor, favorable government initiatives and urbanization is expected to drive infrastructure development, reinforcing bitumen membranes market growth across the region.
Developing countries worldwide will create soaring demand for the product through modifications of a range of industrial properties such as factories, warehouses and logistic houses, in turn driving market trends.
Emergence of small regional players in countries such as India and China has heated up market competition. In order to gain a competitive edge in the industry, some of the players are adopting merger & acquisition strategies. BTM, Johns Manville, BMI Group, Firestone Building Products Company LLC, IKO Group, and Ardex are some of the key players comprising global bitumen membranes market share, which is projected to reach annual valuations of over USD 3.5 billion by 2025.
Author Name : Hrishikesh Kadam
Increasing awareness with respect to volatile organic compound emission (VOC) has propelled adsorption equipment market share, along with the need to maintain indoor air quality standards across varied industrial segments. Symptoms of nausea, difficulty in breathing, irritation in nose, eyes and throat are some of the indicators of excess exposure to VOC caused to humans. These conditions can usually be observed in manufacturing, printing and furniture operations worldwide, presenting a massive need for countering these emissions.
U.S. Adsorption Equipment Market Share, By Application, 2014 – 2025 (USD Million)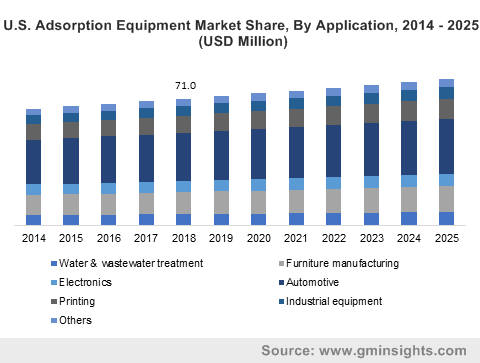 Booming automobile sector across developed and developing nations has strengthened the adsorption industry size. Paints used in the automotive industry emit high levels of xylene, acetic acid, butyl ester and ethyl acetate either during intermediate, top coating and baking process of automobile parts. The growing automobile industry in India, which had witnessed a 9.5% increase in sales to reach 4.02 million units in the year 2017. Widespread application across the auto manufacturing sector will evidently create a substantial demand for controlling VOC emission from paints, magnifying global adsorption equipment industry outlook.
Disposable or rechargeable canisters segment accounts for a substantial share of adsorption equipment utilized worldwide, and is expected to surpass USD 65 million in revenues over the forecast period. These canisters are widely used in the water purification process. According to a report by United Nations, by 2030 over 700 million people globally could be displaced owing to intense water scarcity.
Existence of water pollution in terms of organic pollutants let out by domestic sewage, agricultural wastewater and industrial wastes has added to increase in toxic waste in water. Toxic pollutants can lead to severe environmental issues and can prove to be extremely hazardous to living beings. Adsorption equipment market size will expand notably while becoming an integral part of wastewater management techniques.
Get a Sample Copy of this Report:@ https://www.gminsights.com/request-sample/detail/4206
R&D in the field of vapor adsorption equipment has enhanced the overall industry scope remarkably. For instance, the development of Brayton cycle heat pump that facilitates VOC recycling and recovery has magnified the deployment of adsorption equipment, invariably driving the industry trends. Vapor phase segment in adsorption equipment industry is anticipated to hold a significant share, registering a steady CAGR of around 2.5% from 2019 to 2025.
Owing to the rising automobile sector coupled with stringent regulations related to VOC emissions. the use of adsorbers in the automotive sector has accelerated. Reportedly, the gross turnover generated by the auto sector in EU represents 7% of its GDP. Moreover, governments have introduced an Integrated Pollution Prevention and Control Directive (IPPC) that requires all new installations to comply with its standards in order to control air, water and environmental pollution. The proliferation of automobile, electronics, water treatment and printing sectors in the region will positive steer Europe adsorption equipment market outlook.
Demand for adsorption equipment is clearly driven by the growing need for industries to preserve environmental, water and air quality. With expanding industrial establishments across the globe, governments and other regulatory authorities are discovering the need to control the VOC emissions in order to protect the future of economies. Simultaneously, increasing innovations in the adsorption equipment sphere to suited varied industrial applications is providing impetus to global adsorption equipment industry.
Emissions are an inevitable part of many crucial sectors such as automobile, painting, printing, water treatment, among others, in order to adhere to the government rules and regulations and to contribute to the growing CSR activities by the companies. Several key players offering critical adsorption equipment include Tigg LLC, Monroe Environmental Corp, Munters Corporation and Eisenmann SE, as well as several others. Global Market Insights Inc. has estimated that global adsorption equipment market share will exceed annual valuations of USD 340 million by 2025.
Author Name : Shreshtha Dhatrak
Rising demand for real-time rendering has created an expansive growth scope for 3D rendering market which has witnessed increasing investment in recent times. As technology advances and companies become increasingly digitalized, the complexity of the business process will also increase. To address these challenges, organizations are looking for more efficient, faster, and real-time rendering solutions, adding impetus to 3D rendering market trends.
Canada 3D Rendering Market Revenue, By Component, 2018 & 2025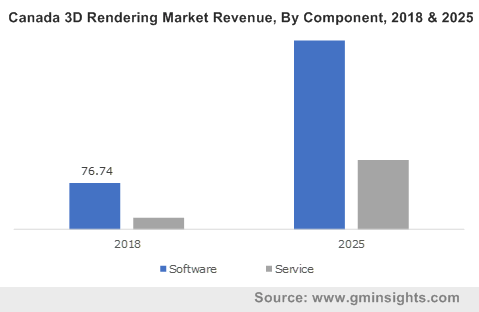 3D rendering is the process of fabricating an image based on 3D data stored within a computer. As the construction and real estate industries are witnessing exponential growth, real-time visualization and use of 3D rendering software have become integral part of the designing process, offering huge efficiencies to architects and engineers.
Architects, engineers and designers use architectural rendering software to transform their ideas into real-time design by exploring multiple options. In architecture, three dimensional images offer architects to review interiors and construction decisions before starting the project. This results in dramatically lowering costs, as expensive changes do not have to be made during the construction stage. Customers also get to view what the building may look like, including its interiors, before investing in it.
The healthcare sector is increasingly adopting advanced technologies, such as 3D medical animation and virtual reality, to create patient-specific surgical replication and personalized 3D printed medical devices. 3D medical modeling helps to understand the functions of body parts, the support of veins to muscles, internal organs and their functions, and its consistent adoption is also likely to fuel 3D rendering industry outlook.
Get a Sample Copy of this Report:@ https://www.gminsights.com/request-sample/detail/3953
3D biomedical image rendering provides a clear view of the complex process of the human body. By gathering data via 3D imaging from patients and integrating it with virtual rendering technologies, doctors are enabled to pre-plan the best approach for surgical intervention. 3D modeling platforms will allow medical scientists to generate high-quality models from complex data sets and integrate scan data with CAD product designs for research purposes and teaching. Deploying 3D rendering services in healthcare will positively impact the 3D rendering market share. As per Global Market Insights, 3D rendering market size from healthcare will grow at a CAGR of 25% over 2019-2025.
The gaming industry is expanding rapidly due to high internet connectivity and growing popularity of virtual reality games to bring immersive experiences to users. A trend has been witnessed where major gaming companies are investing both time and capital to provide their customers with the most absorbing gaming experience. Mounting developments in interactive graphics software, especially in the gaming industry will augment 3D rendering market share.
3D rendering industry is also gaining significant momentum from the growth of automotive industry and rapid growth of emerging economies of Asia Pacific region. In Asia Pacific automotive industry, 3D product modeling has gained momentum, as it helps to minimize the time associated with end-product development and allows designers to visualize the product and test it thoroughly before it is built. The mounting growth of the automotive industry has resulted in the adoption of 3D visualization and rendering services to save both time and cost associated with the manufacturing of a vehicle parts.
Asia Pacific 3D rendering market is estimated to grow at a CAGR of over 24% over 2019-2025. Rapidly expanding urbanization and industrialization will play crucial roles in the growth of 3D rendering industry.
Product marketing has been revolutionized by the advent of 3D rendering services. Marketers of hardware products have always been placed in a challenging position when it came to communicating functions, value and differentiators of their product. The challenge has been almost insurmountable for startups due to their tight marketing budgets. However, 3D rendering of products has helped in greater engagement of consumers on limited marketing expenditure. 3D rendering industry is expected to record 23% CAGR over 2019-2025 from product design & modeling segment.
As 3D visualization is becoming a crucial part in various industries including architecture, IT, healthcare, gaming, etc., 3D rendering market is projected to witness exponential growth over the forecast timeline.
Author Name : Aakriti Kakkar
Owing to a rising demand for numerous plastic products during construction activities, Asia Pacific rotomoulding powder market has gained immense traction in recent years. Products made from rotational moulding process, also known as rotomoulding, encompass a wide range of applications including storage tanks in residential, agricultural and commercial sectors as well as industrial equipment.
Asia Pacific Rotomoulding Powder Market, By Material, 2017 & 2024 (USD Million)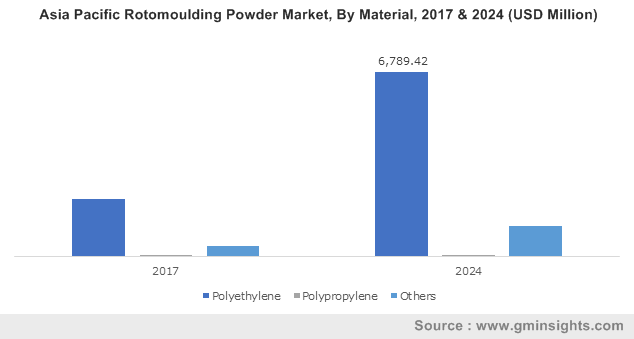 Foreseeing an increased demand for rotomoulded products, rotomoulding powder manufacturers are offering a variety of polyethylene and polypropylene materials to meet the demand for high-quality plastic parts and equipment.
With a slew of material suppliers and molders present across Asia Pacific, the region continues to drive the development of cutting-edge technology for producing various aesthetic and industrial products. Realization among manufacturers that novel eco-friendly materials can now be produced has created new opportunities for APAC rotomoulding power industry.
A prominent study reveals that currently, major industries in APAC are heavily dependent on Polyethylene (PE) composites and most of the rotomoulded products are made from this material, as it is an easily mouldable, versatile, and readily available polymer which can help deliver a variety of styles, colors, and surface finishes.
Growing infrastructure spending in emerging economies of Asia is expected to boost the consumption of rotomoulded products. Nowadays, many developers are broadly using components made from PE that are designed to minimize the environmental impact of plastics on the planet by deploying them in wall coverings, window & door frames, water proofing, and flooring, enhancing the scope of APAC rotomoulding powder market.
Get a Sample Copy of this Report:@ https://www.gminsights.com/request-sample/detail/3341
Modern flooring has already become the latest trend among infrastructure players, with stylish homes and workplace décor representing an image of high living standards. For high quality flooring, protection from moisture is vital because floors inside the buildings are usually covered with tiles and carpet, where penetration of water vapor through concrete slabs could lead to the failure of adhesive in tiling, staining of flooring products and fungal growth. Due to its durability, chemical resistance and load rating properties, PE is widely being accepted among rotomoulding powder manufacturers to meet different flooring needs.
Plastic industry is one of the fastest growing segments in India and PE is the most largely used plastic material by Indian companies, which accounts 43% of total consumption and indicates considerable potential for APAC rotomoulding powder market in the future. PE floorings are also being offered for outdoor tile applications to improve the aesthetic appeal of commercial and residential surroundings. APAC rotomoulding powder market is poised to register remarkable proceeds from augmented construction of housing complexes and industrial or IT parks in developing nations.
Waterproofing of the concrete structures has always been a challenging task and for simplifying the job, they are focusing more on quality of concrete and subsequent proofing solutions that play a vital role in the durability of a structure. Waterproofing a structure may account for only 2% to 3% of the overall building expenditure, but defects arising out of waterproofing failures could lead to nearly 80% of a structure's  defects. Growing need for PE waterproof membranes across emerging economies will reinforce APAC rotomoulding powder industry, with players coming up with a variety of options that not only improve aesthetics but are also environment-friendly in nature.
A large number of chemical companies have extensive operations throughout Asia-Pacific, endorsing the necessity of chemical-resistant plastic frames for industrial structures. Increasing demand for these materials will undoubtedly expand APAC rotomoulding powder market share in developing countries.
Plastic is considered as one of the best suited materials for window and door frames since it is extremely impact resistant as well as impervious to water and corrosion. It is largely deployed in the food industry for professional kitchens and other humid environments. APAC is home to several countries which experience harsh weather conditions and heavy rains are witnessed across the region, which escalate the demand for corrosion resistant door and window frames. Need for suitable plastic materials like uPVC for these products will fuel APAC rotomoulding powder market growth.
APAC rotomoulding powder industry has recently witnessed a rapid adoption in low and medium-income nations in the continent, generating considerable revenues from a host of vital applications. In fact, reports estimate that Asia Pacific rotomoulding powder market will exceed annual valuation of USD 7 billion by 2024.
Author Name : Deeksha Pant
Rapid industrialization and technology developments transforming the global manufacturing sector have enabled smart factory market to emerge as a highly lucrative investment avenue over the forthcoming years. Several advancements in the field of automation, communications and computing power have turned intelligent manufacturing facilities into a feasible reality. Today, several manufacturers are looking to bring more efficiencies in production process while gaining the ability to supply a wider range of products to consumers, driving the expansion of smart factory industry.
U.S. smart factory market, by application, 2018 & 2025 (USD Million)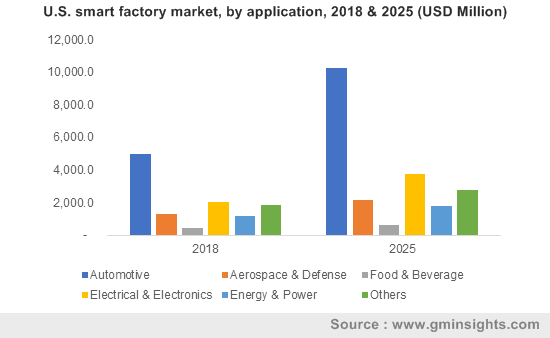 Manufacturers require their production lines and operational processes to be integrated as well as flexible to adapt and enable quick configuration changes to lessen lead times. This helps them to retain a competitive edge in a constantly evolving segment. Smart factories have the ability to address these needs without compromising on quality and safety, positioning the industry in a favorable spot to experience business growth. Not only is building smarter facilities by investing in Internet of Things (IoT) is a massive undertaking, it is also a key component in promoting efficient scalability in the era of Industry 4.0.
Factories that leverage smart manufacturing technology offer a number of benefits to manufacturers including increased productivity, enhanced efficiency and long-term cost savings. Growing awareness of modern manufacturing technologies owing to these advantages will reinforce global smart factory market share. Although high initial investment in smart factories are keeping small to medium sized enterprises at bay, expected rise in affordability of the technologies in the next few years would open up the landscape for these businesses, fueling the adoption of solutions offered by smart factory industry players.
Get a Sample Copy of this Report:@ https://www.gminsights.com/request-sample/detail/1436
The automotive industry is expected to emerge as a prominent growth avenue for the smart factory market over the forecast timeframe. In 2016, multinational automobile company Audi unveiled its Smart Factory 2035 vision in which it envisioned a facility without any assembly lines, instead deploying intelligent, flexible and modern production stations.
Last year, the company had already implemented the proposed vision to manufacture electric motors, wherein vehicle assembly takes place at a production station with automobile components being transported between stations by driverless systems that are controlled by smart IT control systems.
Through this production method, Audi estimates that the factory can produce approximately 400 electric drives with just 100 employees. Audi's initiative offers a proof of the benefits in establishing a smart factory. Several key industry players are expected to follow suit and make investments in their own visions regarding advanced manufacturing plants, significantly boosting smart factory market outlook.
The global food & beverage segment will certainly emerge as a major revenue contributor for smart factory industry due to consistent demand for packaged and frozen food products. A large global population base, that is estimated to hit 9 billion by 2050, tightening regulatory demands around food safety & quality and environmental concerns, as the food & beverage sector consumes 5% of the world's energy, are putting immense pressure on profit margins of producers.
Food and beverage product manufacturers are increasingly looking towards new ways to build flexibility into the inventory management and production process. Adoption of data integration, automation, analytics, energy sourcing and simulation could help companies in transforming their existing factories into intelligent manufacturing facilities to better handle these challenges without severely impacting company margins.
In terms of the regional spectrum, Europe is expected to retain its position as a lucrative market player over the projected period. In fact, Europe accounted for over $25 billion of the global smart factory market share in 2018. The region is home to a number of global automotive firms and according to the European Automobile Manufacturers Association, Europe automobile sector brings in over €90.3 billion in the form of trade surplus. Moreover, the industry is the biggest private investor for R&D in Europe, investing approximately €54 billion annually.
With growing adoption of automation technologies in the food & beverage and automotive sectors, smart factories will undoubtedly become a common trend among large and medium enterprises in the imminent future. Global Market Insights, Inc., has estimated that global smart factory market share will exceed $155 billion in annual remunerations by 2025.
Author Name : Akshay Kedari
The global methyl isobutyl ketone market is slated to amass huge gains over the coming years, owing to the substance's excessive use in insecticides and pesticides. These are essential for growing more food on less land by protecting crops from pests, weeds, and diseases. Whether from natural or synthetic sources, almost all commercial crop producers rely on pesticides, which include methyl isobutyl ketone.
U.S. Methyl Isobutyl Ketone (MIBK) Market Size, by End-use Industry, 2014 – 2025 (USD Million)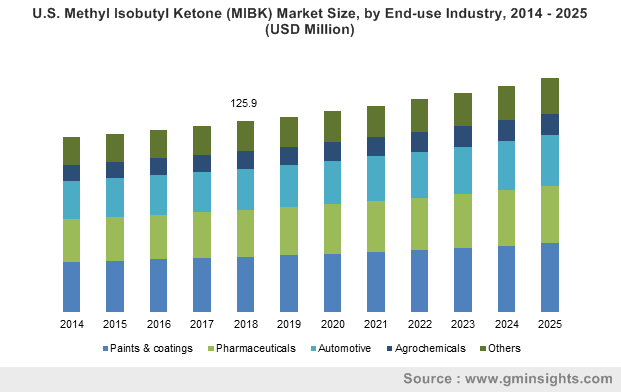 In this context, it would also make sense to state that the rapid expansion of crop protection insecticides market is a key indicator demonstrating the growth of methyl isobutyl ketone market in the upcoming years.
How is the availability of fertile land impacting the business arena?
The agriculture sector in today's day and age is under a stressful phase. The world needs more food, labor force, and fertile land to feed a rapidly growing population. The global population is anticipated to reach 9.8 billion by the year 2050. As a result, the demand for food will be 60 percent more than what it is today, but issues such as urbanization, climate change, and soil degradation will have reduced the availability of fertile land.
However, through pesticides, farmers can grow bigger crops on less land and increase productivity considerably. Since less area is used, it can also help reduce soil erosion, while controlling invasive pests and species. Hence, the declining availability of fertile land will pressurize farmers to focus on crop quality and quantity, which will in turn, boost the adoption of pesticides, thereby benefiting methyl isobutyl ketone industry share.
Are rising incidences of foodborne diseases driving product demand?
Crops are always susceptible to numerous kinds of species, weeds, and plant-eating pests that threaten the crop productivity. The threat doesn't stop there, once an infested crop leaves the field, it can spoil the produce during the storage and transportation process as well, impacting consumers via severe foodborne diseases.
Get a Sample Copy of this Report:@ https://www.gminsights.com/request-sample/detail/2561
According to a credible source, around 1 in 10 people globally fall ill from eating food that is contaminated. A huge example concerning the matter is the 2017 E coli outbreak in the US from Romaine lettuce, following which 200 people fell sick, 96 were hospitalized, and five succumbed to the disease. Pesticides can help prevent disease outbreaks by killing insect populations that carry deadly bacteria. The increasing prevalence of foodborne diseases, stringent norms, and rising awareness pertaining to food security will thus boost the demand for insecticides, thereby proliferating methyl isobutyl ketone industry share.
Is growing preference for organic farming a positive sign?
Speaking of food safety, synthetic pesticides have also taken a beating for their high toxicity. High exposure to pesticides is said to cause several serious illness and diseases in humans, including respiratory diseases and cancers. To enhance productivity without posing a threat to consumers, manufacturers are now experimenting with organic pesticides which is further supported by the increasing acceptance for organic farming. Incidentally, the rising preference for organic food is also driving biopesticides market, the expansion of which is impacting methyl isobutyl ketone industry outlook.
Along similar lines, biotech firm Bionema recently raised £180,000 to develop biopesticides that can substantially reduce the dependency on chemicals for crop pest control. The company already is already marketing some products and plans to launch new biopesticide products by 2021. Methyl isobutyl ketone manufacturers use this chemical in organic pesticides and agrochemicals, which makes organic farming and increasing use of organic agrochemicals a positive driving force for the methyl isobutyl ketone market.
The global methyl isobutyl ketone industry is slated to be fueled by the rising need to produce high-quality yields in tandem with increasing demand for food. In addition, increasing need to prevent wastage of potential produce due to bacteria and plant-eating insects will present methyl isobutyl ketone manufacturers with huge opportunities in the crop protection market.
Apart from this, increasing government efforts to boost agricultural development, particularly in rural regions, will further contribute to market growth. For example, the government of India is reportedly aiming to double farm incomes by 2022. Successful achievements of such targets will empower farmers and agricultural firms to adopt more effective practices that involve the use of expensive organic or synthetic agrochemicals, that will eventually favor the global methyl isobutyl ketone industry. Furthermore, a research report by Global Market Insights, Inc. estimates methyl isobutyl ketone market to be worth more than $800 million by 2025.
Author Name : Krithika Krishnan