Automotive
As organizations embark on their digital transformation journey, the global digital twin market size is showing a consistent increase in consort with advancements in the Internet of Things, cloud, machine learning, artificial intelligence, and Industry 4.0 technologies. Digital twin market trends are primarily driven by the technology's ability to dramatically enhance product performance while mitigating the risk and cost of new product introduction. Additionally, this newfangled technology can boost product realization time by eliminating some of the most time-consuming aspects of real-world product development.
Germany Digital Twin Market Revenue, By Application, 2018 & 2025 (USD Million)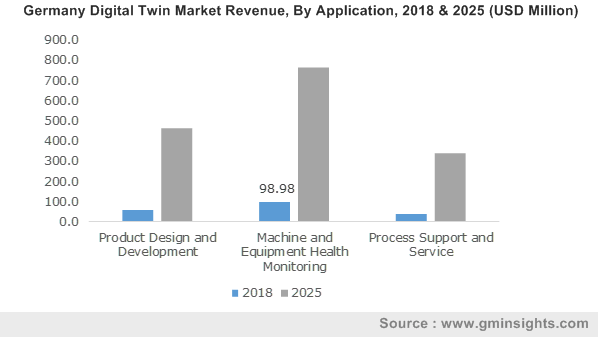 With the rapid proliferation of the Internet of things, a slew of opportunities are knocking the doors of leading players operating in the digital twin market space. Moreover, with digital twins, it is possible that the data which is transferred between blocks can be highly protected and made universally transparent through the blockchain paradigm, thus inspiring global digital transformation. Speaking of the future outlook of this industry, digital twin market statistics by Global Market Insights, Inc.. indicate that the industry valuation is projected to exceed USD 20 billion by 2025.
The fields of application for digital twins are diverse and not confined to a specific domain or industry. Having said that, digital twin market analysis reports claim that automotive, manufacturing, energy & utility, healthcare, aerospace and defense, infrastructure, retail, and consumer goods are the leading end-users of this unconventional technology.
A brief overview of the latest digital twin market trends:
In a bid to create solutions for a better future, the healthcare market has lately become a leading contributor to the digital twin industry revenue. The increasing use of machine learning in medicine and augmented and virtual reality in healthcare market for streamlining hospital processes & operations, augmenting customer experience, and generating real-time analytics, has fueled the demand for digital twins in the healthcare domain. For instance, efficient data entry and location of assets can speed up the patient admittance procedure and save significant waiting time.
With the advent of Internet of things, there has been a rapid increase in smart construction and connected spaces. Digital twins are these days deployed in connected buildings to stimulate building settings based on historical data to detect changes in the design of the building, as well as locate rooms that are wasting power or are rarely used. As smart construction becomes more popular across global economies with growing disposable incomes, the digital twin industry size is slated to rise significantly.
Get a Sample Copy of this Report:@ https://www.gminsights.com/request-sample/detail/2196
3 Biggest business challenges digital twin can overcome:
Accurate inventory to avoid overstocking:
The global inventory management software market space has lately been brainstorming the possibilities of digital twin to reduce cost and revenue leakages, for gargantuan warehouses and supermarkets, where managing optimum inventory level is the biggest challenge. Digital twin market analysis suggests that the availability of real-time consumption data can lead to a quicker replenishment of supplies and avert over-inventorying, which can cause product spoilage. Hence, the fast-paced adoption of digital twin in the inventory market offers lucrative growth opportunities for the digital twin industry.
Addressing the shortcomings of aerospace fleet management:
Some of the biggest challenges in fleet management in the aerospace industry are poor data integrity, slow turnaround time, aging systems, high maintenance costs, and antiquated manual processes. The utilization of digital twin is poised to bring about a paradigm shift in the traditional approaches, by filling the gap amid the physical and the digital worlds. This innovative technology can offer predictive and prescriptive analytics which can reduce unplanned downtime for engines and cut maintenance, repair & overhaul costs, thereby enhancing fleet performance.
Amplifying testing & product development capabilities:
Digital twins can potentially help industries in reducing product development and testing expenses. Companies depending heavily on destructive testing for developing products can use the virtual replica of the real-world scenario for significant portion of the product testing. Say for example, automotive industry can employ digital twin for crash testing prototype vehicles. Likewise, enterprises creating giant models and prototypes for feasibility analysis can save money with digital twins during product development. Digital twin market is slated to advance at a rapid pace in the coming years, given the above backdrop.
Currently, the term digital twin looks like a future concept surrounded by a lot of marketing hype from some top-notch technology companies like Amazon, Microsoft, IBM, and the like. But, considering the unparalleled growth of the digital twin market share in recent years, it can be alleged that this disruptive technology will ensue a broad and deep impact on a plethora of industries in 2019 and beyond.
Author Name : Nikita Chaurasia
Pour point depressants market size, in recent times, has registered a direct impetus through the expansion of oil and gas sector – tagged as one of the leading consumers of PPDs. Governments worldwide, specifically the Trump government, have been wholeheartedly lending support to the expansion of the oil and gas industry and have been working to speed up its progress.
U.S. EVA Pour Point Depressants Market Size, 2019 & 2025, (Kilo Tons)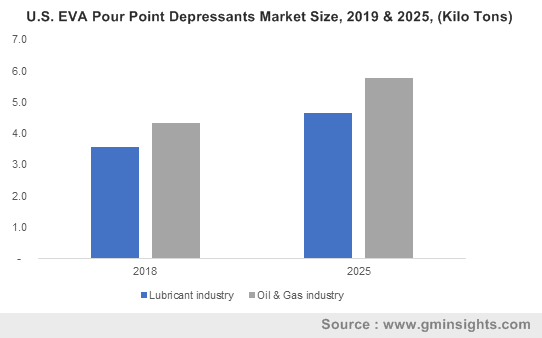 For example, President Trump recently signed two executive orders to speed up construction of pipelines and other projects that will effectively enhance transport of oil and natural gas between not only across states but across international borders as well. Pour point depressants market size is likely to receive a boost from such moves as crude oil is often too thick to be transported with ease over long pipelines.
Crudes and heavy fuel oils, being the mixtures of hydrocarbons that range from paraffins, resins and naphthenes to asphaltenes tend to crystallize when cooled down which lead to sedimentation and eventual blockage of pipelines. To keep crude oils moving through pipelines, pour point depressants have to be added to them, which in turn will lend commendable impetus to pour point depressants market size.
The paragraphs listed underneath elaborate on the application spectrum of PPDs. The rising demand for these products across these verticals is that are expected to enhance the pour point depressants market size over 2019-2025:
Application in crude oil transportation:
To elaborate further on use of PPDs in crude oil transportation, it should be mentioned that 20% of all produced crudes have high wax levels and pour points. Most crude oils have to be transported through pipelines that takes them to refineries, processing plant or storage. Among the various technologies that are deployed to conveniently transport crude oil, use of PPDs has proved to be by far the most economical technology.
With PPD manufacturers working with customers to produce more customized products, the pour point depressants market is expected to gain commendable proceeds over the forthcoming years.
Get a Sample Copy of this Report:@ https://www.gminsights.com/request-sample/detail/3359
Application in diesel fuels and heating oils:
Chemical characteristics of diesel fuels and heating oil are as such that they contain lower molecular weight paraffins which can demonstrate different cold flow properties. For instance, diesel cuts sourced from Gas to Liquid or Coal to Liquid procedures have higher pour points when compared to crude distillation sourced diesel.
Local requirements and pipeline specifications also sometimes make PPDs inevitable for diesel fuels. In this context, pour point depressant market players often work to develop tailored PPDs that will also serve to augment pour point depressant market size further.
Application in marine fuels:
New sulfur emissions restrictions levied by various governments and agencies on marine vehicles have prompted ship owners who are unable to install costly exhaust treatment equipment to use hybrid fuels which are developed with a blend of heavy and light fuels. Pour point depressants market size has gained a considerable impetus through the development and use of such fuels as these marine fuels have to be brought to Pour Point specification with the use of PPDs.
Pour point depressants industry players who had observed this marine market trend early on have been observed to have invested heavily in better R&D regarding the development of tailored PPD additives for new types of marine diesel. In consequence, this has added a significant stimulus to the use of such fuel types.
Application in automotive sector:
The automotive industry has long since struggled with the problem of waxy buildup as wax is present in almost all refined lubricating oils. Given that the wax crystalizes at low temperatures, preventing the oils from flowing, original equipment manufacturers have invested in numerous research and development programs to find a solution to this problem.
It has been found that most OEMs have come to rely on modern, high-performance lubricants to control viscosity and prevent wear under operating conditions. Pour point depressants have been instrumental in helping lubricants to achieve such a target and have kept automotive fluids flowing even in cold weather. This has provided a major boost to PPD manufacturers and they have been found to come up with newer portfolios of products lately.
With evolving needs in various industries that utilize petroleum and where free flowing oils is a major requirement, PPDs will always find major application avenues. The World Bank has increased its investment in fossil fuel development, with $21 billion being invested between 2014 and 2018. Though the general trend is to increasingly eliminate focus from use of fossil fuels, such investments prove otherwise. A report by Global Market Insights, Inc., forecasts pour point depressants market size to surpass $935 million by 2025.
Author Name :Paroma Bhattacharya
The global fluorinated ethylene propylene market is slated to experience immense growth prospects in the coming years owing to the product's extensive use across the automotive, electronics, food & beverage, and medical industries. In the automotive sector, FEPs are widely used in compact and small-sized cars, in the tubing, bellows, and pressure hoses. The increasing shift among car buyers from sedans to more compact cars, especially in emerging economies will thus propel the growth of FEP industry.
U.S. Granules Fluorinated Ethylene Propylene (FEP) Market Size, 2018 & 2025, (Kilo Tons)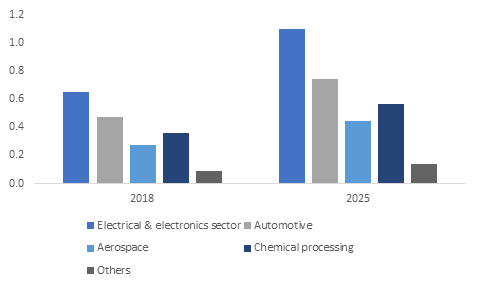 Small cars are also the most affordable vehicles to get on to the road and are easy to park as they don't take up much space. For a middle-class family in emerging nations, a compact car facilitates savings since they are more fuel-efficient compared to sedans and SUVs. Hatchbacks also serve as the best option, in terms of passenger and driver safety with advanced collision control at affordable prices. In 2018, car manufacturers in India invested heavily on small cars to enhance sales records in smaller parts of the country.
For instance, Hyundai, relaunched its most loved hatchback Santro to appeal to Tier 1 and 2 cities where per capita vehicle ownership is still significantly small. Therefore, increasing demand for small vehicles from emerging and low-to-middle income nations will boost the global FEP market outlook.
Growing product demand for automotive ball bearings, paints, and adhesives, and sealants from the construction sector will also help the global FEP market gain traction in the coming years. Latest data from The Bureau of Labor Statistics and Timetric's Construction Intelligence Center, estimates the construction industry to grow at a modest rate over the next several years. Industry professionals further predict one of the largest increase in real output for the construction space, with the business hitting the trillion-dollar remuneration space by 2020. This would remarkably surge the need for adhesives and sealants, driving FEP industry share.
Get a Sample Copy of this Report:@ https://www.gminsights.com/request-sample/detail/3263
Construction of residential housing will witness growth in the years to come owing to the rising population in the United States. Government spending to support homeownership, housing developments and a sustainable community in a bid to provide access to affordable housing will further increase the demand for construction projects. The development in the construction industry will massively boost the demand for paints, adhesives, and sealants, which will eventually drive the fluorinated ethylene propylene market in the coming years.
Fluorinated ethylene propylene tubing is a robust engineering fluoropolymer which offers excellent fluid visibility, low-temperature resistance, and low coefficient of friction and is perfect for flow control monitoring. Hence, the product finds significant use in chemical processing applications as well as the petroleum and oil & gas industry.
For instance, the Indian government has come out with new policy reforms, which makes drastic changes in the country's Hydrocarbon Exploration Licensing Policy and the Open Acreage Licensing Policy in a bid to garner more domestic and foreign investment for exploration of oil and gas, which if successfully implemented could drive the demand for FEP tubes. According to a report by Global Market Insights, Inc., FEP tubes market from chemical processing application is estimated to register more than 6% over 2019-2025.
These materials are also commonly used in solar panel applications. Fluorinated ethylene propylene films serve as the perfect protective front sheet for solar panels due to their smooth, flexible and light-weight features. The material also makes sheets stronger, thereby improving the durability and life span of solar panels, while enhancing its looks as compared to traditional glass. The adoption of these glasses will be fueled by growing energy consumption and issues concerning energy-efficiency.
Increasing efforts to generate energy from renewable sources, stringent government regulations and the benefits pertaining to efficient energy use and affordability of solar panels will further propel the solar power industry. Recently, in an effort to become America's leading rooftop solar company, automotive and energy giant Tesla, slashed prices of solar panels. Such moves will accelerate the adoption of solar energy, which will boost the demand for FEP films, thereby driving the global FEP market growth over 2019-2025.
Fluorinated ethylene propylene will continue to attract huge demand from numerous industries owing to its vast benefits. According to Global Market Insights, Inc., the fluorinated ethylene propylene market valuation is anticipated to reach $1.2 billion by 2025.
Author Name : Krithika Krishnan
The rising concerns pertaining to vehicular emissions are expected to boost the global battery electric vehicle market over the forthcoming years. In 2018, carbon emissions were at an all-time high, with the automotive industry being a major contributor. Emissions from cars and trucks using fossil fuels continue to grow at an alarming rate in all parts of the world. A common factor among both developed and developing economies on these grounds has been the continuous rise in the use of oil in the transport sector.
Brazil Battery Electric Vehicles Market, By Vehicle, 2018 & 2025, (USD Million)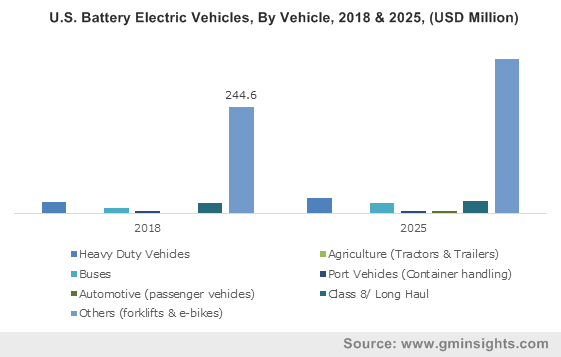 According to the latest forecasts, the level of CO2 in the atmosphere is projected to witness an average rise of 2.75 parts per million over 2019. If the world needs to meet the temperature goals of the Paris agreement, global emissions need to plummet by 2020. Unlike conventional vehicles though, battery powered vehicles don't require fuels and hence don't release much CO2. The growing number of issues related to vehicular emissions paired with the increasing need to reduce the effects of greenhouse gases will thus propel battery electric vehicles industry share in the future.
Over the last few years, electric vehicles have nearly gone mainstream, at least in the key global markets. Now having accomplished a small but significant share of the passenger-car market, the EV industry has been eying the public transit sector. Companies are now manufacturing battery-electric buses and selling them to cities interested in reducing their carbon footprint. Major manufacturers active in the electric-bus business comprise Canada-based New Flyer, China's BYD and the US-based startup Proterra.
Recently, Austin became the fifth Texas city to invest in the Proterra battery-electric buses. A complete all-electric fleet is the main goal of the city's transit agency Capital Metro, that purchased 40 buses along with 4 Proterra-charging systems of 60 kilowatts. Through no tailpipe emission, battery electric buses can help the agency meet its sustainability goals efficiently. The increasing adoption of such vehicles for public transportation will further proliferate the global battery electric vehicle market.
Get a Sample Copy of this Report @ https://www.gminsights.com/request-sample/detail/3181
Recently, Daimler Trucks North America claimed that battery electric vehicles will pave the way for zero-emission commercial transportation. According to the European Federation for Transport and Environment, emissions from heavy-duty vehicles such as trucks and busses grew by 36% between 1990 and 2010 and has continued to grow ever since. By the year 2030, trucks and buses will release around 15% of overall effort sharing or non-ETS emissions. Unless additional measures are taken, heavy-duty vehicle emissions could rise to contributing 40% of overall road transport emission by 2030. This presents BEV industry contenders with a viable growth opportunity, to manufacture batteries for heavy duty vehicles.
Recently, Germany-based Daimler announced the production of Freightliners, the company's heavy-duty battery electric vehicles, from its manufacturing plant in Portland. According to Global Market Insights, the BEV market share from heavy-duty vehicles segment will exhibit a CAGR of 9% over 2019-2025. The adoption of battery electric heavy-duty vehicles in a bid to reduce emission from commercial transportation will thus propel the global BEV market in the coming years.
The adoption of battery-operated passenger cars, buses or trucks will be further supported by the imposition of stringent vehicular emission standards across the world. For instance, the European Parliament recently agreed to new CO2 emission standards for newly purchased cars and vans with an objective to witness 37.5% reduction in emission from new cars and 31% lower emissions from new vans by the end of 2030.
Such regulatory initiatives along with the increasing need to prevent the severity of global warming would accelerate the adoption of BEVs in the future. For the record, the global battery electric vehicle market is anticipated to surpass $425 billion by 2025, according to a research report by Global Market Insights, Inc.
Author Name : Krithika Krishnan
The commercialization potential of non-destructive testing (NDT) service market is set to witness renewed momentum owing to the evolving demands of the global industrial sector and the effect of digital transformation. These services are anticipated to reach a wider range of business verticals due to the rising number of disruptive innovations and the emergence of pathbreaking technologies such as AI and IoT.
U.S. Non-Destructive Testing (NDT) Service Market Revenue, By Method, 2018 & 2025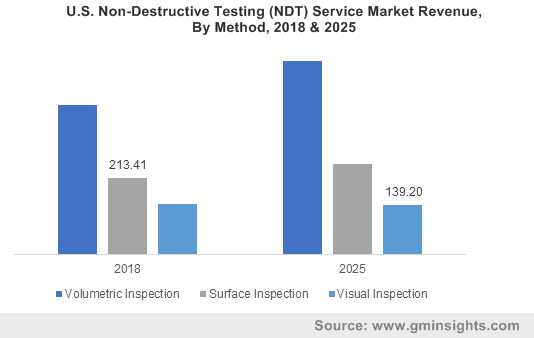 Enhancements in the ultrasonic inspection technology to boost the remuneration scale of NDT service industry
Worldwide, assets of various business verticals are aging and the number of inspection regimes has witnessed an unprecedented uptick as safeguarding these assets is turning out to be a tough task. Invariably, the demand for agile inspection equipment has been intensifying lately. In this context, it is quite imperative to state that ultrasonic inspection testing is being regarded as one of the most prominent technology types among all the NDT services. Some recent developments associated with the improvement of the NDT services – utilizing high-end technologies and research – are set to not only enhance the productivity levels but also add stealth to the ultrasonic inspection testing. Enumerated below are a few major instances that are a testimony to the significant research activities and increasing product ingenuity:
Material testing services provider Element has recently launched a new testing lab spread across 20,700 square foot in Sheffield, United Kingdom. The new lab, which would be a prominent part of the undergoing industrial revolution in the region, will be situated close to Advanced Manufacturing Innovation District of Sheffield. It would be a center for excellence for NDT and inspection research and would prove advantageous to the consumers from the oil and gas and aviation sectors. Additionally, its location would ensure that it receives access to latest technical expertise and support, essentially propelling the growth prospects of NDT services market in the region.
Manufactured for a wide range of applications spanning from a flat plate to a tiny 50 mm diameter surface, Silverwing R-Scan is a new handheld portable B-Scan inspection system which aims to improve the probability of detection and data quality of ultrasonic inspections. Introduced by Eddyfi Technologies, the new NDT solution can be used to complete tank inspections where an automated and remote crawler such as the scropion2 system cannot be deployed. The registered information sets are displayed in a cross-sectional B-scan view that assists in improving in-service flaws, reveal corrosion, increasing speed, and the inspection quality. Remarkably, the addition of such agile, advanced, and portable inspection systems to the product range of ultrasonic inspection testing providers would boost the overall geographical reach of NDT service market.
Get a Sample Copy of this Report @ https://www.gminsights.com/request-sample/detail/3201
Europe to contribute massively toward strengthening the revenue profile of the global NDT service industry
Speaking of the growth of the NDT service industry in geographical terms, Europe held more than 30 percent of the revenue share of this business vertical in the year 2018. Presence of numerous well-known companies such as Bureau Veritas, SGS, and Intertek in the region has been a crucial factor in reaching out to a large customer base. In addition to this, stringent regulatory guidelines – rolled out by European Union along with various local governments – mandating the usage of NDT services to ensure product and employee safety has assisted the industry players to reach high potential growth areas.
Elaborating further on the leading position of Europe, it has also helped that the region's aviation sector is on a roll with a clearance of a massive backlog of aircraft orders being concluded recently. To put things in perspective, prominent aircraft manufacturers such as Airbus and Boeing have a record backlog of more than 12,000 new aircraft that are to be manufactured by the year 2025, creating humongous growth opportunities for the Europe NDT service market in the forthcoming years.
Considering the humble beginnings of the NDT service industry, it is prudent to mention that drastic enhancements over the years have increased the usage of these services across numerous applications. This growth trajectory of the NDT service market is certain to continue in the coming years, as has been highlighted in the research report compiled by Global Market Insights, Inc. which claims that this business vertical would surpass a decent remuneration scale of about USD 4.5 billion by 2025.
Author Name : Saif Ali Bepari
The rapidly growing adoption for high-precision, graphics-oriented applications in the automobile and healthcare sectors is certain to fuel GPU market growth in the forthcoming years. GPUs have become an essential part of today's mainstream computers and mobile devices and have been characterized by remarkable advancements with respect to performance and capabilities. The product successfully offers added support for analyzing complex datasets in a quick manner and is increasingly gaining traction in almost all consumer electronics straight from laptops, PCs and smartphones to car infotainment systems and latest digital systems.
Asia Pacific GPU Market Revenue, By Region, 2017 & 2024 (USD Million)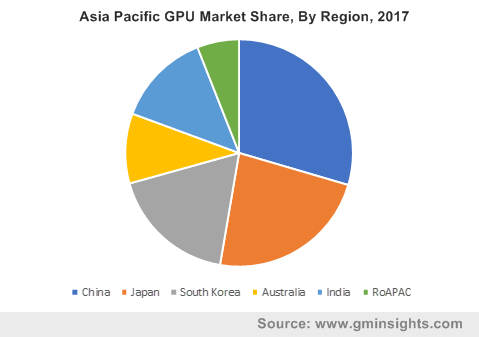 With the growing adoption of IoT devices that gather huge amounts of data which needs to be monitored and analyzed, the demand for high-end computing systems has effectively increased in the automotive sector. Reports suggest that the GPU market will amass quite some returns from the automotive sector owing to an increase in the use of GPUs to accelerate engineering and design applications. As the automotive industry is focusing on developing new vehicles with enhanced design & functionality, GPUs have found applications in CAD/CAM software. With the rising demand for these software increase, the GPU market is expected to witness an accelerated growth rate in the years to come.
Get a Sample Copy of this Report @ https://www.gminsights.com/request-sample/detail/3088
Another application vertical that will help propel GPU market is healthcare, owing to the demand for precision medicine and value-based healthcare. Real-time data has become more vital for healthcare organizations as clinicians seek more accurate information for diagnosing patients during their initial visit. Reports claim that healthcare providers and life science firms are among the 92% of the cross-industry organizations that plan to invest in near real-time big data analytics applications in the future. For instance, in April 2018, tech giant Google announced plans to reinvent the healthcare industry of U.S. with a focus on big data and AI. The company is reportedly using its know-how in AI to create a new system for the detection, diagnosis, and treatment of diverse diseases, that certainly will require GPUs for processing complex data, further augmenting the growth of the GPU industry.
Irrefutably, the gaming domain will be one of the most proliferating end-use sectors of the global GPU market. Mobile gaming is currently acknowledged as one of the fastest growing segments in the game industry – indeed, mobile users demand more immersive, connected gaming experience which provides high-resolution visual graphics and high-fidelity audio. Growing penetration of smartphones and tablets is also fueling the growth of the gaming industry. For instance, according to the ESAC Report 2018, in Canada around 80% users view video games as mainstream entertainment. Furthermore, reports from the Germany Trade & Invest cite that, in Germany, personal computers (PCs) stand as the most preferred gaming platforms with around 18.4M active users, followed by smartphones (17.2M), consoles (15.6M), and tablets (11.5 million).
The rapidly growing use of gaming devices and the paradigm shift towards online gaming are bound to upsurge the demand for high-end graphic processors to support gaming applications. As per estimates, the gaming sector is anticipated to hold a major share of 34% in the GPU market by 2024.
Some of the most preferred brands that have made a mark in the GPU industry include Nvidia, AMD, Intel, Microsoft, Google, IBM, PTC, Qualcomm, and S3 Graphics. GPU chip makers have been making heavy investments in addition to forging partnerships for developing new and better performing products. For instance, in January 2019, Nvidia announced its partnership with luxury carmaker Mercedes-Benz to develop a new automotive AI platform that could effectively offer control to the automaker's electronic gears equipped in its new car segments.
Author Name :Mateen Dalal
The rising demand for enhanced storage memory in consumer electronics for extensive data management is likely to drive semiconductor memory market growth in the years to come. Lately, the demand for advanced semiconductor memory has travelled beyond the realm of the traditional personal computer. The requirement of electronic systems including digital consumer electronics, mobile communications, networking, automotive electronics, and industrial/medical electronics has seemingly surged in recent years, subsequently increasing the need for semiconductors.
China semiconductor memory market, by type, 2017 & 2024 (USD Million)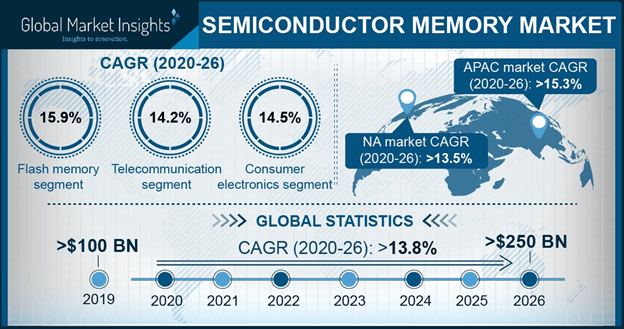 As a matter of fact, all digital consumer electronic products incorporate highly advanced semiconductor memory devices to enable and enhance system storage and performance. Semiconductors are consequently growing in importance as they offer industries with new manufacturing opportunities to develop highly efficient products for customers. The need for high-speed interconnects continues to accelerate and is driving the architecture of next-gen memory technologies. As a result, memory devices and architectures are changing rapidly to satisfy the demand for higher performance electronics, further driving the semiconductor memory market growth.
Android smartphones to offer remarkable growth opportunities to the semiconductor memory market players
Smartphones have reportedly become the preferred computing device for a variety of applications. Reports suggest that over 70% of the world's population is anticipated to use smartphones by 2020, while over a billion Android devices will be used by the same year. For several Android smartphones, varying the flash storage drastically improves the device's overall performance, typically between 100% to 300% across applications.
Storage performance on mobile devices will enhance the end-user experience in the years to come, as its impact is expected to grow owing to emerging wireless technologies that offer much higher network throughput as well as the advent of faster networks and I/O interconnects. This considerably validates the fact that the rising number of smartphones is expected to help drive the remuneration potential of the semiconductor memory market.
Get a Sample Copy of this Report @ https://www.gminsights.com/request-sample/detail/2548
Will India emerge to be a potential investment ground for stakeholder over 2018-2024?
The India semiconductor memory market is anticipated to procure substantial proceeds by the end of the projected timeframe owing to the rising proportion of smartphone users and emerging consumer electronic companies. The region has a steady growth infrastructure and develops emerging embedded technology that offers both hardware and firmware solutions.
The country also depicts considerable growth prospects for the automotive, agriculture, pharmaceutical, IT, construction and defense sectors. The growing adoption of IoT in these sectors will further enhance the demand for semiconductor memory, thereby impelling the regional industry trends. Emerging smartphone applications and the escalating demand for storage memory will also foster industries to develop enhanced memory solutions, expediting the India semiconductor memory industry share.
Some of the key players in the semiconductor memory market include Samsung Electronics, Nvidia, On Semiconductor, Micron Technology, Inc., etc. Manufacturers are focused on product development by investing in R&D activities & engineering capabilities to cater to the needs of mobile industry customers. To stabilize the component pricing, companies are reportedly developing strategies to maintain the average prices of ROM and RAM products. Manufacturers in the semiconductor memory market are also likely to face challenges in the future owing to the emergence of replacements such as MRAM, ReRAM and phase change memory.
As semiconductor memory technology rapidly evolves to meet the ever-growing needs of the electronics industry, it is likely to experience high demand from end-use industries including electronics and automotive. Increased demand and the rapid evolution of smartphones and PCs across the globe will continue to impact the product requirement, on the grounds of which manufacturers will constantly seek ways to expand their production facilities and know-how. This could considerably impact the remuneration portfolio of the overall semiconductor memory market, slated to cross a mammoth USD 730 billion by 2024.
Author Name : Mateen Dalal
One of the most swiftly progressing verticals of the global smart technologies space, light field market has come a long way since its inception owing to pathbreaking inventions to capture the 3D and 4D light fields. The gradually rising popularity of light field cameras across several business verticals such as industrial, healthcare, retail, entertainment and media, and automotive has certainly propelled the product demand in the recent years. As light field cameras are equipped with thousands of micro lenses between the main lens and the sensor, it lets the user shoot first and focus later which ensures an improved image resolution. Numerous companies appear proactive in adopting light field technology and are developing high-grade products – a factor that would widen the horizon of light field industry in the years ahead.
Japan light field market, by application, 2017 & 2024 (USD Million)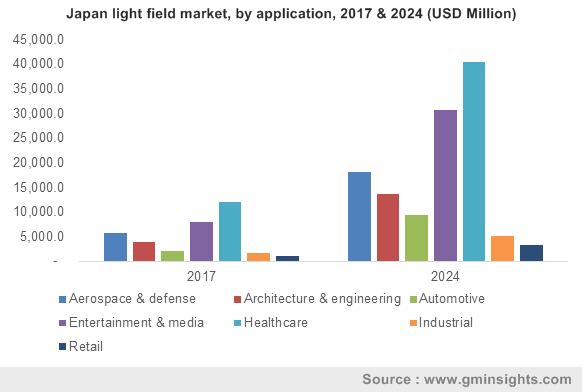 Adoption of light field technology in the entertainment and media sector is altering the contours of the overall industry
One of the major factors that has provided a significant impetus to the light field industry progression is the rapidly expanding entertainment and media application of this technology. In fact, as per a research report prepared by Global Market Insights, Inc., the entertainment and media application apportioned more than 25 percent of the total revenue share of the industry in 2017 – impressive statistics that signify the extensive future growth of this application. This technology is being increasingly incorporated in numerous entertainment medias including amusement parks, theaters, gaming, museums, and apps, predominantly through virtual reality (VR) headsets. Apparently, the light field technology has seemingly demonstrated a new level of how convincing VR experiences can be.
A recent instance lending credibility to the claims of using light field technology effectively in VR is of Google, who has been experimenting with this technology over the last few years. In 2018, the search engine giant released a free application, named 'Welcome to Light Fields', mainly to exhibit the potential of this technology. Notably, the application has been made available on Steam VR for Windows, Oculus Rift, and HTC Vive VR headsets.
Get a Sample Copy of this Report:@ https://www.gminsights.com/request-sample/detail/2664
Speaking along similar lines, it has also been recently reported that Google acquired Silicon Valley-based imaging startup Lytro, which is best known for developing the world's first light field camera and has numerous patents to its name in VR-related imaging technology. With this acquisition, it is being speculated that the company might be looking to strengthen either its VR gaming initiatives or its camera offering in Pixel phones, which is quite unsurprising as prominent players operating in gaming sector are improving customer experience by integrating VR into games. Considering the impact of the top of the line acquisitions and innovative products being unveiled by major tech magnates like Google, the entertainment and media application of the light field industry is undoubtedly set to escalate at an exceptional pace in the ensuing years.
Latin America to emerge as a major revenue pocket for light field industry
Anticipated to register an annual growth rate of more than 16 percent over the forecast timeframe, Latin America has gradually emerged as a lucrative investment avenue for potential stakeholders. The rapidly expanding retail sector in Latin American nations has compelled the major retailers to adopt and leverage new technologies to gain competitive advantage. In this regard, it would be prudent to mention that the proliferation of AR and VR technologies has been assisting the retail sector to improve customer experience and brand engagement ratio.
The brick-and-mortar retail outlets are launching interactive experience devices such as mixed reality headsets to enhance the shopping experience, essentially fueling the growth potential of Latin America light field industry. In addition to the retail sector, the light field technology is being increasingly utilized across other business verticals such as automotive and hospitality, which would, in turn, strengthen the product demand in the times to come.
With light field technology being increasingly used in imaging solution processes along the likes of layout & animation, image construction, 3D scanning, 3D rendering, and 3D mapping and modeling, it remains to be seen how this technology impacts the future of mixed-reality products. However, it is quite imperative to mention that the growth trajectory of light field market appears highly-promising owing to the technology's potential to drastically change the product portfolio of several business verticals. For the record, the commercialization scale of the global light field industry is slated to surpass USD 1.5 billion by 2024.
Author Name : Saif Ali Bepari