AWP Truck Market
Raimondi Cranes' 2018 launch of luffing jib crane is symptomatic of the relentless efforts undertaken by crane market giants to be placed at a higher notch over their contemporaries. Given the dynamically charged intense share battle in the competitive landscape, companies have been feverishly focusing on expanding their product portfolio to stronghold their business position, as depicted from Raimondi's new flagship crane.
North America mobile crane market, by application, 2018 & 2025 (USD Million)

Dubbed as LR330, this new luffing jib crane, is claimed to be equipped with an equilateral triangular jib of a maximum length of 60 meters and weight carrying capacity of 18000 kg. Sources have also categorically stated that the Raimondi's new luffing crane range has been specifically designed to reduce the impact of wind on the jib, thereby ensuring efficient transportation.
Furthermore, the equiangular triangular jib design would also enhance numerous other operational aspects of the machine as well, cite sources. While Raimondi already holds a strong position in global crane market with a history of nearly one and half centuries, the launch of LR330 would undoubtedly prove to be a milestone in its journey. Some of the other pronounced players whose contributions have been significant in proliferating crane market trends include Hitachi Sumitomo Heavy Industries Construction Crane Co, Terex Corporation, Manitowoc, Konecranes PLC, Liebherr Group, and Palfinger AG.
Konecranes PLC, for instance, one of the most renowned Finland based crane market giants, has recently made to the headline with its proposed RENTALL concept. If reports are to be relied, the company now offers premium lower capacity overhead cranes of utmost 10 tons for rent, providing an alternative to buying a crane.
Get a Sample Copy of this Report:@https://www.gminsights.com/request-sample/detail/2398
Apparently, the new business line is all inclusive of an absolutely free service package, where Konecranes itself provides all the maintenance cost of the rented crane without any further investment from the customers. With this absolutely innovative program designed to offer maximum flexibility to the customers, Konecranes PLC seems to be on the path of empowering its stance in the overall crane market share. The RENTALL concept, reportedly, has been already rolling out at some parts of Canada and U.S., post the successful launch of the program in some of the Nordic countries like Singapore, U.K., and Australia.
The oil & gas sector is unquestionably a lucrative application arena for crane industry – specifically for tower crane market. Tower cranes are extensively deployed in offshore as well as onshore oil rig sites pertaining to applications such as drill pipe lifting, casting, maintenance equipment lifting from ships and the like. The ascent in demand can be credited to the product's exclusive feature of operating even in severe weather conditions, in addition ensuring easy moving of heavy materials across the oil platforms.
Driven by the fact that this particular category of cranes is largely installed in wind energy park, Europe has emerged to be one of the strong grounds for the business space. Augmented by the region's hefty investments in renewable energy projects in tandem with the presence of a supportive regulatory landscape, Europe crane market size is likely to show an upsurge in the years to come.
Despite the appreciable growth prospect, high capital investment and maintenance cost associated with the equipment are perhaps two of the major challenges that crane industry players are presently dealing with. On the other hand, tremendous development in constructional activities across emerging nations is further scaling up the demand for high-end crane systems.  In the face of these two-contradictory situations, companies have been readily investing in automation of equipment, in a bid to comply with the international quality standards.
With profound technological interventions in product design ensuring accurate signal collection, rapid speed calculation, and high degree of safety, crane market is expected to witness a substantial momentum over the coming years. Speaking of its commercialization potential at a global scale, crane market size is forecast to exceed a valuation of USD 28 billion by 2025.
Author Name : Saipriya Iyer
Growing focus on infrastructure growth coupled with an increase in real-estate investments are predicted to boost the demand for aerial work platform trucks. Furthermore, the rising need for material handing in factories as well as in production activities is expected to boost the industry trends over the coming years. According to Global Market Insights Inc., "Aerial Work Platform (AWP) Truck Market share worth USD 2.4 billion in 2015, is estimated to reach USD 11 billion mark by 2024, growing at a CAGR of 18.5% over the period of 2016-2024." Modernization in electrically propelled elevating platforms to fulfill emission norms and address the ecological concerns is expected to benefit the market in future. AWP trucks are predicted to find their use in various industries owing to its safety features, maneuverability, and ease of handling features.
China Aerial Work Platform Truck Market size, by product, 2013-2024 (USD Million)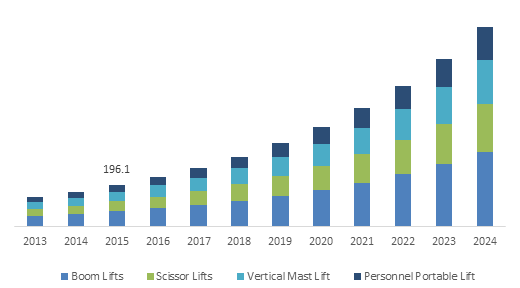 The rising installations of power cables and transformer & street light maintenance is predicted to boost the market trends over the coming years. Large scale use of AWP trucks in mining & construction activities due to the high risks involved in the work is predicted to benefit the market. The rapid growth of telecommunications industry due to the growing number of smartphone users will fuel AWP truck demand. These vehicles find their use in event management activities such as organization of corporate events, conventions, conferences, festivals, formal parties, and concerts.  They are also used in disaster management operations as well as defense activities.
Get a Sample Copy of this Report:@ https://www.gminsights.com/request-sample/detail/689
AWP truck applications in the construction industry is predicted to be worth USD 4 billion by 2024 owing to big construction projects along with heavy infrastructural growth. Logistics & Transportation industry is also predicted to witness high market penetration over the coming years, with vehicle applications worth USD 550 million in 2015.
Asia Pacific AWP truck market is forecast to record a CAGR of 18.7% over the period of 2016-2024 due to the growing number of mobile phone users coupled with the requirement of good telecommunication infrastructure.
North America AWP truck market size is anticipated to witness a substantial growth over the forecast timeline. U.S. market is predicted to contribute noticeably towards the regional growth due to high capital investments along with an increase in the renovation work activities in the country.
Driven by various applications in the construction, telecommunications, and transport & logistics industry, AWP truck is deployed in the form of vertical mast lifts, boom lifts, personal portable lifts, and scissor lifts.
Scissor lifts AWP truck market is predicted to grow at a CAGR of 18.3% over the period of 2016-2024 owing to its increasing demand in various applications requiring direct overhead access. Boom lifts AWP truck market contributed over 35% of the global industry share in 2015 and is expected to dominate the industry over the forecast period. Rising use of the vehicles to enable entry in blocked areas is projected to boost the industry demand.
Key industry players include Terex Corporation, Haulotte, Ruthmann, Aichi Corporation, Tadano Limited, CTE, Shen Yang North Traffic Heavy Industry, Hunan Runshare, Time Benelux, and Teupen.
Author Name : Dhananjay Punekar