Bakery
Powered by a rather lucrative application prospect in agricultural and pharmaceutical domains, magnesium phosphate market has witnessed remarkable proceeds over the recent years. Testament of the fact is the billion-dollar valuation pegged by the market in 2017.  A large credit of this goes to the technological advancements in medicinal sector that has significantly upscaled the product utilization as a DNA carrier in modern drugs. Moreover, extensive utilization of fused magnesium phosphate in fertilizers and water treatment applications has further boosted overall magnesium phosphate industry demand. For the records, the typical nutrient content in fused magnesium phosphate fertilizers is almost 20%, that gives it a competitive edge over other synthetic fertilizers. With the growing necessity of maintaining an optimum phosphorous content in soil, magnesium phosphate industry stands to gain immensely from fertilizer applications over the ensuing years.
North America Magnesium Phosphate Market, By Product, 2017 & 2024, (Kilotons)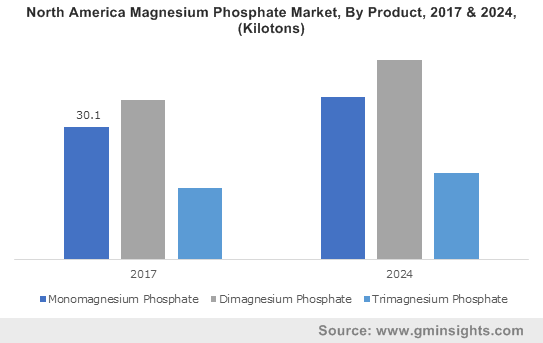 Nutritional deficiency, of late, has become a subject of discussion in the field of medical science, having been claimed as an important determinant triggering widespread epidemic of chronic diseases. Magnesium being a vital component of the nutrition chain has generated a substantial momentum in terms of its demand graph worldwide, particularly in the pharmaceutical space. The ongoing research programmes focusing on the harmful impact of magnesium deficiency and the subsequent requirement for magnesium repletion have created a considerable product demand worldwide.
As per reliable studies, magnesium deficiency has been cited as a root cause of many of the mental and physical ailments, driven by which magnesium phosphate market has strongly established its stance in the pharmaceutical sector. Magnesium is claimed to be fourth common mineral in human anatomy after calcium, sodium, and potassium and is involved as a cofactor in over 300 enzyme systems. The product is highly necessary for effective biomedical functioning of multiple metabolic pathways. Significant advancements in biomedical sector, particularly in the field of osteoporosis and arthrodesis, have also allowed magnesium phosphate industry to collect copious monetary benefits, given the product's extensive deployment in bone graft substitutes.
Get a Sample Copy of this Report @ https://www.gminsights.com/request-sample/detail/2707
As per a recent review by American Osteopathic Association, optimum magnesium level has been cited as an important prerequisite for Vitamin D in the body to be metabolized. According to the study, Vitamin D supplement can increase a person's phosphate and calcium level which may lead to vascular calcification, if the magnesium level in the body is not high enough. It has been also affirmed by the scientists that optimum magnesium level requires less vitamin D supplementation for achieving sufficient Vitamin D levels.  Not to mention, these kinds of research projects have substantially boosted the penetration of magnesium phosphate market in clinical healthcare.
Regionally, the magnesium phosphate market drift has been quite commendable across the United States, with heavy applications in pharmaceutical sector. The increasing geriatric population base which has been heavily spending in orthopaedics and dental care has been one of the vital contributors to the regional magnesium phosphate market growth. As per the estimates by CDC, arthritis incidence in the United States is estimated to surpass 78.4 million by 2040. With U.S. at the growth front, overall North America magnesium phosphate industry procured 15% of the global share in 2017 and is estimated to register a CAGR of 3% over 2018-2024.
Despite encompassing such a lucrative end-use landscape, one of the major challenges being faced by the market players is the supply demand gap in the business model. Historically, magnesium phosphate is manufactured by melting serpentine rock and phosphate rock together. Now, uneven geographical distribution of these phosphate rock reserves is somewhat hampering the production rate across some of the regions, while the increasing product demand is prompting manufacturers to go for substitute development alternatives. However, in a bid to combat the production challenge, companies are heavily investing in R&D projects to bring forth innovative approach in the production process.
All in all, with the shifting governmental as well as consumer focus toward healthy lifestyles, magnesium phosphate industry demand is poised to uptick considerably. What remains to be seen is how the emerging economies such as India and China exhibit progressions pertaining to the magnesium phosphate demand graph. The favorable socio-economic conditions in these geographies is certainly going to push the magnesium phosphate market demand, particularly in the food and agriculture sectors.  As per a market assessment report by Global Market Insights, Inc. APAC magnesium phosphate industry, led by China and India, is forecast to exceed USD 700 million by 2024.
Author Name : Satarupa De
With unprecedented technological and chemical advancements in the last few decades, the iron phosphate market has captivated a slew of industry verticals including agriculture, manufacturing and consumer goods. Iron Phosphate (FePO4) is an extremely useful inorganic compound that can be functional in organic farming as a pesticide ingredient, in children's food as a nutrition fortifying component and as an additive in other food or beverage product. Extensive research and development activity instigated by pharmaceutical giants has shaped a critical customer base for the FePO4 compound, bolstering the global iron phosphate market. Earning an impressive USD 520 million in 2017, the remuneration contributed from applications in agricultural and health sectors can be ascribed to the rising population, which is certainly invigorating the iron phosphate industry.
Global Iron Phosphate Market, By Product, 2017 & 2024, (Kilotons)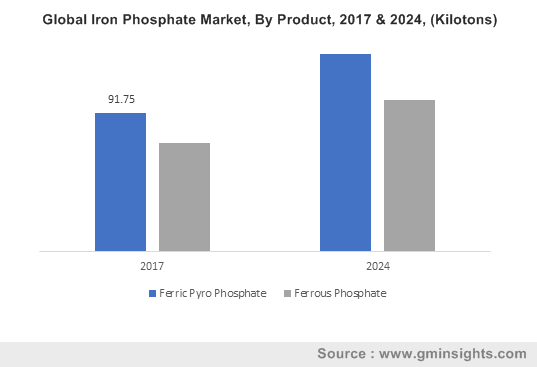 It is estimated that world population has surpassed 7.6 billion in 2018 and is straining the agro-based industries, which toil to meet the extraordinary demand for food and other consumables. The increasing need for boosting the agricultural produce has coerced efforts for the improvement of arable land and protecting fields against harmful organisms, imposing the necessity of the iron phosphate market in fertilizer and pesticide sectors. Further in the food segment, higher disposable income has led to a surge in expenditure on powdered drinks, dietary supplements and cereals which are enriched with the addition of FePO4. Fortification using FePO4 is quite beneficial for supplying nourishment to people suffering from iron loss or iron deficiency occurring from continuing external blood loss or when daily food intake does not satisfy the body requirements. Subsequently, progression of the iron phosphate industry can be observed due to augmented utilization of FePO4 in iron supplements given to anemia patients for preventing any further losses of red blood cells.
Get a Sample Copy of this Report @ https://www.gminsights.com/request-sample/detail/2697
As the healthcare industry is attempting to cope with increasing prevalence of diseases caused by nutritional deficiency as well as other chronic disorders, the iron phosphate market can be expected to undergo a tremendous transformation. Stating the evolution of the iron phosphate industry, a large number of pharmaceutical companies are coming up with ways to infuse FePO4 in treatments for lowering fibroblast growth factor 23 (FGF23), which is an important biomarker of chronic kidney disease. An oral iron-based phosphate binder, Ferric citrate was recently found to reduce FGF23 levels in non-dialysis dependent chronic kidney disease (NDD-CKD) patients and also in people suffering from iron deficiency anemia. A potent oral solution for iron deficiency anemia in patients suffering from NDD-CKD, which is also capable of lowering FGF23, will be vital in managing the disease and is indicative of the massive potential of the iron phosphate market.
In terms of manufacturing processes, pretreatment for coating and painting forms an integral part of iron phosphate industry's application gamut. FePO4 coating has been in practice for more than 50 years, as it provides a better paint adhesion and reduces the rusting of a metal. Generally, iron phosphate coating solutions have a low initial investment cost and are preferred in conversion coating of most indoor equipment that are not exposed to high risk of corrosion. They are also vastly utilized for base coating of a surface before painting in residences to improve the longevity of the paint. The use of FePO4 in crucial stages of iron and steel production and the rapid expansion of residential construction taking place across the world will further propel the iron phosphate market.
The future prospects of the iron phosphate industry cannot be completely described without the mention of its relevance in the electric automobile industry. An exceedingly trending area of product development is the lithium-ion battery, which are critical in the operations of an electric car and majority of consumer devices. Lately, lithium-iron phosphate (LiFePO4) batteries are being produced which show better characteristics than the those made with metal oxides. Soon they will be adopted commonly is electric vehicles and many companies in the iron phosphate market are scuttling to develop low-cost, long-lasting and highly efficient LiFePO4 batteries.
A report was released by UBS predicting that by 2025, the worldwide sales of electric vehicles will reach 16.5 million and approximately every sixth car sold will be an electric one, demonstrating a prolific revenue stream for the iron phosphate market. The lithium-iron phosphate batteries also have a wide range of benefits in grid stabilization, lasers, power tools also in aviation.
All in all, the iron phosphate market is collectively enhanced by a multitude of segments and is projected to witness a growth rate of more than 5% from 2018 to 2024. Exhibiting a fragmented and competitive nature, the industry is comprised of local and international suppliers like Merck, Jost Chemical Co., Imperial Chem Corporation, Crest Industrial Chemicals and Hefei Asialon Chemical Co. Ltd.
Author Name : Pankaj Singh