Batch Asphalt Mixing Plants Market
Strong growth outlook in the civil construction industry has charted a profitable roadmap for asphalt mixing plants market over the coming years. The spurt in demand for asphalt is being significantly driven by the repair and construction segment, that builds the world's asphalt driveways, tunnels, highways, bridges, and airport runways. The importance of good highways for the infrastructural development has strongly agitated the growth of asphalt mixing plants industry in several countries. In fact, speaking on statistical terms, more than 70% of the overall asphalt production is utilized for road developments across the globe. The developing countries with immense growth opportunities are expected to become significant hotspots for investment. Interestingly, asphalt mixing plants industry players are looking to tap the growing demand by launching innovative products with competitive technical properties. One such example is of the 2013's collaboration of Ammann Research & Development Center with Apollo India Private Ltd, to innovate and manufacture asphalt pavers, soil compactors and asphalt mixing plants.
U.S. asphalt mixing plants market size, by process, 2013 – 2024 (USD Million)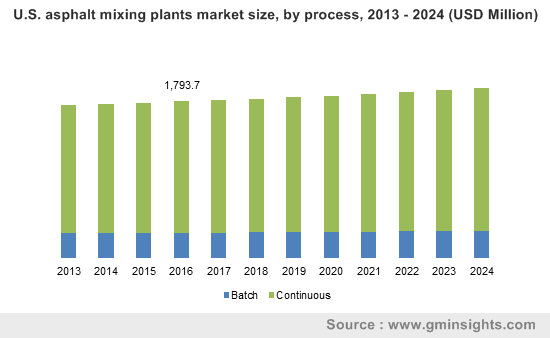 The governments of various Asian countries including China, Malaysia, Thailand, India, and Japan are financing huge amount of capital to develop road infrastructure as they act as catalyst to country's development and economic growth. In 2016, Asia Pacific asphalt mixing plants market generated revenue over USD 2.5 billion and is foreseen to hold a major share of the market pie over the coming years. Owing to the robust growth in the countries of Asia Pacific and Latin America, asphalt mixing plants industry from road construction application generated revenue over USD 5.5 billion in 2016.
Get a Sample Copy of this Report@ https://www.gminsights.com/request-sample/detail/1998

Considering the energy efficiency factor, one of the key trends in asphalt mixing plants industry is the refinement of recycled asphalt pavement (RAP). The market for asphalt plant equipment with RAP are gaining considerable traction in the US and Europe, with China being on wild card. The asphalt mixing plants industry players are designing new plants to produce higher quality output and also handle the higher percentages of RAP. For instance, E-MAK, a Turkish company has been developing a novel concept to optimize the throughput of asphalt plant. This company has designed a unit called Sandry which dries the sand being used in the mix and thus reduce energy usage and improve the overall efficiency of the asphalt mixing plants. Thus, the growing demand for improving the operational efficiency and develop high end technical products is set to propel the growth of asphalt mixing plants industry size over 2017-2024.
The harmful gases and volatile organic compounds emitted from the asphalt mixing plants pose a major threat to the growth of this industry. The environment threats pertaining to asphalt components and its quality and usage are being strongly monitored by the agencies such as EAPA, NAPA, and Association of Asphalt Paving Technology, which may hamper the asphalt mixing plants market expansion. However, many asphalt mixing plants industry players are adopting the sustainable green technology and environment friendly raw materials to combat the pollution problems associated with asphalt mixing plants. This is set to create huge growth opportunities for the industry players to develop sustainable and eco-friendly materials with regards to asphalt mixing and grab lucrative growth avenues over the coming years. One such instance is of Local Self-Government Department of Thiruvananthapuram, India. In a move to adopt green technology, the LSGD used an emulsion-based mix in asphalt instead of hot bitumen for the construction of road. Globally, asphalt mixing plants industry is set to witness a remarkable growth trajectory with a CAGR estimation of 1.4% and exceed revenue generation of USD 7 billion by 2024.
Author Name : Ojaswita Kutepatil