BFSI
The rapidly growing demand for connected devices across the globe is one of the pivotal factors driving enterprise networking market, given that these devices help facilitate real-time communication. In an effort to cope with and overcome the rapidly rising bandwidth bottleneck & network traffic issues, organizations worldwide are embracing network management solutions that keep the traffic flowing while also ensuring network security. The exponential surge in the number of IoT-enabled devices has drastically increased security risks, on the grounds of which organizations are rolling out enterprise network security solutions to obtain visibility of endpoints and unsecured applications & devices.
Europe Enterprise Networking Market Size, By Product, 2017 & 2024 (USD Million)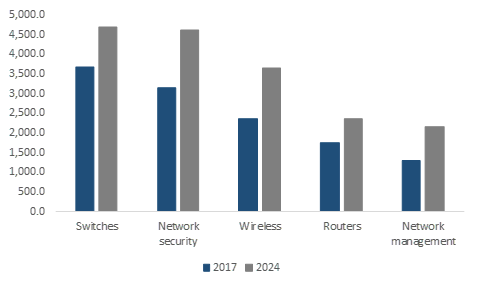 According to a 2018 Enterprise Networking Trends report by Cisco, the company in 2017 had redefined networking with the launch of the first intent-based networking system in the world. The company anticipates that going further, intent-based networking would be the future of networking and would also be responsible for fundamentally changing the way companies think about networks & empowering IT and help the firms with disruptions caused by IoT & cloud.
Enterprise networking market trends are also expected to witness a transformation on account of changing customer preferences toward converged network architecture as well as the network virtualization technology to strengthen the network functions. Shifting user inclination has further enabled organizations to enhance network efficiency at reduced operational costs, which would provide renewed growth prospects for enterprise networking market.
Get a Sample Copy of this Report:@ https://www.gminsights.com/request-sample/detail/2978
Unveiling Asia Pacific enterprise networking market trends:
APAC enterprise networking market is primarily driven by the large-scale adoption of cloud-based infrastructure in the region as the organizations are actively transferring their workloads onto the public cloud. According to a report by the not-for-profit organization, Cloud Security Alliance (CSA), in APAC, Japan, South Korea, Singapore & China are some of the primary nations that have witnessed the highest cloud adoption rate in 2017. The rising prominence of the cloud computing environment has further enabled network architectures that are disparate in nature to contribute to the increasing operational burden. These circumstances have led to a significant rise in demand for virtualization technology which makes the computing environment more agile, effectively addressing the growing network demands.
According to a research report by IT security company, Barracuda Networks, approximately a third of enterprises in the APAC region have already rolled out SD-WAN on a majority of their sites, while more than 55% organizations in the region are in the process of adopting SD-WAN. Propelled by the robust deployment of advanced networking solutions, APAC enterprise networking market is expected to depict the fastest growth rate of 8% over 2018-2024.
Analyzing enterprise networking market trends in terms of switch sales:
In an effort to keep up with the rising need for organizations to facilitate secure & real-time communications while effectively managing network traffic & bandwidth bottleneck issues, enterprises heavily rely upon high-speed ethernet switches. Switching is a crucial networking technology that is used across several organizations' premises to construct their local area networks (LANs) and also across vast distances to facilitate wide area networks (WANs) making switches one of the most widely used networking equipment across the world. According to a 2017 annual report by Cisco Systems, the company witnessed a 5% increase in revenue (approximately $452 million) from the sales of LAN fixed-configuration switches. The increase in the revenue was primarily due to the boost in sales of the company's Nexus & Catalyst series of switches.
According to a 2017 report by Forbes, in 2016 Cisco System's network switches division was responsible for approximately 40% of the product sales, representing more than 30% of the company's net revenue. Switches, having accounted for more than 25% of the enterprise networking market share in 2017, are expected to continue adding momentum to the industry growth, given the surging demand for high-speed data services that has fueled the adoption of network switching technology.
Attributing to the increasing network capacity needs across several global enterprises, the growth graph of enterprise networking market is projected to witness an exponential incline in the years ahead. According to Global Market Insights Inc., enterprise networking market size is expected to be pegged at a mammoth $90 billion by 2024.
Author Name : Akshay Kedari
Increased deployment of edge computing and the need for having a greater control on data has enhanced the edge data center market penetration across numerous industry verticals worldwide. Establishing a data center close to the source of information allows for a faster access and real-time analysis of data, complemented with reduced network traffic and lower cost for operating and maintaining the infrastructure. The edge data center industry has enabled organizations and cloud-based service providers to reach smaller cities, locations where large data centers do not have a presence but represent considerable data generation.
U.S. edge data center market, by application, 2017 & 2024 (USD Million)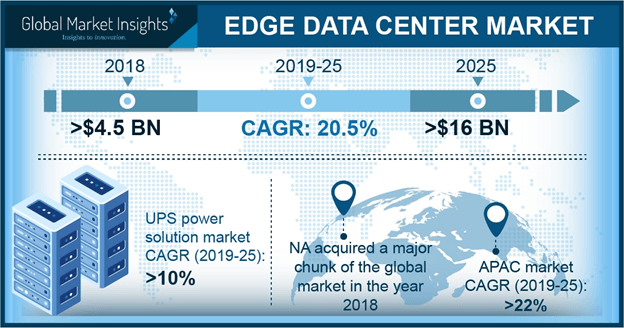 Continuous growth of the IT and telecommunications, healthcare, banking and energy segments have gradually propelled the edge data center market revenue over the last few years. These sectors generate enormous amounts of information which are used by enterprise customers and businesses to enhance consumer experience. Growing popularity of online streaming services has also benefited the edge data center industry, as caching web application or content on servers nearer to the market allows for high-quality and high-bandwidth services. Companies like 365 Data Centers and EdgeConneX have tapped into these opportunities and expanded their edge data centers around the globe.
Elaborating further, EdgeConneX had earlier in the year announced its plans to add up to 50 MW capacity in North America, cover tier-2 cities like Atlanta, Phoenix, Denver, among others, and had already opened its second center in Atlanta by August. It later unveiled an edge data center in Toronto as well, bringing its total number to 40 such centers spread over North America, South America and Europe, becoming a key player in the edge data center market. More recently, it had confirmed the acquisition of an edge data center in Warsaw, Poland, encouraged by the nation's rising adoption of cloud, favorable data regulations and ease of access for nearby countries.
Get a Sample Copy of this Report:@ https://www.gminsights.com/request-sample/detail/2421
Widespread expansion activities undertaken by the company is representative of the overall edge data center industry trends, driven by the unparalleled rate of development in the telecommunications sector. The growth of IoT and the increasing number of connected devices globally has created a need for communicating captured valuable data quicker. It is projected that by 2022, the number of connected devices in the world will reach 29 billion, indicating the massive amount of data that will be gathered, inadvertently strengthening the edge data center market.
The propagation of 4G LTE networks has allowed consumers to access and use various online services, with LTE downloads averaging around 19.4 Mbps in the U.S. over the last quarter of 2017. Fast developing economies have also witnessed an accelerated growth rate in terms of IoT and data usage, with average 4G consumption in India reported to be around 11 GB per month in December 2017. Telecom firms are leaning more towards edge computing to gain the ability to store immense data accumulated from devices and direct it straight to a central center or cloud platform, minimizing the backhaul traffic.
Additional reports have indicated that by 2021, global mobile data traffic will reach nearly 49 exabytes per month, which would be a seven-fold increase from 2016 figures. 5G, the latest generation of communication networks, is expected to grow steadily over the period and can become the key network utilized for most applications over the following years. Experts insist that without edge computing, 5G will not be able to meet its intended goals of very low latency and colossal broadband services. Subsequently, as the implementation of 5G proceeds steadily throughout the world, fulfilling the network's huge potential will necessitate the advancement of the edge data center market.
All in all, the rising network consumption in the telecommunications industry consumers and the augmented utilization of edge computing in other sectors will fuel the global edge data center market, with its valuation estimated to cross USD 13 billion by 2024. Fast-growing companies like Anixter, Cisco Systems, Dell, EdgeConneX, 365 Data Centers, Panduit Corp, Schneider Electric, and many others offer the required edge data center infrastructure, equipment and third party services.
Author Name : Pankaj Singh
Over the recent years, the global data center colocation market has been witnessing remarkable pace of growth owing to the increasing complexity of managing humongous data centers and the shortcomings with regards to power and space. In addition to this, the emergence of the Internet of Things along with the rapid proliferation of big data and cloud technologies has compelled several business verticals to focus on planning the physical infrastructure of IT-based services. Moreover, large enterprises and SMEs are increasingly shifting to colocation hosting as building a new facility requires a large amount of initial investment, thereby boosting the revenue scale of data center colocation industry.
China Data Center Colocation Market, by application, 2017 & 2024 (USD Million)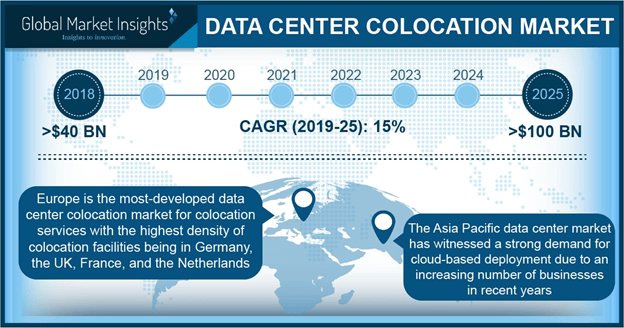 Elaborating further, the process of hosting an onsite facility needs skilled professionals to safeguard the data center from cyberattacks, which is the most pervasive threat. To tackle all these challenges, several data center colocation service providers are combining innovative solutions in their facilities to offer modern enterprises with secure infrastructure at the very initial stage of colocation.
In this context, it would be imperative to take note of Cyxtera Technologies which has recently integrated AppGate SDP, a new software-defined perimeter solution, with its high-performing data centers to apply the principle of least-privileged access to the network, which lowers the possibility of a cyberattack. Phasing out obsolete security approaches, the new solution gives fine-grained access to ensure that individuals only connect to the network resources. Needless to mention, the introduction of such unique solutions is proving to be beneficial for the overall data center colocation industry.
Get a Sample Copy of this Report:@ https://www.gminsights.com/request-sample/detail/2419
Prominent technology companies appear upbeat about the growth prospects of the data center colocation market in the APAC and Europe regions. The APAC nations especially have been mirroring the incredible growth trajectory experienced in the U.S. over the past few years. Enumerated below is a brief overview of how facility expansion activities by tech giants and the entry of colocation specialists have been transforming the contours of the APAC data center colocation industry:
Highly specialized colocation service provider Colt Data Centre Services (Colt DCS) is set to begin the construction of a hyperscale data center campus in Mumbai, the financial capital of India. With a power capacity of nearly 100MW, the facility is anticipated to become operational in the second half of 2020. In this regard, it would be prudent to mention that Colt DCS is the first major western data center operator to foray in India data center colocation market, which is presently served by small-scale local service providers.
Tech giant Facebook had recently announced that it would construct its first purpose-built data center in Asia. The new multi-story facility would be the largest single data center in Singapore and will offer 170,000 square meters of space. Owing to the ease of fiber connectivity and presence of highly-skilled professionals, numerous tech companies have been choosing Singapore as their regional hubs for data center colocation, propelling the commercialization potential of the APAC data center colocation industry.
In December 2018, the U.S.-based multinational data center company Equinix announced that it would build a new International Business Exchange data center in Helsinki, Finland. Reportedly, the new data center is slated to enable improved colocation and interconnection capabilities for businesses undertaking digital transformations. For the record, Equinix is a renowned name in the data colocation market given that it operates Platform Equinix, the name of its global data center network made up of 200 data center facilities spread across 52 nations.
Driven by a widespread application segment which includes retail, IT & telecom, manufacturing, healthcare, government & defense, energy, and BFSI, the data center colocation market is set to garner commendable proceeds from various geographies in the upcoming years. Additionally, the drastically changing technology trends and the favorable impact of big data, IoT, and AI on cloud infrastructure would further open up new opportunities for the companies partaking in the data center colocation industry, which is slated to surpass USD 90 billion by 2024.
Author Name : Saif Ali Bepari
In world being blitzed with emerging applications that include Internet of Things, 5G network and 4K video streaming, GPON market is expected to find immense growth opportunities over 2018-2024. For instance, earlier in 2018, SK Broadband of South Korea announced that it will be launching high-speed internet service that will be capable of delivering 2.5 gigabit per second. The service will allow users to download high volumes of content using multiple devices while the service will be 3 times faster than most of the South Korean internet services that are already quite fast.
Europe GPON Market Revenue, By Application, 2017 & 2024 (USD Million)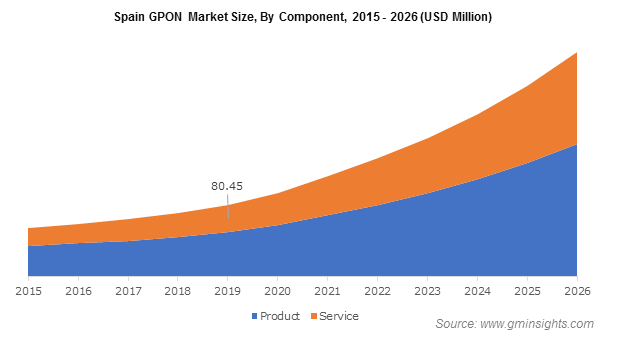 The technology at the basis of making this possible is Gigabit Passive Optical Network or GPON and while SK Broadband's current coverage is 40%, the company plans to invest 1 trillion won and expand up to 80%. Korean rival KT is also planning to roll out similar services and the South Korean government is also planning to roll out 5G wireless internet in 2019. With such developments not being bound to South Korea alone, it is predictable that the GPON market will witness significant growth in the ensuing years.
The world, currently replete with an increasing number of connected devices and robust development in machine to machine communication, is swiftly preparing itself to implement 5G technology. The only viable way to benefit from such emerging applications is by having the right network backbone in place – which paves the way for the growth of GPON market. According to reliable statistics, the global IoT market nearly doubled in size between 2014 and 2017. There were nearly 23.14 billion IoT devices in the world in 2018 which is estimated to cross 31 billion by 2020. The global IoT market is anticipated to register its name in the trillion-dollar industry space by 2019 with 20.35 billion devices across the globe as smart, connected cities that will be using connectivity, communication technology and information to solve urban problems deploying IoT for the purpose. With IoT market having already chronicled its name in the billion-dollar vertical, IoT proliferation is further expected to add to the growth of the GPON industry.
Get a Sample Copy of this Report:@ https://www.gminsights.com/request-sample/detail/2954
Speaking of IoT it is imperative to mention the onslaught of 5G networks and their support in bringing a whole new dimension to the GPON market. the business world is looking forward to the adoption of 5G as when it is becomes a widely used reality, 5G is poised to become a disruptive force. Applications such as virtual reality, augmented reality, artificial intelligence and telepresence, that have been built on underlying technologies are expected to benefit from massive data pipes and ultra-low latency. While industrial automation and robotics will become a reality, cars and drones will become capable in communicating with each other taking machine to machine communication to a whole new level. With enhancement in machine communication capabilities it is expected that increasing innovation will further increase the need for better 5G performance and eventually lead to expansive prospects for the GPON market.
Notably, NG-PON2 would be the fastest growing segment in the GPON market with a CAGR of approximately 20% over 2018-2024. The emergence and progress of 5G will act as the most important driver for the NG-PON2 segment and this has been underlined by Altice, the international network operator that has announced that it will be expanding its NG-PON2 capabilities as it prepares for disaggregated radio access network architectures and potentially overwhelming data traffic volumes brought about by the advancement of 5G. The operator aims at supporting 5G services with full support for residential, commercial, fronthaul and backhaul service requirements and strategizing to save deployment costs while creating a positive business case for fiber as an enabler of 5G services.
With the demand for futuristic technological development on the rise, GPON market is expected to register significant profits as it becomes the enabler of disruptive forces like 5G network.
Author Name : Paroma Bhattacharya
The rising occurrence of a host of advanced, complex cybersecurity threats has helped impel the global virtual private network (VPN) market, given that these threats stand to jeopardize the integrity, privacy and data of businesses. With globalization becoming widely commonplace, and businesses striving to expand their sphere of influence to operate on an international level, the need for organizations to connect their business units together has also risen in proportion. These factors, over the last decade, have made the internet the preferred platform for companies and individuals to conduct their business. However, the vulnerability characterizing the internet has rendered it extremely inadequate in terms of security, a flaw that cybercriminals typically exploit to commit frauds & thefts.
U.S. VPN Market Revenue, By Component, 2017 & 2024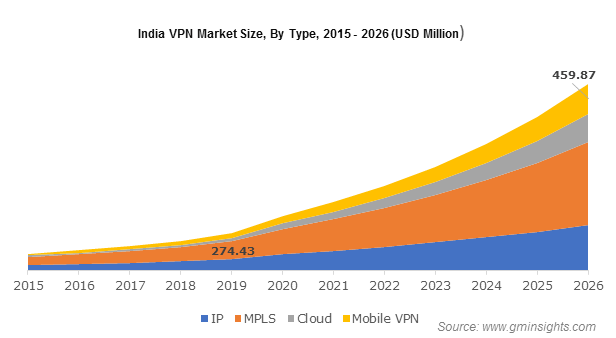 In a manner of speaking, the VPN technology facilitates a cost-effective and safe solution to the issue of safeguarding company networks. The growing prominence of wireless devices across different organizations & businesses would thus drive the growth of VPN market as improving internet speeds coupled with falling prices are catapulting the rate of adoption of a plethora of wireless & mobile devices. Given that such devices are commonly used across organizations to access several applications present on private company networks from remote locations, the VPN technology has consolidated itself as an extremely crucial business component, thereby driving VPN market trends.
Unveiling global virtual private network market trends from commercial applications:
The commercial sector is one of the most prominent application segments of the global VPN market. Comprising end-use domains such as the BFSI, healthcare, manufacturing, government and IT & telecommunication sectors, VPN market size from commercial applications is expected to grow at an impressive CAGR of about 15% over 2018-2024. This growth can be primarily attributed to the surging practice of digital recordkeeping and the adoption of cloud technology in these sectors that is completely changing the way customers access their information, rendering VPN technology as the backbone of these businesses.
Get a Sample Copy of this Report:@ https://www.gminsights.com/request-sample/detail/2756
While, organizations in these domains usually utilize a VPN of their own, a majority of them opt for commercial VPN services provided by private companies. According to Surveillance Self-Defense, an independent non-profit organization, a commercial VPN is a privately offered service that provides organizations a secure channel to relay their data over the service provider's own network. These services, if hosted in a foreign nation, while protecting users' data from cyber threats, also protect the information from local governments and allow the information to bypass national censorships.
Unveiling global virtual private network market growth via rising adoption of remote access connectivity:
Remote access connectivity has been touted to be one of the most deployed models in VPN market. The increasing need of organizations to find a secure as well as affordable way to relay secure company data from their private network to employees working at a remote offsite location is a primary factor driving the growth of the remote access-based VPN market. As opposed to site-to-site VPN, which allows a large-scale business to connect a cluster of its offices in several fixed geographical locations with each other, the ability of the remote access topology to connect individual hosts to their respective organization's private networks makes it an ideal match for small & medium-sized enterprises (SMEs).
Incidentally, the topology also allows employees from large organizations working through site-to-site VPN to connect to the company's network remotely and be able to perform their work from a remote location over home networks or public Wi-Fi networks without worrying about the security of company data. Aided by the convenience and reliability provided by this model, the remote access connectivity-based VPN market size is projected to register a CAGR of approximately 17% over 2018-2024.
Attributed to the rising need for facilitating proper secured channels for the exchange of data over an increasingly connected world, the global virtual private network is expected to successfully thrive in the overall technology space in the forthcoming years. According to a report by Global Market Insights Inc., driven by the increasing rate of VPN adoption in myriad businesses, the overall virtual private network market valuation is anticipated to surpass $54 billion by 2024.
Author Name : Akshay Kedari
Over the last few years, the revenue graph of OSS/BSS market has been depicting an exponential growth, on account of the surging digitization across the telecommunication, BFSI, and IT industries which have been deploying new communication technologies to accelerate the organizational workflow. The lure for inexpensive, safe, and time-saving operations has been encouraging companies to implement OSS and BSS solutions at the workspace. In addition, for empowering intelligent network management and automation, most of the industries have been giving preference for operational support services on a large scale.
The noteworthy transformation across the IT, transportation, telecom, and BFSI sectors with the emergence of next-generation technologies such as blockchain, IoT (Internet of Things), and AI (artificial intelligence) will thus have a considerable impact on the OSS/BSS industry share over the years ahead.
Europe BSS Market Share, 2017 & 2024 (USD Million)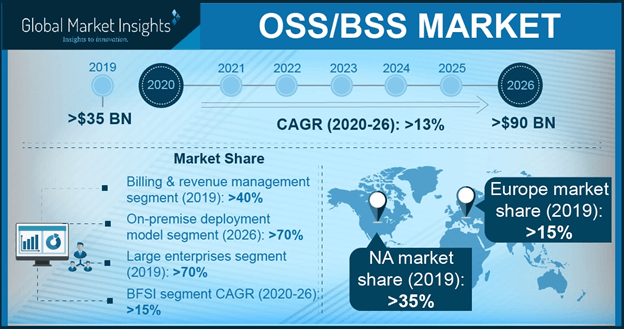 In line with the implementation of 5G networks across the telecom sector, players in the OSS/BSS market have been observing lucrative business opportunities. In fact, some telecom industries have been looking forward to strengthening their networking portfolio by automating working processes with regards to the use of 5G networks. For instance, recently, the Swedish multinational and telecommunication company, Ericsson acquired CENX to enhance its Operations Support Systems facilities. The acquisition will improve Ericsson's service assurance and closed-loop automation capabilities which will help it to leverage network visualization and automate the telecom network to serve enterprise customers effectively. The surging use of 5G networks with the assistance of OSS for improving the connectivity in service assurance, resource-inventory management, order management, product management, customer management, network management, and revenue management will strongly fuel the OSS/BSS market size.
Over the last few years, the increasing popularity of blockchain for decentralizing Network-as-a-Service (NaaS) for securing web wallets and wallet servers has also contributed toward the expansion of OSS/BSS industry. Leading technology companies have been deploying public blockchains to monetize their network resources that allow companies to analyze their operational and financial data. Considering the capability of OSS/BSS systems to secure financial data, BSFI companies have been shifting their focus toward the automation and digitization of financial processes, consequently demanding OSS/BSS technologies on a large scale. Powered by the surging adoption of modernized network security services, OSS/BSS market size from the BFSI sector will grow at an annual growth rate of more than 11% over 2018-2024.
Get a Sample Copy of this Report:@ https://www.gminsights.com/request-sample/detail/2911
Taking into account the vast expanse of OSS/BSS market, most of the software companies have been acquiring firms involved in the development of the operational support systems environments. For instance, recently, the U.S. based leading supplier of telecommunication equipment, software, and services, Ciena acquired DonRiver which provides service inventory management software for OSS environments. This acquisition has helped Ciena improve its business process through network resource planning and utilization of closed-loop automation. The software control and programmable infrastructure of DonRiver will further optimize the Ciena's inventory control solutions.
The shifting focus of end-use sectors toward the adoption of Software as a service (SaaS) and Cloud-based digitized deployment platform for fueling the use of automation and the effective network management has been augmenting the OSS/BSS industry outlook remarkably. The integration of Machine Learning and Artificial Intelligence technologies in the network services will transform the future of OSS/BSS market with its capability to manage complex network issues and improve the customers' experience.
The transition of companies towards automated operations from traditional manual processes to improve the working efficiency and accuracy is likely to stimulate the product demand over the years ahead. Indeed, the rising concerns among financial institutions, IT and telecom companies about data security and operational breaches are poised to increase the valuation of OSS/BSS market, slated to accumulate more than USD 50 billion by the end of 2024.
Author Name : Sunil Hebbalkar