BFSI
The commercialization scale of data center infrastructure management (DCIM) market has been witnessing remarkable upswing in the recent years. The steady rise of this business space can apparently be accredited to the burgeoning complexity of managing large data centers and the limitations with regards to space and power. In addition to this, the robust proliferation of cloud technologies and big data along with the emergence of Internet of Things has necessitated numerous business verticals to focus on planning of physical infrastructure of IT based services. This has consequentially led to DCIM industry gaining tremendous traction over the past few years. In fact, according to reliable estimates, the overall revenue share of this business space is set to surpass USD 3 billion by 2024.
U.S. data center infrastructure management (DCIM) market size, by solution, 2017 & 2024 (USD Million)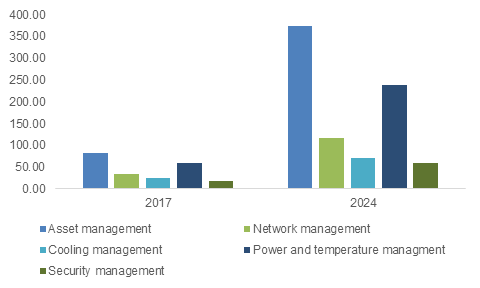 Government sector to emerge as one of the leading end use segments that would drive DCIM market expansion
In an era when cyber-attacks from 'nation state actors' have become an everyday occurrence across the globe, it has been observed that numerous governments are increasingly allocating massive resources to fortify network security. In addition to this, various regulatory authorities have mandated stringent guidelines to monitor and identify potential vulnerabilities in the digital infrastructure of developed and developing nations.
Get a Sample Copy of this Report@ https://www.gminsights.com/request-sample/detail/2496
Nlyte Software, one of the major US based DCIM market giant, has recently announced to have received the much-coveted approval of the Department of Homeland Security for its DCIM suite. Reportedly, the latest approval makes it the first DCIM solution across the U.S. to adhere to all the stipulations prescribed in the Phase 1 of Continuous Diagnostics and Mitigation (CDM) Program of the federal government. For the record, the U.S. federal government had rolled out a Continuous Diagnostics and Mitigation (CDM) Program a few years back to ensure security and integrity of software and hardware assets of the nation.
Apparently, industry experts claim that such approvals would provide advanced tools and capabilities to various governmental agencies to continuously monitor the safety of critical data centers across various nations. Furthermore, it is quite needless to mention that such encouraging developments would eventually impel the growth potential of the overall DCIM industry in the ensuing years.
Elaborating further, it would be prudent to mention a similar instance of governmental initiative that has provided a substantial boost to the firms operating in Australia's DCIM industry space. The Northern Territory government of Australia has recently declared its Budget for 2018-19 in which it has allocated a total sum of around AU$18.38 million to support initiatives under the Department of Corporate and Information Services.
As part of this scheme, the government plans to upscale the number of physical servers from 444 to 460 and intends to increase the number of its fully managed servers from 1600 to 1700 in the next financial year. With such enormous upgradation program in the pipeline, it is quite obvious that prominent firms partaking in DCIM industry of Australia sense an excellent opportunity to deploy their expertise in securing the nation's data center network.
One of the major challenges being faced by DCIM market players has been the responsibility of bridging the complex web of interconnections among a network of data centers. With the advent of enhanced automated tools, highly optimized management workflow procedures, and deployment of real-time monitoring systems, the aforementioned challenges are being gradually surmounted by DCIM industry stakeholders. This trend of improved functionality coupled with powerful IT-based applications would invariably have a favorable influence on the growth prospects of DCIM market share in the times to come.
Author Name : Saif Ali Bepari
The escalating demand for rapid query resolutions & online customer self-service are expected to propel intelligent virtual assistant (IVA) market alongside the path of progress. IVA has undoubtedly, in recent times, improved the users' online service experience as well as offered increased sales to e-commerce firms. Indeed, the product is becoming the preferred medium to gain information, make purchase decisions, and resolve issues. Companies like Microsoft and Google are adopting the technology to improve ease of access and streamline activities, and increasingly implementing the technology as well to enhance operational efficiency. For instance, ABIe, a virtual assistant developed by EIS for Allstate Insurance, efficiently helps agents to answer questions regarding business insurance policies.
Germany IVA market size, by application, 2017 & 2024 (USD Million)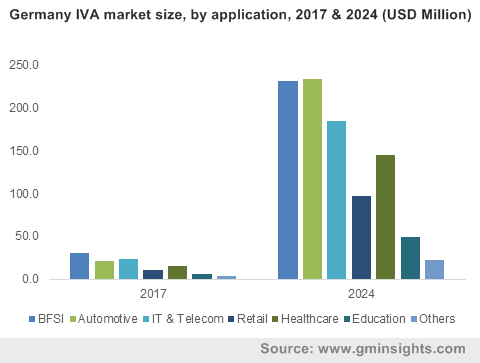 IVA is reportedly becoming more and more commonplace as consumer appetite for the product has been depicting an upsurge. According to an independent survey conducted with 1,500 consumers across Europe, 81% of the respondents said they would prefer interacting with a virtual assistant as it offers enhanced online customer experience. Close to 72% welcomed the product as a key part of every website while a similar proportion claimed that they would spend longer on a website that had one. This response can undeniably be credited to the fact that IVA can take on multiple roles on a website, such as performing various helpful tasks, answering customer queries and connecting to enterprise systems when needed. These features respond according to the marketing requirements of the customers, efficiently improving the site loyalty and experience.
In order to cater to the best plausible global clientele, companies are increasingly investing in IVA to reduce costs from fields such as email response, technical telephonic support, and assistance on call. The implementation of the technology will enable the reduction in the resolution time, call wait times and allowing call transfers when an issue escalates, thereby augmenting IVA market share. The growing deployment of IoT is also expected to supplement the IVA market growth. In fact, IoT is known to have increased the quality and quantity of data being collected by the product. IVAs responding to text or speech queries through apps and smartphones has further enhanced customer engagement, a fact that has further helped impel the IVA industry trends.
Get a Sample Copy of this Report:@ https://www.gminsights.com/request-sample/detail/1094
Speech recognition is one of the most vital technologies proliferating IVA market, as the system efficiently improves productivity, eliminating typing time, giving users additional time to focus on other work. Voice recognition software, in addition to being faster in task completion, are increasingly accurate when it comes to vocabulary. Speech recognition technology also makes invaluable contributions to businesses that offer customer services eventually reducing organizational costs. Furthermore, these systems improve interoperability owing to the adoption of IoT, further driving the IVA market size from speech recognition technology.
The Germany IVA market is expected to depict considerable growth in the years ahead, owing to the product's new-found usage in the region's thriving automotive market. Technological advancements in IVA have resulted in increased adoption of voice control and gesture control features in next-gen vehicles. IVA can now be integrated within vehicle systems such as automatic parking, lane change assist, adaptive cruise control, and other ADAS controls.
Regional automakers are constantly seeking ways to integrate the product in upcoming car segments to revolutionize driving experience. For instance, the German automotive giant, BMW has recently announced that its upcoming car segment would come with Intelligent Personal Assistant. Like Apple's Siri or Amazon Alexa, the new AI-based virtual assistant would reply to voice commands and could adjust the temperature, lighting mood and music, among other things in the car efficiently, claims the company.
North America, apart from Germany, is another region that is forecast to accumulate commendable gains by 2024, driven by the expansive technological advancements in the region. Major software companies, like, Microsoft & IBM, have also been investing in IVA, thereby enhancing the growth prospects for North America IVA market.
The competitive spectrum of intelligent virtual assistant market also comprises other players like Amazon, Google, Microsoft, Apple, Inc., Artificial Solutions, eGain Communications, IBM Corporation, Nuance Communications, and Speaktoit, Inc. These companies are known to increasingly invest in product development and innovation to bring in intelligent assistance into the mainstream. Meanwhile, several tech giant firms are adding the product to their portfolio to gain added sales. For instance, on January 7th, 2019, the world's leading television manufacturers Samsung, LG and Hisense announced that they would open their devices to Google Assistant and Amazon Alexa. As advancements in the fields of automation, machine & deep learning, conversation interfaces, and natural language processing continue to surge, IVA market share is certain to soar in the years to come.
Author Name : Mateen Dalal
A robust increase in the adoption of advanced technologies such as cloud computing and IoT will drive the identity and access management market in the upcoming years. IAM apparently makes businesses more agile, efficient and scalable, and also offers them considerable benefits such as reduced risk of data breaches, centralized access control, ensured regulatory compliance, improved user experience, and a significant reduction in IT costs. This has quite overtly led to a spurt in investments in IAM market from venture capitalists and enterprise organizations.
Japan Identity and Access Management (IAM) Market Size, By Solution, 2017 & 2024 (USD Million)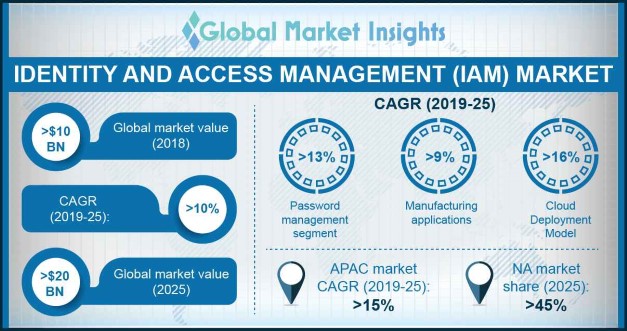 IAM industry has also received a considerable boost from robust investments in new artificial intelligence and machine learning solutions that are being undertaken for managing the rapid proliferation of identities and achieving least privileged access. For instance, recently Google established a collaboration with Facebook to develop their artificial intelligence to offer users a much better work experience.
Proliferation of workplace mobility is a major factor that would propel identity and access management market. Global acceptance of workplace mobility by businesses has empowered employees to work from anywhere, at any time and from any device. As per sources, by 2020, mobile workforce will reach to about 105.4 million people, that translates to roughly 72.3% of the total workforce in the U.S. On a global scale, the number is set to reach 1.87 billion by 2020, or 42.5% of the worldwide workforce. These statistics provide vital evidence to the fact that identity and access management market share is likely to soar in the years to come.
The Internet of Things has already redefined the concept of identity management. As IoT moves beyond consumer mainstream wearables and into massive enterprise deployments, IT teams are paying more attention towards securing access to the networks that connect to valuable products, including smart grid hardware, factory equipment, and more. IAM and privileged access management (PAM) demands are expected to become more complicated, with tougher obstacles and exponentially more endpoints. In consequence, the requirement of a strong IAM solution would become more commonplace, thereby augmenting the overall IAM industry.
Get a Sample Copy of this Report:@ https://www.gminsights.com/request-sample/detail/176
IT & telecom applications to drive the IAM market trends:
The rapidly escalating growth in the telecom & IT sector is certain to impel identity and access management market. As the IT & telecom industry works with a large user base, it is essential for the service providers to maintain the security of the sensitive user data. According to a survey by The Communications Fraud Control Association (CFCA), the telecommunications industry experienced $38.1 billion in fraudulent charges in 2016. As per CFCA, cyber fraudsters are seemingly working to develop new ways to siphon money from renowned, well-established organizations of various sectors.
The aforementioned survey results are a strong indicator of the fact that the IT sector will serve to be one of the most profitable growth avenues for IAM market. By implementing IAM solution business could be shielded by fraudsters and hackers, eventually saving billions in remuneration for organizations. According to Global Market Insights, Inc., identity and access management market size from IT and telecom applications was worth USD 1,420 million in 2017 and is expected to register a commendable growth rate over the ensuing years.
Unveiling North America IAM industry outlook:
North America is undoubtedly one of the most crucial regional generators for identity and access management market. In 2017, North America accounted for a mammoth 46% of the overall industry share, primarily on account of the changing workforce requirements and the surging adoption of cloud applications and BYOD. The U.S. the most dominant regional ground for North America IAM market, given that security is the foremost crucial parameter for the plethora of companies in the country.
North America IAM market has also received a considerable boost owing to the presence of a stringent regulatory landscape in the region. The continent is known to face periodic cybersecurity thefts – in 2017 alone, the average cost of a data breach was around USD 117,000 for SMEs and USD 1.3 million for large enterprises. On these grounds, the regional governments have undertaken stringent initiatives and invested extensively to come up with highly secure systems to protect user data, thereby propelling North America IAM industry share.
Some of the most prominent contenders in the global identity and access management market include IBM Corporation, SailPoint Technologies Holdings, Inc., Okta, Inc., Symantec, Gemalto, Crossmatch, Oracle, HID Global Corporation, CA Technologies, OneLogin, Inc., OpenText Corp., Ping Identity, ForgeRock, Net IQ, and Dell, Inc. These companies are often found conducting mergers and acquisitions to increase their business reach and expand their customer base. For instance, Marsh, a global leader in insurance broking and innovative risk management solutions, recently announced a collaboration with IBM Corp. to provide clients with a wider access to blockchain solution for ensuring proof of insurance.
IAM solutions have proven to be effective in reducing challenges faced by organizations with regard to security and privacy such as data loss, data leakage, insecure usage, and insider attacks. IAM also decreases burden on the IT departments due to its self-service functionality. Driven by the fact that IAM delivers secure ways for authentication, authorization, and management of users without compromising on convenience and usability, the global IAM market share is anticipated to grow at a CAGR of 10.4% over 2018-2024.
Author Name : Mateen Dalal