Bio Medical Waste
Steam autoclaves market is likely to traverse alongside a lucrative path in the forthcoming years, pertaining to the increasing awareness among the regulatory bodies about the importance of sterilization and decontamination for healthcare and food applications. Since a while now, influenced by the lure of profits, a substantial number of F&B companies have been adopting unhygienic alternatives in the food manufacturing process. In consequence, to maintain health and hygiene, the Food and Drug Administration (FDA) has deployed strict norms to control food safety exploitations by food manufacturers. Taking into account the immense demand for hygiene maintenance, local food manufacturers, restaurants, and hospitals are increasingly giving preference to steam autoclaves for sterilization, which will significantly impel the overall steam autoclaves industry share.
Germany Steam Autoclaves Market, By Product, 2013 – 2024 (USD Million)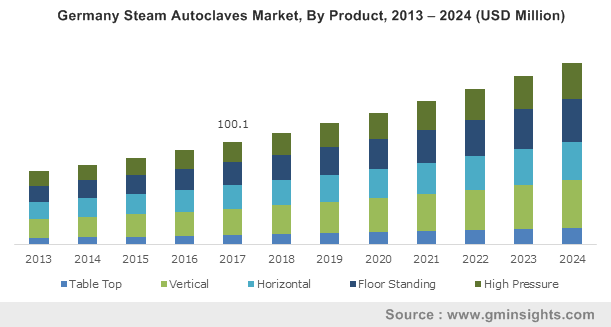 Regulatory bodies such as the World Health Organization (WHO) are also taking initiatives to enable hospitals and other healthcare service providers to use decontaminated devices for enhancing the effectiveness and life span of the product. Considering the future scope of sterilization for medical applications, many researchers have been continuously involved in the development of several sterilization products for medical device packaging. In 2016 alone, medical applications accounted for a major share of steam autoclaves industry. It is prudent to mention that many non-governmental organizations and regional governments have also been supplying funds and equipment to hospitals, in a bid to adhere to hygiene standards. Recently, the government of San Luis invested USD 4,61,198 in the procurement of medical devices encompassing two autoclaves – one for sterilization and another for laboratory services. The aforementioned incidence testifies the contribution that regional governments have been making for encouraging the medical sector to adopt sterilization devices, that would considerably influence steam autoclaves market size.
Get a Sample Copy of this Report:@ https://www.gminsights.com/request-sample/detail/500
Apart from the regulatory bodies, renowned manufacturers in steam autoclaves market are heavily investing in new product developments to improve the functionality of devices. For instance, recently, Astell Scientific, a renowned player in UK steam autoclaves market, launched a touchscreen assisted autoclave, focusing on the requirement of the product for pharmaceutical labs, research organizations, and universities. Speaking of which, other well-known participants in steam autoclaves market are Medisafe International, Tuttnauer, Getinge Infection Control, Priorclave, and Matachana.
Lately, it has been observed that steam autoclaves industry giants have shifted their focus toward the development of customer friendly products to strengthen their presence across the business space. Many of the manufactures have been collecting feedback from consumers to design customized products. Furthermore, industry giants are investing heavily in research and development activities as well, in a bid to reduce the water consumption in laboratory autoclaves. Consolidated Sterilizer Systems in fact, recently launched two innovative vertical sliding door autoclaves along with the implementation of a power door feature for simplified maintenance and ease of application. The currently prevalent competitive scenario across this vertical is likely to bring forth the launch of innovative products, which would eventually impel the commercialization potential of steam autoclaves market.
Significant government strategies pertaining to the growth of the healthcare sector will continue to remain one of the most prominent drivers of steam autoclaves market. For instance, under the scheme of Make in India, the Indian government has encouraged medical equipment manufacturers across the country to develop exclusive products that would be commercialized under the Indian brand name. Driven by the escalating development of large capacity and cost-effective products, it has been predicted that steam autoclaves industry will surpass a revenue collection of USD 3 billion by the end of 2024.
Author Name : Sunil Hebbalkar