Bio PP Market Size
Mandatory roll outs by governments of various developed economies have played the most influential role in escalating biobased polypropylene market demand over the recent years.  Two global regulatory bodies whose initiations regarding the curtailment of carbon footprints have enhanced the market outlook are EPA and EU, which undoubtedly translates a noticeable expansion and development of North America and Europe's biobased PP industry. Europe market dominated by Germany, UK, and France is projected to show a steep growth curve, at an annual rate of 6% in the next five years. In addition to this, increasing consumer demand for lightweight vehicles that allows lower fuel consumption is further fueling the market growth. Light weighted materials are also being widely deployed in medical space, pressure vehicles, wind vehicles and other alternative energy bases
.
A report by Global Market Insights, Inc., states that
Biobased Polypropylene Market
will surpass a revenue of USD 40 million by 2022, with a CAGR estimation of 4.5% over the period of 2016-2022.
Europe Biobased Pp Market Size, By Application, 2014 & 2022 (USD Million)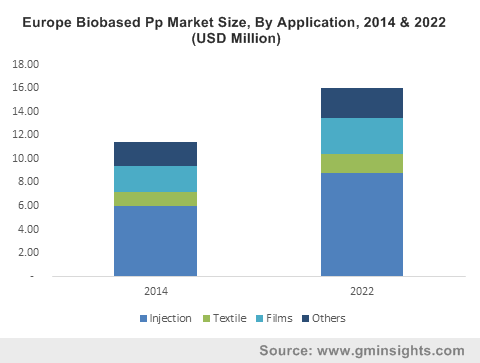 Injection applications represent a major share of biobased polypropylene industry and are expected to attain the highest gains in the coming five years. Growing demand for lightweight materials in myriad end use industries including automotive, construction, industrial as well as packaging is driving this application landscape. The influential impact of the advanced automobile sector has also played a crucial role in changing the market dynamics. Countries such as Malaysia, China, Thailand, and Mexico are encountering a heavy surge in the vehicle sales which is further creating a lucrative consumer base to biobased PP market. As per an estimation, the overall market from injection application is anticipated to record a revenue of more than USD 20 million by the end of 2022.
Positive outlook of some of the automotive manufacturing giants like Toyota Motor Corp., General Motors, and Ford flex in this regard also have had a persuasive impact on the overall biobased polypropylene market development. An announcement by Toyota Motor Corp. which states that 20% synthetic polymers will soon be replaced by biobased PP is expected to complement the overall market dynamics in the coming time frame.
Get a Sample Copy of this Report @ https://www.gminsights.com/request-sample/detail/175
Regionally, North America has established profound grounds enhancing biobased PP industry outlook. The trend of light weight vehicle in U.S. is acting as a prime factor catering the regional market growth. Concurrently, regulatory mandates supported by EPA to curb the greenhouse gas emission has further fueled the demand for biodegradable polymers. North America biobased polypropylene industry size is expected to expand massively in terms of volume coverage in coming five years by accounting for almost over 6 kilotons by 2022.
Textile is another niche application segment of global biobased polypropylene industry. Geotextiles which are gaining a global popularity owing to its rising scope of application in soil erosion and drainage activities is primarily favoring the overall market growth. Biobased PP market demand from textile applications is foreseen to rise high in the coming five years, with an estimated volume coverage of 1.5 kilotons by 2022. Biobased polypropylene films are being extensively implemented in green packaging especially for food and beverage and medical purposes owing to its strengthening properties and transparency. Biobased PP industry from this application is projected to show an upswing in its growth chart with a CAGR projection of 4.5% over the period of 2016-2022.
Considering the market analysis based on textile application, Asia Pacific has marked its footprints in the global landscape. With rapid industrialization of emerging economies of APAC belt such as Japan, China, India, biobased polypropylene industry is slated to register a signification growth at an annual rate of 5% over the coming five years.
Biobased PP industry is gaining a substantial traction with increasing number of market players focusing on enhancing the raw material portfolio to minimize the production cost. Some of the prominent industry participants working rigorously in this domain include Biobent Polymers, Global Bioenergies, Dow Chemicals, and Braskem.
Author Name :Satarupa De