Biocides Market Report
LUX Assure, the UK based leading specialist in providing chemical monitoring solutions to the oil and gas industry, has taken a giant leap in biocides market. The company has recently launched the world's first biocide mapping technology, TraxBioTM, which maps biocidal surfactants in oil and gas systems utilizing the chemical's propensity to form micelles. These micelles are produced due to nanoscale clusters of biocides which are detected with LUX Assure's latest technology. Furthermore, TraxBio would aid in making better decisions regarding the biocide dosage, which shall, in turn, result in cost savings for end-users of biocide chemicals. Apparently, this breakthrough innovation comes on the heels of the company's plans to tap the burgeoning biocides market size across the globe, which commanded a total valuation in excess of USD 8.5 Billion in 2016.
Germany Biocides Market Size, By Product, 2016 & 2024 (USD Million)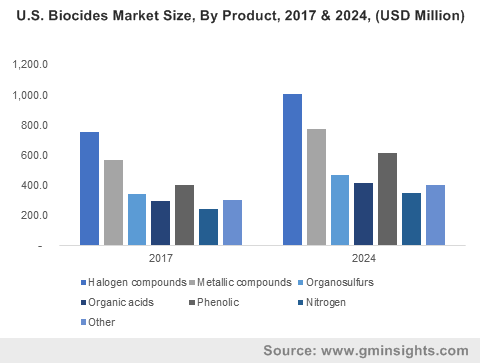 Biocides market, a significant vertical of bulk and specialty chemicals, has witnessed a slew of advanced and upgraded product releases by leading industry players in the recent times. It would be prudent to mention yet another instance to demonstrate the recent technological progressions in the industry, Lanxess Aktiengesellschaft, the Germany-based foremost giant partaking in specialty chemicals, has added a new biocidal formulation to its existing broad-spectrum of biocides portfolio. The firm has developed Preventol DP 1021, a biocide active ingredient which can be used for microbial control in industrial water systems by preventing biofilm formation. In addition to microbial control, this new formulation aids in reducing the organic load buildup on the surface of water treatment systems, which would further lower the formation of biofilms. For the record, biocides boast of antifungal, antimicrobial, and antibacterial properties which are undoubtedly the most instrumental factors in providing safe water. Undeniably, the surging demand for waste water treatment systems in industrial and residential sectors across the world would propel the biocides market expansion in the ensuing years. The predominance of water treatment sector over other end-use domains is quite evident from the estimates that claim the water treatment applications revenue growth to exceed USD 3.2 Billion over 2017-2024.
Get a Sample Copy of this Report:@  https://www.gminsights.com/request-sample/detail/150
Global biocides market is perceived to be greatly influenced by the increasing demand for an uninterrupted supply of safe and fresh water by developing economies owing to their rising population and swift economic growth. As per estimates, the Asia Pacific region is slated to lead the biocides industry growth chart, as the region encompasses a large number of developing economies and is claimed to account for over 35% of the global water supply demand. Add to it, the growing health concerns owing to pathogens and bacterial growth would fuel the biocides market expansion in the immediate future.
Meanwhile, the fast-expanding end-use domains is argued to be directly proportional to the profitability quotient of the entire biocides industry space. Pertaining to the broad application spectrum of biocides chemicals across food and beverage, wood preservation, HVAC, personal care, paints and coatings, boilers, and oil and gas, the global demand for safe biocides has had a substantial effect on the revenue curve of biocides industry.
Simultaneously, over the recent years, the aforementioned sectors have been increasingly demanding environmentally-viable disinfecting solutions in order to comply with the mandatory guidelines and compliance standards prescribed by various governments pertaining to environmental safety. This has compelled the biocides market players to come up with innovative and advanced solutions amidst the highly competitive industry landscape.
Speaking of the global biocides market hierarchy, the industry could be termed as highly combative owing to the presence of established companies such as Dow Chemical, BASF SE, Troy Corporation, Lanxess Aktiengesellschaft, Solvay, Albemarle, Akzo Nobel N.V., and Thor Group. The leading biocides market giants are increasingly focusing on mergers and acquisitions to strengthen their production capability and fortify regional presence. Akzo Nobel N.V., for instance, has recently announced to purchase the business of V.Powdertech Co. Ltd., the leading manufacturer of powder coatings, to complement its existing technology portfolio. The acquisition is set to positively influence one of the vital applications of biocides, that is paint and automotive coatings, which is forecast to exceed USD 15 Billion by the rising demand from automotive, marine, aviation, and construction sectors. Further mergers and acquisitions, partnerships and collaborations are strongly anticipated in the ensuing years. In terms of commercialization potential, the biocides market is forecast to hit a revenue USD 13 Billion by 2024, according to the recently published research report by Global Market Insights, Inc.
Author Name : Saif Ali Bepari
This entry was posted in Bulk & Specialty Chemicals and tagged Biocides Market, Biocides Market Analysis, Biocides Market Forecast, Biocides Market Growth, Biocides Market PDF, Biocides Market Report, Biocides Market Share, Biocides Market Size, Biocides Market Trends, China biocides market, Europe biocides market, Halogen biocides market, Metallic biocides market, U.S. biocides market.