Biodegradable Superabsorbent Materials Market Size By Product
The need for environmental sustainability has been realized taking into consideration the rapidly increasing population, which may cross the 7 billion mark by 2050. Owing to the rising health and environmental concerns, there has been a huge demand for proper waste disposal and use of bio-degradable substances which in turn has driven the growth of Biodegradable Superabsorbent Materials in the polymer industry. The market has seen a commendable surge in all these years, driven by its ease of use, hygiene, cost-effectiveness and environment friendly characteristics.
The popularity of conventional materials is being surpassed by the use of these biodegradable products. Biodegradable Superabsorbent Polymers are used for high absorption of water and aqueous solutions relative to their own mass primarily for use in the form of diapers, adult incontinence products, feminine hygiene products, and similar applications. According to a research conducted by Global Market Insights Inc., biodegradable superabsorbent materials market size is forecast to be worth USD 192.6 million by 2023 with a CAGR of 6.1%.
Biodegradable Superabsorbent materials market can be segmented on the basis of its wide set of applications which include Disposable diapers (baby diapers), feminine hygiene (sanitary pads), adultincontinence, agricultural, and medical applications (surgical pads & wound care solutions)
U.S. Biodegradable Superabsorbent Materials Market size, by application, 2012-2023 (Tons)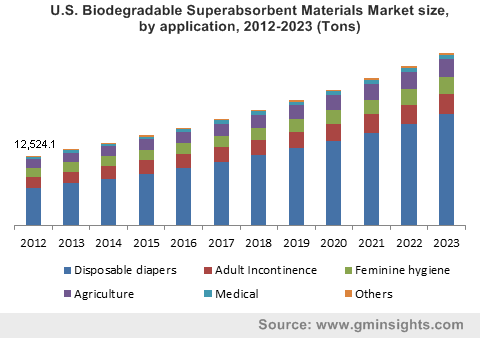 Disposable diapers application segment dominated the market in 2015, having had a market share of USD 79 million. The growth is attributed to the better living standards and hygiene concerns. Agricultural application is expected to witness a CAGR of more than 7% from 2016-2023.
Also, medical issues related to bones and joints are boosting the adoption of cellulose hydrogel biodegradable polymers due to its effective healing properties. Medical application segment shall see a significant growth and is expected to be worth more than USD 5 million by 2023.
Get a Sample Copy of this Report: @ https://www.gminsights.com/request-sample/detail/499
Biodegradable superabsorbent materials product segment comprises of Polyvinyl Alcohol (PVA), Polysaccharides, Polyitaconic acid, and Polypeptide. Polyvinyl Alcohol (PVA) which was valued at approx. USD 82 million in 2015, dominates the product market with its major application in feminine hygiene and adult incontinence products. Besides, Polysaccharides which is abundantly available in the form of starch, chitin, natural gums and sugar is expected to witness the maximum rise at a CAGR of 9% from 2016-2023.
Biodegradable superabsorbent materials are being adopted worldwide. Europe market, led by Germany, dominated the industry by contributing a share of USD 48 million in 2015. APAC is expected to witness the highest growth, registering a CAGR of 6.5% over the period of 2016-2023 with China market share to be worth USD 25 million by 2023. U.S. adult incontinence market is expected to grow at a CAGR of 5.8% reaching 2.1 Kilotons by 2023.
Some of the key players in this market space are ADM, TryEco, Exotech Bio Solutions, Weyerhaeuser Company, Valagro, NanoChem Solutions, AMEREQ, CryoLife, Coloplast A/S, Collagen Solutions, and Akron Biotech. The research by Global Market Insights Inc. anticipates the Global Biodegradable Superabsorbent material market to reach 89.6 kilotons in 2023. This huge demand and the resulting growth shall witness a number of collaborations, alliances and partnerships in the corporate world. The Biotech firms may tie up with the technology world to enhance their product portfolios.
Author Name : Shikha Sinha
This entry was posted in BIOMASS, BIOENERGY AND RENEWABLE CHEMISTRY and tagged Application Potential, Biodegradable Superabsorbent Materials Market Size By Product, By Application, Competitive Market Share & Forecast, ndustry Analysis Report, Price Trend, Regional Outlook (U.S..