Biopolymer Coatings Market Size
Subject to the hazardous effects of synthetic coatings of late, biopolymer coatings market has been gaining renewed traction. Shifting focus toward the consumption of packaged food is expected to fulfill demand for this product over the next few years. Regulatory bodies across various parts of the globe have been enforcing stringent norms to promote the adoption of renewable and cost-effective products. Such initiatives are expected to significantly propel biopolymer coatings industry size. As per the report by Global Market Insights, Inc., "Biopolymer Coatings Market having had a revenue of USD 750 million in 2015, will record an annual growth rate of more than 6% over the period of 2016 to 2024."
U.S. Biopolymer Coatings Market Share, By Product, 2015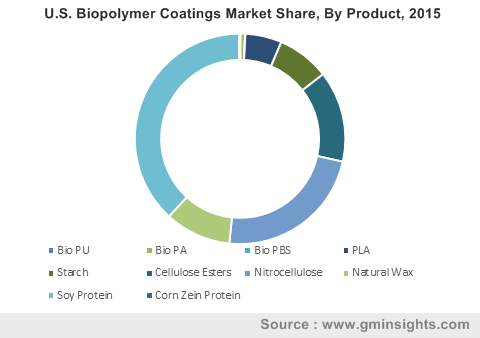 Europe biopolymer coatings industry will generate a significant revenue with a CAGR of more than 6% over the coming seven years. Surging usage of the product in the food & beverage sector owing to the deployment of supportive rules and regulations will drive the regional growth. Germany, UK, and France are forecast to be the major contributors of Europe biopolymer coatings market.
PLA based biopolymers are extensively used in the food & beverage sector for vegetables, water, fruits, nuts, beverages, and alcohol packaging, pertaining to which PLA based biopolymer coatings market will collect a revenue of more than USD 50 million by 2024.
Get a Sample Copy of this Report @ https://www.gminsights.com/request-sample/detail/333
Considering that the globe has been facing the environmental issues of landfill and degradation, consumers have been changing their focus from plastic to paper, mainly across the APAC belt. Asia Pacific accounted for more than 45% of the share in global paper production industry. The increasing usage of paper across the food & beverage sector will positively impact the packaging sector, which in turn will favor biopolymer coatings industry share. Bio PU based coatings are easily available, less harmful to the environment, biodegradable, and less expensive, subject to which bio PU based biopolymer coatings industry will register an annual growth rate of more than 6% over the period of 2016 to 2024. The growth can also be attributed to the escalating use of the product for automotive, furniture, textile, and architectural applications.
China biopolymer coatings market will exhibit an annual growth rate of more than 6.5% over the years ahead. Governmental initiations toward the usage of renewable packaging will favor industry growth. Additionally, growing industrialization across this region coupled with surging construction activities will fuel the requirement of the product for furniture, flooring, and decking, thereby propelling the regional biopolymer coatings market.
Germany natural wax based biopolymer coatings market will exhibit a CAGR of 3% over the coming timeframe, owing to the presence of a huge automotive manufacturing base. This product is primarily used to manufacture steering wheels, door seats, dashboards, and consoles, which leads to its extensive deployment across the automotive sector.
Bio polyamide coatings is extensively used across wire goods, construction, electrical, and automotive sector pertaining to the notable benefits of the product such as high chemical resistance, protection against fire, and electrical resistance, which will favorably influence biopolymer coatings market size. Soy protein based product segment will grow at an annual growth rate of 4% over the years ahead.
A global need for reduced raw material price trends has been identified, which is likely to generate attractive growth opportunities for the market players. In addition, prominent companies have been focusing on product differentiation and capacity expansion to expand their footprints across the globe. Extensive funding on research and development activities is also a key strategy adopted by these players. Major participants in biopolymer coatings market are AkzoNobel, Cargill, BASF, Roquette Group, EcoSynthetix, Corbion, and Novamont.
Author Name :Sunil Hebbalkar