Birth Control
The exponentially growing popularity of birth control methods to reduce the risk of unintended pregnancies is likely to drive contraceptives market in the years ahead. The critical acclaim that contraceptives have gained recently is quite evident from the robust sales of contraceptive implants and intrauterine contraception methods, that are being prominently utilized, pertaining to their effectiveness. Considering the role contraceptives play in population control, many of the regional governments have been organizing awareness programs for recommending their usage. Even the CDC for instance, has updated some of its guidelines for contraceptives with a few upgraded recommendations for healthcare providers. The aforementioned details provide evidence to the fact that stringent clinical guidelines outlined for healthcare suppliers will reduce barriers for contraceptive usage and access, which would eventually fuel contraceptives industry share over the years ahead. Numerous regulatory bodies have also been undertaking initiatives to educate people regarding the usage and benefits of contraceptives. For instance, WHO (World Health Organization) promotes family planning by providing guidelines on service delivery and the safety of contraceptive methods, supplying pre-qualification of contraceptive commodities, and helping countries to adopt & implement these facilities to fulfill their requirement.
Germany Contraceptives Market, By Drugs, 2013-2024 (USD Million)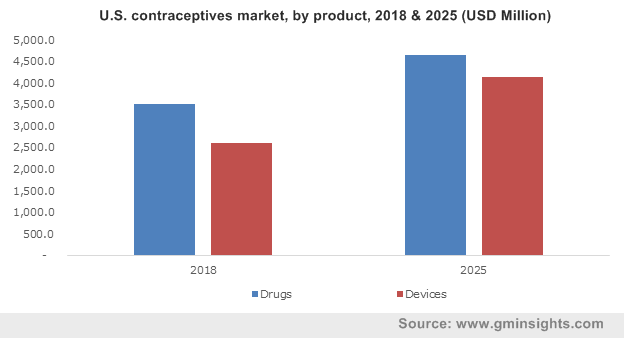 Citing another instance of the vital role that regulatory bodies play in the growth of contraceptives market, it is prudent to mention that recently, the Philippines Department of Health (DOH) announced that it would buy contraceptives worth 200 million pesos. Through this purchase, the government apparently aims to manufacture pills and other contraceptives in order to overcome the current shortage and fulfill the demand for family planning products in the ensuing years. The initiative undertaken by the Philippines DOH takes precedence in contraceptives market, validating the fact that the prevalence of family planning policies and government programs is likely to stimulate Asia Pacific contraceptives market share over the years ahead.
Get a Sample Copy of this Report:@ https://www.gminsights.com/request-sample/detail/430
Speaking of Asia Pacific, the sub-continent of India falls among the list of countries that is currently over-populated. The population of the country, as of 2016, is reportedly over 1.3 billion. On these grounds, the Indian government has implemented several social programs to deliver contraceptives directly to communities. The government has also made efforts to recruit Accredited Social Health Activists (ASHAs) for delivering contraceptives at the doorstep. Many programs so far, have apparently witnessed enormous success, positively influencing community-based family planning, which would eventually boost India contraceptives industry trends.
Currently, numerous contraceptives market giants and regulatory bodies have been striving to bring about a transformation in the product landscape of this business sphere. The Food and Drug Administration (FDA) for instance, has revealed a list of 51 contraceptives for re-certification based on the parameters of safety and non-abortifaciency. Even in the U.S., the California Health Benefits Review Program (CHBRP) has enforced a federal contraceptive mandate – the Affordable Care Act (ACA). On these grounds, the Trump administration has released two interim rules related to ACA's contraceptive coverage requirement, which would provide a boost to U.S. contraceptives market trends. Considering the strict outlook that regulatory bodies have toward newly developed products, contraceptives industry players such as Merck & Co., Pfizer, Mayer Laboratories, Cooper Surgical Inc., Teva Pharmaceutical Industries, Actavis, Reckitt Benckiser, and Church & Dwight Co. have also been heavily investing in research and development activities, thereby impelling this business sphere.
Numerous other geographies across the globe have also been making efforts toward population control, impacting contraceptives market share by extension. The South African government for example, deploys several development policies such as population development programs, family planning programs, and fertility regulations which has been considerably affecting product demand. The robustly rising awareness regarding the ever-growing population is thus slated to propel contraceptives industry size, forecast to exceed USD 35 billion by 2024.
Author Name : Author – Sunil Hebbalkar