Blood Banks
Technological advancements and growing applications of drones in healthcare sector will provide stimulus to medical drones market. Healthcare organizations are developing drones with diagnostic imaging capabilities that will be capable of assessing health conditions of patients located in remote areas with the deployment of telemedicine technology.
Drones cater to urgent needs of patients with the delivery of required medicines, vaccines, antivenin and blood products in remote places. Convenience offered by technologically advanced drones will lead to their widespread adoption in medical sector and augment medical drones market growth over the forecast period.
U.S. Medical Drones Market Size, By Application, 2018 & 2025 (USD Million)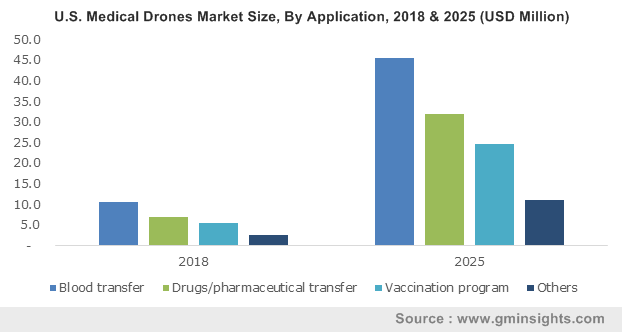 Drones have been used in the surveillance of disaster sites, areas affected by biological or chemical hazards, as well as tracking disease spread. They can also be used to gather information about the number of patients in need of care in high-risk situations.
Drones have also been used to detect the presence of health hazards, such as heavy metals, aerosols and radiation. As per a study, drones equipped with high-resolution photogrammetry software were used to accurately access and predict cancer risk from high level copper concentrations in agricultural areas.
Many notable industry players operational in medical drones market are implementing several strategies such as new product launches, partnerships and distributional channel expansion in new locations that will help them to capture higher revenue share in medical drones market.
For instance, Zipline, an American medical product delivery company operates small drone aircrafts for delivery of medical products, with a focus on providing services in Africa. The company has become an much on-demand medical drone network service provider. Patients in many Swiss hospitals can now receive results on the day a sample is taken, through Zipline's effort. Zipline is expanding into Ghana along with expanding its presence this year into North Carolina, to help many out-of-the-way rural medical facilities. The company has plans to serve 700 million people in the next 3 to 4 years.
Get a Sample Copy of this Report:@ https://www.gminsights.com/request-sample/detail/3120
Research and development in the medical drone industry is also expected to augment market growth scope. For instance, as many emergency vehicles are delayed from arriving on the scene on time, researchers are extensively testing drones to deliver medical equipment.
Development of drone ambulance is also gaining traction. A drone ambulance has been tested by Peel Regional Paramedics in Ontario to deliver medical supplies. Under the project, both an ambulance and a drone were dispatched at the same time, and every time the drone arrived at the scene first.
These test pilot drones fly at a speed of 80km/h and avoid all traffic that an ambulance would otherwise face. The drones arrive on the scene minutes before paramedics can and deliver a defibrillator to a bystander in case of a cardiac arrest case. These machines are easy to use and could be used before the paramedics arrive in an ambulance. The few extra minutes saved can make all the difference in saving lives when it comes to emergencies. Renfrew Ontario Paramedics are the first service in Canada to get approval from Transport Canada to use drones in medical emergencies.
Medical drones market size from pharmaceutical/drug transfer applications is estimated to witness 25% CAGR through 2025. This significant growth is attributed to capabilities of drones to deliver medications in remote locations in lesser time. These drones help in delivering drugs during severe circumstances such as medical emergencies or natural disasters.
According to a report by UK-based innovation foundation Nesta, the possible rapid transportation of light medical deliveries between hospitals in London and increased speed and reliability achieved due to drone deliveries could cut costs and improve patient care in the UK.
Extensive research is being conducted on delivering medicines or blood in remote areas of Wales. Moreover, improved regulatory scenario for medical drones will prove beneficial for medical drones industry growth.
Central role of drones during emergency cases will positively augment medical drones market size. With advancement in drone technology, it can be predicted that medical delivery through drones will be improved creating immense scope for the future expansion of medical drones industry. Global Market Insights estimates medical drones market size to surpass $399 million by 2025.
Author Name : Aakriti Kakkar
Biomedical refrigerators and freezers market is widening its horizon with the recent technological progressions in health care IT. Rising prevalence of chronic infectious diseases, especially across geriatric population base, is increasing the demand for personalized drugs, which in turn is providing lucrative business space for the overall industry. An exponential increase in the number of blood banks both across developing as well as developed nations have played a key role behind this industry's substantial growth in past years.  Another factor which is influencing the market dynamics is the growing regulatory norms regarding harmful GHG emissions control which is allowing the investors to redirect their focus from conventional refrigeration to a more ecofriendly refrigerating solution. According to Global Market Insights Inc., "Biomedical refrigerators and freezers market worth over USD 2.4 billion in 2015, is poised to exceed a revenue of USD 3.4 billion by 2024, growing at a CAGR of 4 % over the period of 2016-2024."
U.S. Biomedical Refrigerators and Freezers Market Size, By Product, 2012- 2024 (USD Million)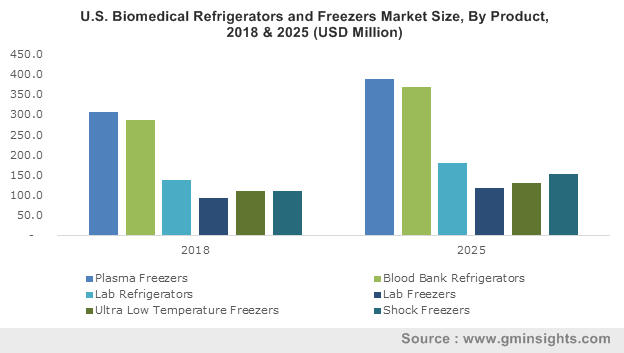 The rising demand for blood transfusion and growth of advanced blood blanks has intensified the demand for plasma freezers across the globe. Of the key varieties of refrigerators and freezers used in the biomedical sector, the plasma freezer is likely to witness lucrative growth prospects, having collected revenue worth USD 774 million in 2015. Owing to the extensive use of the plasmapheresis technique across hospitals and blood banks will spur the adoption this product. The global plasma freezers market is estimated to surpass USD 1073 million by 2024. Other product segments of biomedical refrigerators and freezers market include blood bank refrigerators, lab refrigerators, ultra-low temperature freezers, and shock freezers. Amongst these, blood bank refrigerators segment was worth USD 704 million in 2015, owing to its increasing deployment in medical, scientific, and research sectors.
Get a Sample Copy of this Report @ https://www.gminsights.com/request-sample/detail/822
The plasma freezers and blood bank refrigerator's escalating installation across Latin America is providing lucrative business opportunities for the regional market to expand at a faster pace. Latin America biomedical refrigerators and freezers market is anticipated to generate a revenue of more than USD 200 million by 2024 with a projected annual growth rate of 4.9% over the period of 2016 -2024. Brazil covered more than 52% of the regional market share in 2015, and is slated to collect a revenue of USD 107 million by 2024. Moreover, surging investment in research activities will also favor biomedical refrigerators and freezers industry growth in this region.
Asia pacific biomedical refrigerators and freezers market will exhibit flourishing growth prospects over the years ahead, owing to growing investment in R&D activities, rising development across the biotechnology and pharmaceutical sectors.
Blood banks in biomedical refrigerators and freezers market was the dominant application segment, occupying more than 38% of overall revenue share and collecting more than USD 932 million in 2015. Blood bank refrigerators are suitable for storing whole blood or blood component products and the application segment is predicted to register a CAGR of 4.3% over the period of 2016-2024.
Hospitals turned out to be the second highest revenue generator for the biomedical refrigerators and freezers market. In 2015, this segment was worth USD 543 million. Apart from these two applications, pharmacies and diagnostic centers due to their growing popularity will also witness a considerable growth over the coming seven years.
U.S. biomedical refrigerators and freezers industry size accounted for more than 73% of regional market share in 2015 and will collect significant revenue over the coming timeframe. The growth attributing factors are surging demand for personalized medicines and escalating occurrence of infectious and chronic diseases. In addition to this, supportive initiations taken by the government will also influence biomedical refrigerators and freezers industry size.
Biomedical refrigerators and freezers industry in Europe will collect a revenue of USD 800 million by 2024, primarily driven by growing investment by prominent manufacturing companies. Germany and UK will contribute significantly toward the regional growth.
Biomedical refrigerators and freezers industry giants are shifting their focus on innovative technological advancement in the product to expand their global reach. The notable participants in biomedical refrigerators and freezers market include Eppendorf, Philipp Kirsch GmbH, Aegis Scientific, Helmer Scientific, Panasonic Healthcare, Haier Biomedical, Terumo Corporation, Leibherr Group, and Thermo Fisher Scientific.
Author Name :Satarupa De