Bluetooth
As the lighting industry progresses from incandescent bulbs to CFLs and LEDs, smart lighting market has made its way as the next trending vertical. The vast expanse of this sphere can be aptly demonstrated by an incidence that occurred in Toronto a couple of years ago. A newly constructed building that nearly became a feather in the crown for the Toronto financial district, the EY Tower, made it to the headlines for offering IP addressable LED lights that tenants can control with internet-based building automation. The instance of EY Tower is of particular interest to the smart lighting industry as it demonstrates the steady presence of one of the most important forces, the real estate sector, into the smart cosmos.
Smart Lighting Market Size, By Light Controls, 2017 & 2024 (USD Million)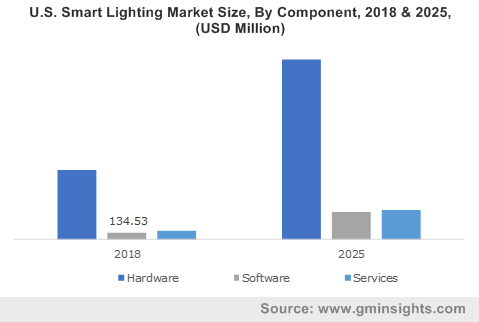 In order to lure tenants with modern technology and convince them to pay premium rents, other prominent real estate developers around the world have also followed the strategy adopted by the Canadian builders of EY Tower. One such instance is the retrofitting of the Torre Europa with Power over Ethernet (PoE) lighting. In the project that has been undertaken by Philips and Cisco, 14 floors will be equipped with 5,400 PoE luminaires.
Advocates of such retrofitting of buildings with smart lighting technologies have pointed out the twofold advantage of the undertaking. It drastically reduces the cost of new wiring by virtually eliminating the need for certified electricians. This is because the low voltages that are capable of driving LEDs can travel safely over Ethernet and do not require the more-costly processes associated with installing conventional 120 Volt and 240 Volt electrical wires. The chief attraction of using smart lighting in buildings however, lies in the fact that connecting luminaires directly into information networks makes it possible to control the 'switch on and off', color temperature, brightness and hues via gadgets and sensors. It also turns lights into nodes that can trigger other operations such as adjusting the heating, and that can collect data about building use and assets. PoE is one of several technologies emerging to make lighting a crucial part of the Internet of Things (IoT). The novelty of the technology and the ease with which it can be controlled even remotely has majorly propelled smart lighting industry trends.
Get a Sample Copy of this Report@ https://www.gminsights.com/request-sample/detail/413
The energy efficiency that smart lighting systems can afford is a major factor driving smart lighting industry size. In 2016, in the UN Climate Change Conference, Philips Lighting demonstrated how smart energy solutions work and can make a real difference to climate change. The event showcased the profoundly transforming capabilities of the smart lighting market, including demonstrations that depicted the energy and greenhouse gas saving potential of this one single technology. Indeed, the technology is equipped with the potential to reduce energy demand from lighting by half.
Philips also exhibited that increasing the rate of energy efficiency to 3% can unlock significant economic benefits – close to 6 million new jobs can be created by 2020, fuel costs can be reduced by €2300 billion by 2030 and household energy bills be reduced by one-third. These estimates are evidence enough to testify the robust latitude of smart lighting industry.
With the rapid proliferation of smart cities, smart lighting market is bound to become one of the most remunerative verticals for investors to pour their money in. Netherlands in this case, can be quoted as a bright example of the onslaught of smart cities, as even the smallest of towns in this country have deployed smart lights which can detect motion and switch themselves on and off. Larger cities like Rotterdam and Amsterdam have already installed smart lights on the streets that are not only energy efficient, but also add a swanky edge to the town or city that can make it more lucrative for growth and investments. As the number of smart city projects across the globe increase, providers of smart lighting for city streets are diversifying their services by turning smart street lighting poles into a potential hub for free Wi-Fi, or to sense the quality of air and even to notify police about public aggression or accidents. This shifting focus is more than likely to expedite smart lighting industry outlook in the ensuing years.
One of the simplest drivers that can be credited for the superb projection of smart lighting market is the eagerness of consumers to upgrade to the latest technology. Currently, smart lights are being designed to be controlled with a smartphone or with AI personal assistants such as Siri or Alexa. In consequence, they have become infinitely more attractive to a generation of consumers who not only have the available disposable income to afford smart lighting but also want to own smart homes where the lighting can be controlled with a voice command. With the popularity of smart lighting on the rise in both the industrial and residential sectors, smart lighting industry size is projected to register a remarkable 20% CAGR over 2018-2024.
Author Name : Paroma Bhattacharya
The fact that smart luggage is now a buzzword for the tech-savvy traveler legitimizes the massive commercialization matrix of smart luggage market. A prime factor that has augmented the popularity of this product is the substantial rise in the number of air travelers that has led to strict security compliance at airports. Furthermore, there has been an increase in the cases of baggage theft and luggage damage during travel lately, which has pushed the demand for connected suitcases and bags, thereby stimulating smart luggage industry share. The escalating penetration of IoT in the baggage fraternity has prompted manufacturers to include smart features such as remote locking system, Wi-Fi spots, GPS, Automatic built-in weighing, Bluetooth, USB chargers, built-in batteries, and SIM cards in luggage. Say for instance, Bluesmart, a key manufacturer of smart products for travel industry, recently introduced second generation technology referred to as Series 2 in its product line. The new smartphone-controlled locking & site tracking system is expected to lessen the trouble for passengers and airport officials during baggage check-ins.
U.S. Smart Luggage Market Size, By Application, 2016 & 2024 (USD Million)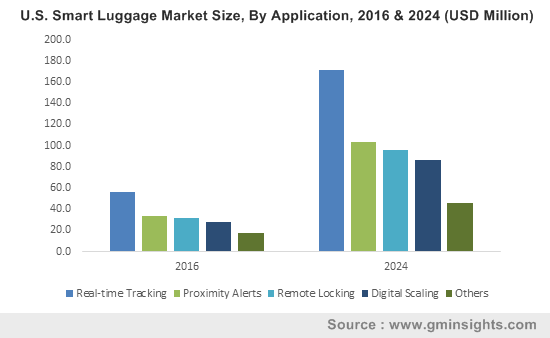 The concept of zipper-less baggage has been gaining traction in smart luggage industry. For instance, Trunkster, a U.S. based baggage startup has recently introduced smart zipper-less luggage – a self-weighing waterproof suitcase comprising sliding doors, offering secured as well as easy access to the luggage contents as compared to the zipped ones. Further on, Delsey, a France smart luggage market player is developing a unique fingerprint ID endowed with numerous features – it automatically locks and unlocks bags, is capable of checking the mobile application of the end-user to verify that the bag is actually locked, and provides a notification to the user during bag transit. The aforementioned instances testify that the launch of state-of-the-art technologies is thus likely to transform smart luggage market trends.
Smart luggage technologies are deployed to implement digital scaling, real-time tracking, remote locking systems, and proximity sensing devices. Real-time tracking technology, for instance, is heavily utilized in airports in cases of baggage loss. Luggage thefts and security violations have changed traveler preferences rapidly, enabling them to invest in smart luggage equipped with remote locking systems & proximity sensing devices. Furthermore, manufacturers have been focusing on preventing any kind of inconvenience to the traveler due to overweight baggage, which has resulted in the production of digital scaling systems. The development of unique smart technologies to be incorporated in suitcases and bags is thus certain to augment smart luggage market size.
Get a Sample Copy of this Report @ https://www.gminsights.com/request-sample/detail/2066
Speaking in the terms of geographical aspects, the product has been increasingly penetrating the APAC zone, given the growing frequency of air travel, subject to increasing consumer disposable incomes and the subsequent rise in their purchase parity of consumers. The robust surge in the demand for smart luggage foe security and comfort will thus generate a profitable growth map for Asia Pacific smart luggage industry. Countries such as Singapore, India, Thailand, China, and Malaysia being prime tourist destinations will, further contribute toward the revenue generation of this regional market.
North America, being one of the hubs of smart technology, is a profitable growth avenue for smart luggage market. The large-scale deployment of connected baggage has prompted companies to brainstorm and develop innovative products, which would considerably impel North America smart luggage industry. In fact, estimates claim North America to account for a rather huge share in smart luggage market.
With IoT firmly having established its predominance in the travel arena, smart luggage market is likely to emerge as one of most remunerative business spheres in the ensuing years. Companies partaking in smart luggage industry share have been hinting at incorporating a lot more user-friendly features in their products, which would considerably impel this business space. According to the Global Market Insights, Inc., smart luggage industry will hit a revenue of over USD 2 billion by 2024.
Author Name : Dhananjay Punekar
The extensive penetration of IoT has revolutionized almost every marketplace, pet wearable industry being no exception. Wearable technology has indeed expended its application matrix beyond humans, which is quite evident from the large sales of pet wearable across the world. Statistics validating the fact- global pet wearable shipments have been claimed to exceed 5 million units in 2016, and the overall shipments is forecast to grow more than 25% over 2017-2024. Leading animal health giants are being witnessed making smart investments in this industry in sync with the latest technological innovations. Global Market Insights Inc., forecast that pet wearable industry will record a valuation of USD 8 billion by the end of 2024.
U.S. Pet Wearable Market Size, By Product, 2016 & 2024 ($Mn)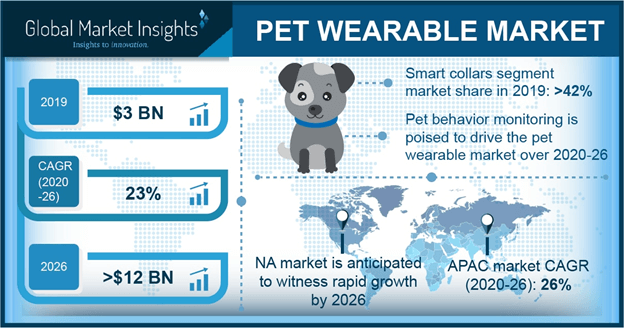 Pet wearable industry has already marked its strong presence in the smart industry space with a diversified product portfolio, ranging from remote heath monitoring to video enabled engagement. For instance, WonderWoof is a Bluetooth enabled bowtie than can monitor dog's activity by keeping a track of their movement.  Reportedly, this ground-breaking innovation is highly customized, with regards to the dogs' gender, breed, and age and can also track the dog's progress in terms of bone development. Not only as a fashionable quotient, the proliferation of IoT has also made a significant impact on diagnosis and medical treatments of pets, giving rise to a swarm of telemedicine apps targeted for veterinarians.
Get a Sample Copy of this Report@ https://www.gminsights.com/request-sample/detail/151


Speaking along the similar lines, GPS based pet wearable is gaining a huge popularity, subject to its capability of monitoring real time positioning of pets. The increasing trend of GPS providers to enter into strategic partnerships with application developers to advance the mapping portals is expected to further bring a consequential transformation in pet wearable market dynamics. With sensors becoming more affordable and high-speed broadband services becoming nearly ubiquitous, IoT is poised to change the way the animal healthcare was previously approached, leaving lucrative business opportunities for pet wearable market giants.
Regionally, U.S. experiences a strong hold in the overall pet wearable industry.  The escalating spending of the Americans on pets and companion animals have substantially driven pet wearable demand in this region. According to National Pet Owners Survey conducted by the American Pet Products Association over 2015-2016, almost 65% of the overall American households owned a pet, which itself is a testimony of the huge application scope of the regional pet wearable market. In fact, estimates depict that U.S. pet wearable industry held a billion-dollar business in 2016 and is slated to register a CAGR of 25% over 2017-2024. Furthermore, U.S. being one of the most technology affluent nations, the incorporation of wearable technology in monitoring pets' activities is sure to upscale in the coming years, in turn providing a boost to pet wearable market share.
Worldwide, the industry is fiercely competitive with the engagement of major biggies like Fitbark, Whistle Labs Inc., Dairymaster, Scollar, DeLaval, and Nedap N.V. Manufacturers are highly optimistic toward the overall pet wearable market outlook and are investing more to innovate new products to address consumer expectations. Considering the fact that pet wearable is expanding its application scope with technology playing the pivotal role, the growth potential for pet wearable industry is forecast to be humongous in the coming years.
Author Name : Satarupa De