Body Fat Reduction Industry
The global body fat reduction market is set to experience extensive traction in the years to come, primarily due to the growing number of the obese and overweight population worldwide. Undoubtedly, the increase in this demographic is caused by an increased intake of processes and other energy-dense food that are high in fat along with physical inactivity. These consequences can be blamed on the increasingly deskbound nature of several work forms, convenient modes of transportation and rapid urbanization that are contributing to the growing obesity rates among the adult population around the world.
U.S. Body Fat Reduction Market, By Procedure, 2018 & 2025 (USD Million)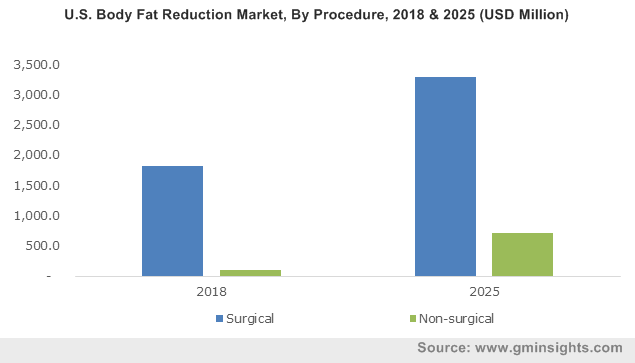 Data by the World Health Organization suggest that worldwide obesity rate has almost tripled since 1975. Around 39% of adults over the age of 18 were overweight in 2016 and 13% were obese. In addition, the majority of the world's population resides in countries where being overweight and obesity claim more lives than being underweight. Unlike other diseases, obesity can be totally cured given the patient's commitment to losing body fat with effective treatment paired with regular workout. Hence, the growing prevalence of obesity does present a strong growth opportunity for the global body fat reduction market.
High BMI can also lead to major health consequences like cardiovascular diseases and some forms of cancer including breast, prostate, liver, gallbladder, kidney, and colon. A recent study by the American Cancer Society suggested that cancers linked to obesity are soaring among millennials in the United States. The study further exhibited a rise in six of 12 cancers linked to obesity including colorectal, gallbladder, endometrial, multiple myeloma and pancreas.
Get a Sample Copy of this Report:@ https://www.gminsights.com/request-sample/detail/3141
Another research studying two groups of adults aged 65 to 74 revealed that healthy older adults who are either obese or overweight may be at a higher risk of developing dementia than people who aren't overweight. Increasing chances of health risks associated with obesity and high BMI will persuade more individuals to seek fat reduction procedures, thereby boosting the global body fat reduction market over the coming years.
Lately, internet and social media have presented millennials with an essential platform allowing various communities to unite over mutual interests and issues, one of them being body positivity. However, in the last few years, body positivity in the age of internet and media has blossomed from valuing oneself in all shapes and sizes while embracing a healthy lifestyle to fat acceptance. This trend was majorly driven by some influencers' battle against fat shaming that was erroneously interpreted among the younger and some older population as a way to accept obesity.
Lately, millennials are becoming well aware of the harmful consequences of obesity, especially among women as the stigma around female obesity still persists. The latest report from Global Market Insight suggests that female body fat reduction market is forecast to grow at a considerable CAGR of 10.4% owing to an increasing obsession over healthy and attractive physique.
A few years ago, surgical liposuction was the only solution to spot fat reduction, a procedure that was deemed painful by many. However, with advanced technology and medical procedures, there is now a range of non-surgical and minimally invasive options to permanent spot fat reduction and body contouring. For instance, the new TruSculpt ID radio frequency body sculpting device has been exhibiting remarkable results in the industry.  Recently, new data by the American Society of Plastic Surgeons revealed that there were over 17.7 million surgical and minimally-invasive cosmetic procedures performed in 2018. The report also unveiled a rise in body-shaping procedures with an uptick in non-surgical fat reduction procedures.
Experts believe, although surgical procedures show consistent and predictable results, the new non-invasive fat reduction machineries will continue to advance and play a significant role in reshaping areas of the body. Rising preference for non-surgical and minimally invasive procedures will thus further augment the body fat reduction market. Furthermore, reliable estimates released by Global Market Insights states that the global body fat reduction market is anticipated to surpass a valuation of $16.5 billion by 2025.
Author Name : Krithika Krishnan