Bone Growth Stimulators Market Share
A commendable increase in the number of clinical cases associated with bone injuries along with growing elderly population worldwide will fuel bone growth stimulators market size over 2019-2025. A bone growth stimulator is used to offer pain-free, electrical or ultrasound stimulation that promotes faster bone healing and growth. Increase in cases of osteoarthritis across the globe has led to surging demand for bone growth stimulators.
U.S. external bone growth stimulators market, 2018 & 2025 (USD Million & Thousand Units)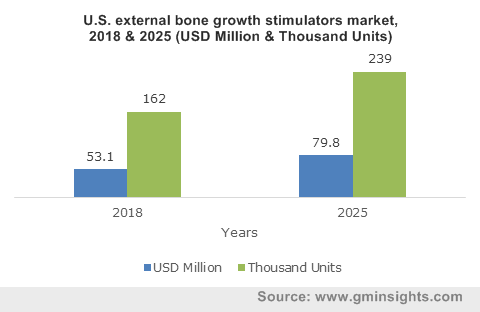 According to the World Health Organization (WHO), rise in life expectancy and ageing population are expected to make osteoarthritis the fourth major cause of disability by 2020. The condition is increasingly witnessed among elderly people who are prone to bone injuries. Expanding geriatric population is also likely to boost bone growth stimulator demand in the coming years.
According to the report 'An Aging World 2015', the number of aged people (over 65 years) are estimated to reach around 1.6 billion by 2050, representing 16.7% of the world's total population. Femoral neck fractures have also intensified significantly over recent years, primarily due to rising elderly population and rapid urbanization.
Meanwhile, surge in number of cases associated with hip fractures worldwide are estimated to supplement bone growth stimulators market outlook during the forecast time period. Credible reports suggest that around 1.6 million hip fractures occur each year across the globe, and is likely to reach between 4.5 million and 6.3 million by 2050.
Based on product type, external bone growth stimulators segment is anticipated to generate commendable revenues in the forecast period. External bone growth stimulators are portable, nonsurgical treatment offering devices that are designed specifically to promote healing of bone fractures that have failed to mend naturally.
Get a Sample Copy of this Report:@ https://www.gminsights.com/request-sample/detail/3553
With stringent regulations focusing on product quality and efficacy as well as rapid technological advancements, the bone growth stimulators industry players have developed innovative products. For instance, in 2018, global medical device company, Orthofix International N.V. announced that the U.S. FDA (Food and Drug Administration) and European CE Mark approved its next-gen PhysioStim™ bone growth stimulator, designed specifically for treating patients with nonunion fractures. More such advancements and enhanced product offerings are expected to lead external bone growth stimulators market to register momentous growth over the coming years.
Growing prevalence of spinal fusion surgeries worldwide will expand bone growth stimulators market size. According to WHO, each year around 2,50,000 and 5,00,000 people suffer from spinal cord injury (SCI) worldwide. Most of these injuries occur due to instances like road accidents, sports injuries, falls, assault, or due to diseases like arthritis, osteoporosis and infections (TB). Growing incidence of herniated disc and spinal stenosis are also responsible for increased need for spinal fusion surgeries.
Bone growth stimulation (BGS) are increasingly prescribed to patients following spinal fusion surgeries as the device can effectively activate the body's natural bone healing process, which may be impaired in at-risk patients. BGS can also be used to help fuse spinal bone after a fusion procedure or as a treatment from a failed fusion procedure.
Rapid technological advancements will lead to development of advanced spinal injury specific stimulators, thereby supplementing bone growth stimulators industry trends. For instance, Orthofix has develop SpinalStim™, a lightweight, flexible and portable BGS that can be used after spinal fusion surgery or to treat a failed fusion from a prior surgery.
Technological advancements have also led to development of BGS products that offer advanced features like LCD display and audible alarm for offering insights like operational status, treatment time remaining, battery capacity and more. With growing demands and advancements, the spinal fusion surgeries segment of the bone growth stimulators market is estimated to grow with the highest CAGR of 6.0% over the forecast timeframe.
From a regional perspective, Asia-Pacific bone growth stimulators market is estimated to garner substantial proceeds owing to rising cases of hip fractures and growing elderly population. According to the International Osteoporosis Foundation (IOF), over 50% of all osteoporotic hip fractures are likely to occur in Asia by 2050.
The condition is greatly underdiagnosed and undertreated in Asia and is at high risk among patients with fractures. The problem is particularly acute in rural areas across populous countries like China and India where hip fractures are often treated at home instead of hospitals.
Hip fractures in the elderly and adult population are also rising rapidly in the Indian subcontinent. For instance, in 2018, a study published in the Indian Journal of Medical Research showed that over 69% of people aged between 38-68 in Delhi suffered from continuous bone loss and high risk of fractures. Meanwhile, reports from the George Institute estimates that, by 2020, almost 20% of the Indian population will be older than 60 years, while annual incidence of hip fractures will reach around 600,000, which will augment bone growth stimulators industry trends.
In China, spending on hip fracture treatment is estimated to rise from $12.5 billion in 2020 to over $264.7 billion by 2050. Trends such as these are expected to immensely boost Asia Pacific bone growth stimulators industry share over the forecast period.
Global Market Insights, Inc., estimates bone growth stimulators market size to exceed US $1.2 billion by 2025.
Author Name : Mateen Dalal