Boom
E-2D Advanced Hawkeye's successful completion of an aerial refueling test is the latest scoop grabbing most of the headlines in aerial refueling system marketplace. Reportedly, the three-hour test flight was being conducted by Air Test and Evaluation Squadron Two Zero in association with U.S. Navy's 418th Flight Test Squadron from California based Edwards Air Force Base. In a bid to make this venture fruitful, the aerial refueling system equipped with E-2D, received 2,000 pounds of fuel from U.S. Navy's KC-130 Hercules during its test flight at NAS (Naval Air Station) Patuxent River. Sources familiar with the matter stated that the effective testing undoubtedly reaffirms the on-time delivery of this breakthrough technology in aerial refueling system market. For the record, as of now, the production is scheduled for 2018, with operation slated to commence from 2020.
U.S. Aerial Refueling System Market, By System, 2016 & 2024, (Units)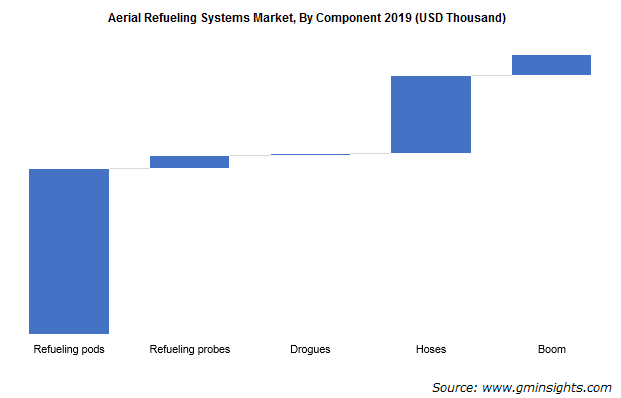 It is rather claimed that U.S. Navy's fleet carrier force has no equivalent across the globe, the fundamental aspect that has aided aerial refueling system market progression in the country. Increasing prevalence of a multitude of variants of these systems such as C-160 NG, KC-130, and KC-135 along with substantial aircraft deliveries is likely to significantly contribute toward the regional industry growth.  In fact, with U.S. the helm, North America aerial refueling system industry is forecast to procure nearly 50% of the global share by 2024. The country is also home for a host of renowned companies operating in aerial refueling system market including the likes of Boeing and Lockheed Martin. It has been observed that these giants have been heavily inclining toward strategic alliance with regional air force department to gain a visibility and competitive edge. This is quite coherent from the increased aerial refueling system industry share from military aircraft application, which is slated to surpass USD 2.4 million by 2024.
Get a Sample Copy of this Report @ https://www.gminsights.com/request-sample/detail/2155
In this regard, couple of years back, Boeing won a contract to develop a new tanker, under which U.S Air Force department planned to buy 179 KC-46s. Reportedly, as a part of the contract worth of USD 44.5 billion, Boeing was responsible for costs beyond U.S. Navy's commitment USD 4.82 billion.  For the records, as of yesteryear, the renowned defense contractor had taken on nearly USD 2.9 billion in pretax costs. Despite the significant lingering problems that KC-46 program contract has been dealing with over the past years, it is expected to get resolved by this year, as the aerial refueling system market giant is now obligated to deliver 18 of the new tankers to the Air Force Department by October 2018. The regional business space is likely to observe similar kind of joint venture approaches from private and government entities.
Some of the other leading names observing a strong contendership in aerial refueling system industry include GE Aviation System, Eaton Corporation, Zodiac Aerospace, Dassault Aviation, and Marshal Aerospace and Defense Group. Amidst the dynamically charged share battle, product innovations via M&A activities is one of the strongest parameters defining the sustainability quotient for the market players. For instance, recently Icon Aerospace Technology signed a multi-year contract with Cobham Mission Systems in a bid to offer its flagship in-flight refuelling hoses based at its Retford site.  Reportedly, this long-term deal comes on the heels of supporting Cobham's Air-to-Air Refuelling systems with Icon hose products that are already installed on renowned aircrafts like Airbus A330 MRTT and Boeing KC-46. All in all, with robust product developments by the business stakeholders and increasing defense budgets across various countries, the revenue graph of aerial refueling system market is likely to witness a remarkable momentum over the forthcoming years.
Author Name : Satarupa De
This entry was posted in Automotive & Transportation and tagged Aerial Refueling System Market, Aerial Refueling System Market Size, Aerial Refueling Systems Market, Aerial Refueling Systems Market Share, Aftermarket, Boom, Commercial Aircraft, Drogues, Flying Boom, Helicopters, Hoses, Military Aircraft, OEM, Probe and Drogue, Refueling Pods, Refueling Probes, UAV.