Building & Construction
​
Growing application across the construction and transportation industries is driving spray adhesives market size. The key benefit of spray adhesives is the convenience of application which speeds up the jobs and thereby improves the overall efficiency. Each type of spray adhesive has its own set of distinct characteristics which ensures high quality despite the task variations.The increasing demand from the furniture industry owing to the property of spray adhesives to bind a wide number of substrates will also propel market demand. Spray adhesives market outlook is currently driven by a number of significant trends, mainly pertaining to the robust application landscape that this industry boasts of.
Robust urbanization trends to augment spray adhesives market size from construction sector:
The rapid growth of construction industry is attributed to the improving standard of living and increased migrations from rural to urban areas. As the construction industry continues to expand, innovative technologies like heavy duty construction adhesives will come into play. Spray adhesives find several applications across the construction industry across insulation, flooring, walls, roofs, doors & windows, etc.
High strength spray adhesives can hold extreme temperatures and are used to replace nails and machinal fasteners spray which simplify the workflow with very little or no training required for the laborers. Newly developed spray adhesives not only improve the sustainability of the construction products but also optimize the processes by the faster curing times.
For instance, Sika has come up with a new innovative spray-applied insulation adhesive which reduces the installation times by up to 20 per cent.  The high foaming adhesive is suitable for both refurbishment and new build projects which strongly binds the insulation boards and the substrate, within a very less time enabling rapid project completion.
In this context, it is also pivotal to mention that the Asia Pacific region is expected to hold a substantial proportion of the market share due to rapid urbanization and industrial development. The growing construction activities across countries including China and India will also positively impact market growth.
Expansion of transportation sector to add impetus to spray adhesives industry outlook:
Considerable growth in global transportation sector will be a primary driver for spray adhesives industry size expansion. The transportation industry serves as the backbone for a country's economy – seamless transportation functioning can be credited majorly for a nation's rising economic growth. accounts for a majority of the transportation systems. For instance, the U.S transportation industry represents over 8% GDP in the country's economy.
Get a Sample Copy of this Report:@ https://www.gminsights.com/request-sample/detail/4311
Spray adhesives are majorly used for various manufacturing and maintenance activities of aircrafts, automobiles, rails, etc. Their characteristics like durable bond strength which resists vibrations and provides chemical & thermal resistance will foster the product demand.  Automotive adhesives are now widely used for replacing the conventional methods of joining parts, such as welding, riveting, or screwing, which speeds up the assembly line.
Besides the curing time, the bond strength is a central constraint for any robust adhesive. The ongoing R&Ds in line with the technological advancements in adhesive science will lead to the manufacturing of enhanced adhesive products in the years to come.
For instance, Delo, a manufacturer of industrial adhesives just broke the world record for the heaviest lift using an adhesive material. A crane lifted a 17.5-ton truck on a bonded aluminum cylinder creating world record, beating the previous of 16.3 tons. Such achievements by leading market contenders will augment the spray adhesives industry outlook.
The increase in number of car ownerships due to rise in per capita income is also expected to fuel product demand from the transportation end-user segment. As the transportation infrastructure undergoes a massive overhaul, global spray adhesives market will achieve significant gains in the years ahead.
Rising demand for aesthetic furniture to drive the industry trends over the forecast period:
The booming furniture industry is going through a transition currently owing to changing consumer preferences which creates a necessity of advanced adhesives. Polyurethane spray adhesives are highly preferred for manufacturing diverse furniture products. The improvement in consumer lifestyle has propelled intense demand for modular and attractive furniture which includes wide range of materials such as wood, laminates, iron, leather, and many other upholstery materials.
Appealing furniture designs enhance the aesthetics of an office or a house, and consequently, the rise in sales of commercial and residential properties will in turn fuel demand for new furniture. The furniture sector in UK specially witnessed an annual growth rate of +8% in 2018, which represents a positive future for the industry. According to the Furniture Industry Research Association, total consumer spending on furniture increased by +24% between 2012 and 2016.
Leveraging the widespread application spectrum, spray adhesives market size is driven by the growing product demand across the globe. A sudden surge in the construction and automotive industries will also positively impact the market share. According to a research report by Global Market Insights, Inc., spray adhesives market size is anticipated to exceed USD 9 billion by 2025.
Author Name : Amol Kothekar
​
Candidly driven by two key factors including rising per capita income and high demand for processed food, Polypropylene Random Copolymer Market will register a commendable valuation over the years ahead. Consumer lifestyles are becoming consistently hectic, and this is leading to a high demand for packaged meals. Subsequently, the requirement for high-grade food containers is on a rise, thereby propelling polypropylene random copolymer industry. In addition, food containers are also used in household applications subject to the transparency factor and ease of labeling, which will further spur the industry trends.
U.S. Polypropylene Random Copolymer Market size, by end-use, 2013-2024 (USD Million)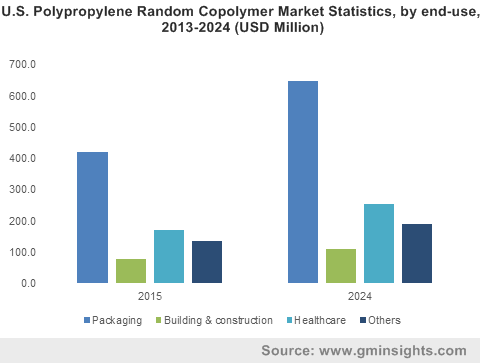 Polypropylene random copolymers are basically thermoplastic resins that are manufactured during the polymerization process of propylene. These resins have a wide range of seal initiation temperature, excellent gloss and transparency, high heat resistance, and aesthetic properties. On these grounds, PRC products are light weight, they possess high radiation resistance, and have the capacity of retaining the organoleptic properties of food. Consequently, these products are heavily used for manufacturing food containers made of plastic, glass, paperboard, and metal. As per estimates, global food container market was valued around USD 110 billion in 2015 and is forecast to cross a valuation of USD 175 billion by 2024, which is another factor driving polypropylene random copolymer industry.
The rising F&B sector across Asia Pacific is one of key drivers of the regional polypropylene random copolymer market. With India, Japan, and China at the helm, APAC led the overall polypropylene random copolymer industry in the year 2015. Changing consumer lifestyles, increased middle class population, and rising disposable incomes of consumers will primarily drive APAC polypropylene random copolymer market, which is slated to experience the maximum gains of 5.5% over 2016-2024.
Get a Sample Copy of this Report @ https://www.gminsights.com/request-sample/detail/1102
Polypropylene random copolymers find applications in blow molding, thermoforming, BOPP & blown films, pipes, injection molding, and transparency packaging. On these grounds, polypropylene random copolymer products are used principally across the healthcare, construction, and packaging sectors. Global polypropylene random copolymer market from packaging applications is slated to observe the maximum growth over the coming seven years, subject to the ever-growing packaging sector and the superior product properties. In addition, shifting consumer trends toward packaged meals will augment the packaging sector, which held more than 50% of the overall polypropylene random copolymer industry in 2015.
PP random copolymers find heavy utilization in the medical sphere, especially for the manufacture of equipment such as syringes, owing to the product's transparency and heat resistance. Polypropylene random copolymer market from the healthcare sector was worth USD 1 billion in 2015 and is forecast to rise significantly over the coming timeframe.
The highly developed healthcare industry in North America will be a major factor propelling the regional polypropylene random copolymer market. Led by the United States, this market stood at a valuation of more than USD 950 million in 2015. The U.S. and Canada are also major shareholders of the global F&B packaging industry, which will further impel the regional trends.
Global polypropylene random copolymer market is rather fragmented. As per estimates, in 2015, the top six manufacturers held more than 25% of the overall share. This business encompasses the participation of Pinnacle Polymers LLC, Total Petrochemicals & Refining USA Inc., LyondellBasell, Flint Hills Resources, Formosa Plastics, Reliance Industries Limited, INEOS Olefins & Polymers USA, Braskem, Sasol, and Entec Polymers. Polypropylene random copolymer industry, to an extent, is integrated, as far as downstream and upstream operations are concerned. Companies often engage in novel product enhancements to consolidate their position in the global business.
Petrochemical feedstock such as naphtha and ethylene are basic raw materials that are used for product manufacturing. Thus, crude oil and petrochemical price fluctuations are likely to hinder the progress of polypropylene random copolymer market. However, the product usage across the F&B industry has been exponentially rising owing to its superior qualities. In addition, companies have been making efforts to manufacture high grade and innovative products as alternatives to conventional beverage packaging, which is likely to propel polypropylene random copolymer industry trends over the coming seven years.
Author Name : Saipriya Iyer