Butadiene
Pertaining to the rising demand for latex binders in the paper, construction, and adhesives sectors, styrene butadiene latex market is expected to carve out a rather profitable growth path in the ensuing years. The product is essentially a type of emulsion polymer that has a higher crosslink density and tensile strength as compared to styrene butadiene rubber. It also exhibits other favorable qualities such as increased flexibility, resistance to oils and abrasion, lower water permeability and dimensional stability, subject to which styrene butadiene latex industry outlook is forecast to witness majorly lucrative transformations over 2017-2024. Global Market Insights, Inc., states that styrene butadiene latex market share will grow at a CAGR of 3.5% between 2017 and 2024 and will exceed USD 9 billion in the forecast time span.
U.S. styrene butadiene latex market size, by application, 2013 – 2024 (USD Million)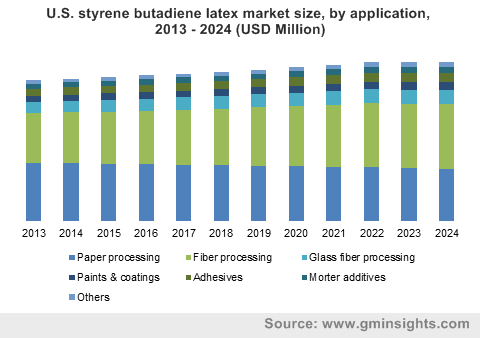 The paper processing sector stands as one of the major application arenas of styrene butadiene latex market. The product is extensively used for paper coating in magazines, newspapers, flyers, catalogues and paper food cartons, given that it enhances the pigment's binding ability and makes the end-product brighter, stiffer, glossier and water resistant. With rising global demands for innovative paper products and the exponential growth of the paper industry, styrene butadiene latex industry is likely to witness considerable growth prospects.
The upward trajectory of the styrene butadiene latex market can also be credited to the product's deployment in the carpet industry. Styrene butadiene latex has a greater crosslink density – that is to say, when stretched and released, it recovers closer to its original shape, making it ideal for back coating on tufted carpets. In fact, these are the most common type of carpets found in America – over 90% of all commercial carpets in the region are tufted. In consequence, this would also majorly impact the sales graph of North America SB latex industry share from the carpet sector, additionally driven by the product's high pigment binding capability and strength.
Get a Sample Copy of this Report:@ https://www.gminsights.com/request-sample/detail/2199
It is prudent to note that styrene butadiene latex also finds usage as a popular polymer for mortar additives. With the robust growth in the construction industry, the demand for cement and mortar has considerably increased. Adding styrene butadiene latex in mortar gives it greater compressive and tensile strength, increases its adhesive power, and makes it water resistant. In essence, the growth of the construction industry will have a direct impact on the expansion of styrene butadiene latex market. Additionally, it is important to state that the product is also used in glass fiber processing as a binder for surface treatment and is added in paints and coatings to impart a superior look to the end-product. Thus, it would not be incorrect to declare that the massive application portfolio of styrene butadiene would heavily augment the revenue graph of SB latex market.
Currently, Asia Pacific leads global styrene butadiene latex market in terms of volume and revenue, pertaining to the growing carpet and paper sectors in the region. China for instance, was the largest producer and consumer of paper in 2016, which has majorly influenced the regional styrene butadiene latex market. Concurrently, owing to the highly developed paper domain, Europe also holds a considerable share in styrene butadiene latex industry.
The frequent fluctuation of raw material prices is one of the major obstacles in the consistent growth of the styrene butadiene latex market. Styrene and butadiene are both downstream derivatives of crude oil – thus, the fluctuating price of crude oil would have quite an impact on styrene butadiene latex industry. In order to eliminate this uncertainty regarding raw material price, the key players of the styrene butadiene latex industry are investing largely in advanced R&D programs to find other methods of styrene butadiene latex production to stabilize the price trends. These commendable efforts, in tandem with the expansion of the niche end-users of SB latex, are certain to propel styrene butadiene latex market in the years ahead.
Author Name : Paroma Bhattacharya