Butylated Hydroxytoluene Market Size
Driven by escalating demands for synthetic antioxidants across global food and cosmetics sectors, the global butylated hydroxytoluene market is currently on the verge of witnessing an appreciable amount of growth in forthcoming years. Increasing investment in the food and personal care products manufacturing industry will impel the market trends.
U.S. Butylated Hydroxytoluene Market Size, By Application, 2018 & 2025, (Kilo Tons)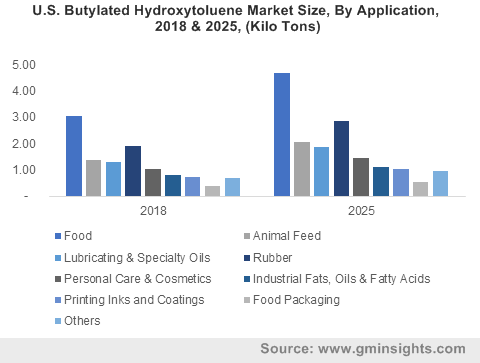 Butylated hydroxytoluene (BHT) is a compound that impedes autoxidation of any unsaturated organic compounds, furthering their shelf lives be a substantial margin. Owing to these properties BHT is commonly used as a preservative to prevent oxidation as well as free radical formation.
In U.S., Food and Drug Administration categorized BHT among Generally Recognized as Safe (GRAS) additives, which permits the compound its widescale adoption across the food processing industry. Attributing to the GRAS tag, today BHT is utilized as a preservative across a wide variety of foods, including preserved meat products, and chips. In this, regard, growing preference for BHT as additive and food preservative is slated to accelerate product demand across U.S.
Nowadays, owing to the hectic work schedules, people have been preferring packaged food. This trend, subsequently, is turning the working population towards processed food products as they are readily available across supermarkets and do not require cooking or any other preparations to be consumed. Such a growing trend is expected to become a major growth driving factor for the food-grade preservatives industry and by extension, butylated hydroxytoluene (BHT) market.
Get a Sample Copy of this Report:@ https://www.gminsights.com/request-sample/detail/3217
According to the Food and Agriculture Organization of the United Nations, the antioxidant properties of BHT also give it an entry into the global animal feed industry. BHT, among others, is commonly used across the animal feed sector to prevent oxidation of feeds as well as feedstuffs.
BHT prevents the rancidity of fats contained in the feedstocks while also inhibiting the destruction of amino acids, vitamin E, D, and A; ensuring that animal feeds maintain their nutritional value. These capabilities have allowed BHT to draw in revenues from the commercial fish food sector over the last two decades.
Moreover, BHT is currently considered as the most efficacious antioxidant utilized across the animal feed industry, which would enable the BHT market to bring in further revenue growth from the animal feeds segment over the forecast timeframe.
In addition to food industry, rising BHT usage in the cosmetic industry has also strengthened butylated hydroxytoluene industry outlook. BHT boasts of a widescale adoption across the global cosmetics industry as an antioxidant and preservative that allows cosmetic products significantly longer shelf lives. Escalating demand for skincare products is projected to majorly drive adoption of BHT in the cosmetics industry.
According to the 2018 L'Oréal annual report, the skincare segment has consistently showcased distinguished growth as compared to other beauty products, frequently outperforming them by a sizable margin. For instance, the L'Oréal annual report highlighted that the skincare segment grew by approximately 9% in 2018 with North American (20%) and Asia Pacific (55%) accounting for a majority of the industry's share.
Changing climate conditions brought on by global warming is factored in as a prominent growth provider for skin care products. The rapid expansion of upper middle classes across the world, specifically Asia, are some other factors fostering cosmetics industry expansion and the BHT industry share in turn.
All in all, attributing to the integral role it plays across the aforementioned high-revenue industries, BHT is expected to witness further demand as a preservative and an antioxidant. In fact, according to a Global Market Insights, Inc., research report, the butylated hydroxytoluene market size is slated to surpass an overall valuation of $380 million by 2025.
Author Name : Akshay Kedari