Cabin Interiors
The revenue scale of aerospace plastics market is likely to expand in the forecast years, owing to the shifting preference towards the low weight aircrafts to enhance the performance and fuel efficiency of the jet. Surging development across the aviation industry along with high investment in the defense activities across the globe will also stimulate the aerospace plastics industry size. As per Global Market Insights, Inc., aerospace plastics market size is anticipated to surpass USD 75 million by 2025.
U.S. Aerospace Plastics Market, By Aircraft, 2018 & 2025, (USD Thousand)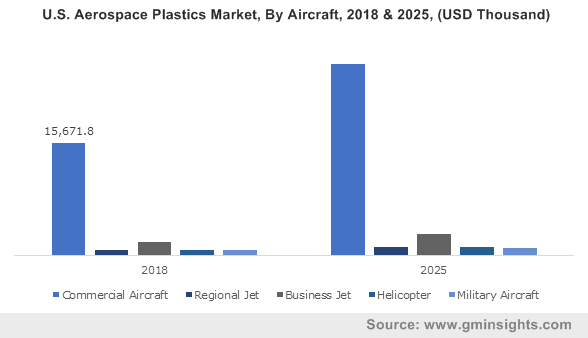 Aerospace plastics are massively deployed in cabin interiors, airframes, windows & windshields, and propulsion systems, owing to their convenience and efficiency. Of these, window & windshields applications are rather commonplace. Indeed, the segment accounted for a substantial proportion of aerospace plastics market share in 2018, primarily on account of the extensive deployment of durable and chemical resistant plastic material, that helps to prevent glass layers in windows from shattering.
As far as windshields are considered, when manufactured with durable plastics, they offer reduced reflectivity and also help passengers regulate light as well as heat transmission flow to the aircraft interiors, which would majorly propel aerospace plastics market trends from windows and windshields.
A major factor that would augment aerospace plastics market outlook from windows and windshields applications is the increasing number of MRO activities, in tandem with the rising demand for the replacement of ageing aircraft components with enhanced plastic material. As major industry contenders strive to introduce lightweight, high-performance windows and windshields for aircrafts, aerospace plastics market share will depict a commendable rise over the forecast period.
Get a Sample Copy of this Report:@ https://www.gminsights.com/request-sample/detail/185
Speaking of the type of aircraft, it would be prudent to mention that military aircraft will depict considerable demand in aerospace plastics market in the forthcoming years. This is basically on account of the rising security concerns across the globe as well as the subsequently increasing defense expenditure.
The rising adoption rate of plastics in military aircraft can also be attributed to the fact that plastics offer effective insulation from radar. Driven by the demand for weight reduction in aircraft and the provision for zero conductivity, military aircraft based aerospace plastics market is likely to gain major impetus over 2019-2025.
Geographically, Asia Pacific will account for a substantial proportion of aerospace plastics market share in the years to come. The growth can be primarily attributed to the surging demand for military and commercial aircraft. India and China will contribute significantly towards the regional growth. Europe aerospace plastics industry on the other hand, is also predicted to record a considerable growth rate over the coming timeframe, aided by France, Germany, and UK.
North America is expected to hold the highest share in aerospace plastics market, in terms of volume, by 2025. The reason for the same can primarily be credited to the presence of innumerable product manufacturers in the region, that have their focus set on producing highly fuel-efficient aircrafts. Not to mention, the region is controlled by a stringent regulatory landscape, which would also help augment the domestic share.
Rising fuel costs are also encouraging aircraft manufacturers to incorporate plastics in aircrafts. Of late, aircraft manufacturers have been producing customized plastic manufacturing processes in order to substantially enhance their profitability as well, which would further contribute to improving North America aerospace plastics market outlook.
The competitive spectrum of aerospace plastics market comprises companies like Mitsubishi Chemical Advanced Materials, Saint Gobain, Ensinger, SABIC, Drake Plastics Ltd., Victrex, and BASF SE. Often, industry contenders are found engaging in tried-and-tested growth tactics such as mergers & acquisitions in tandem with novel product launches in order to consolidate their stance in the industry and enhance their product portfolios as well.
Author Name : Sunil Hebbalkar