CAD
The rapidly growing adoption for high-precision, graphics-oriented applications in the automobile and healthcare sectors is certain to fuel GPU market growth in the forthcoming years. GPUs have become an essential part of today's mainstream computers and mobile devices and have been characterized by remarkable advancements with respect to performance and capabilities. The product successfully offers added support for analyzing complex datasets in a quick manner and is increasingly gaining traction in almost all consumer electronics straight from laptops, PCs and smartphones to car infotainment systems and latest digital systems.
Asia Pacific GPU Market Revenue, By Region, 2017 & 2024 (USD Million)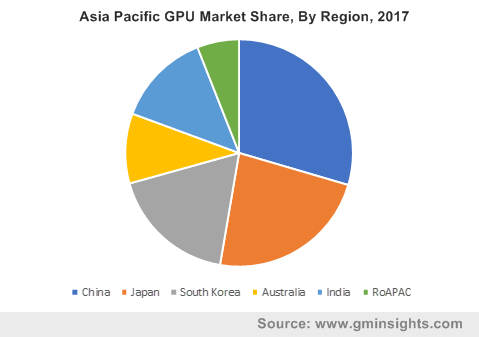 With the growing adoption of IoT devices that gather huge amounts of data which needs to be monitored and analyzed, the demand for high-end computing systems has effectively increased in the automotive sector. Reports suggest that the GPU market will amass quite some returns from the automotive sector owing to an increase in the use of GPUs to accelerate engineering and design applications. As the automotive industry is focusing on developing new vehicles with enhanced design & functionality, GPUs have found applications in CAD/CAM software. With the rising demand for these software increase, the GPU market is expected to witness an accelerated growth rate in the years to come.
Get a Sample Copy of this Report @ https://www.gminsights.com/request-sample/detail/3088
Another application vertical that will help propel GPU market is healthcare, owing to the demand for precision medicine and value-based healthcare. Real-time data has become more vital for healthcare organizations as clinicians seek more accurate information for diagnosing patients during their initial visit. Reports claim that healthcare providers and life science firms are among the 92% of the cross-industry organizations that plan to invest in near real-time big data analytics applications in the future. For instance, in April 2018, tech giant Google announced plans to reinvent the healthcare industry of U.S. with a focus on big data and AI. The company is reportedly using its know-how in AI to create a new system for the detection, diagnosis, and treatment of diverse diseases, that certainly will require GPUs for processing complex data, further augmenting the growth of the GPU industry.
Irrefutably, the gaming domain will be one of the most proliferating end-use sectors of the global GPU market. Mobile gaming is currently acknowledged as one of the fastest growing segments in the game industry – indeed, mobile users demand more immersive, connected gaming experience which provides high-resolution visual graphics and high-fidelity audio. Growing penetration of smartphones and tablets is also fueling the growth of the gaming industry. For instance, according to the ESAC Report 2018, in Canada around 80% users view video games as mainstream entertainment. Furthermore, reports from the Germany Trade & Invest cite that, in Germany, personal computers (PCs) stand as the most preferred gaming platforms with around 18.4M active users, followed by smartphones (17.2M), consoles (15.6M), and tablets (11.5 million).
The rapidly growing use of gaming devices and the paradigm shift towards online gaming are bound to upsurge the demand for high-end graphic processors to support gaming applications. As per estimates, the gaming sector is anticipated to hold a major share of 34% in the GPU market by 2024.
Some of the most preferred brands that have made a mark in the GPU industry include Nvidia, AMD, Intel, Microsoft, Google, IBM, PTC, Qualcomm, and S3 Graphics. GPU chip makers have been making heavy investments in addition to forging partnerships for developing new and better performing products. For instance, in January 2019, Nvidia announced its partnership with luxury carmaker Mercedes-Benz to develop a new automotive AI platform that could effectively offer control to the automaker's electronic gears equipped in its new car segments.
Author Name :Mateen Dalal
Robust advancements in technology have led to a rise in the deployment of IT-based solutions, impelling GPU as a service market size. Nowadays, GPUs (graphics processing units) are being predominantly integrated with the CPU (central processing unit) in self-driving cars, artificial intelligence, and high processing power computing, subject to consumer demands for the installation of graphics in their systems.
APAC GPU as a Service Market Share, By Region, 2018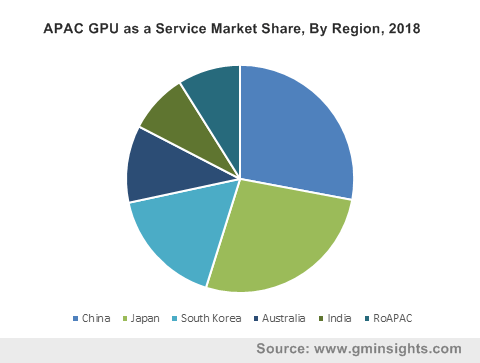 In the coming years, it is expected that the surging automation in vehicles for ADAS, internal infotainment, and other significant applications are likely to contribute toward enhancing GPU as a service industry outlook. It is prudent to mention that several product developers also prefer software-based systems such as CAD and CAM for improving the overall output efficiency and accuracy, which would considerably propel GPU as a service market over the years ahead.
Considering the benefits of GPUs, numerous educational institutes have been extending invitations to industry biggies for supercomputer installation. For instance, the Central China Normal University has called upon Inspur to build a petaflop supercomputer, which will help the educational organization host deep learning workloads and traditional HPC applications.
The deployment of artificial intelligence in particular, is slated to have a significant impact on GPU as a service industry trends, on account of which numerous companies have been striving to improve their AI-based programs and products for learning institutions. The robustly increasing adoption of AI-based technologies across scientific and industrial disciplines is thus anticipated to play a key role in the growth of GPU as a service market.
Get a Sample Copy of this Report:@ https://www.gminsights.com/request-sample/detail/2143
In recent times, the role of graphics in the automotive domain has increased to quite an appreciable extent, given the massive deployment of electronic content in vehicles. In-car electronics have moved beyond fancy HMI and entertainment displays to passenger protection and safety monitoring systems. Automotive OEMs that implement consumer-centric infotainment and innovative safety features are now attracting more consumers, stimulating the demand for GPUs. Thus, the surging deployment of 3D graphics and safety applications in automobiles would heavily drive GPU as a service market share in the forthcoming years.
Numerous automakers, as on today, have been deploying advanced automotive safety features such as advanced driving assistance systems in vehicles to comply with regulatory norms for occupant and automobile safety. Consumers have also been observed to give more preference for safety features while purchasing the vehicles. It goes without saying that on account of the aforementioned fact, the demand for GPU based built-in computational units that effectively work on safety monitoring would increase by several notches, thereby augmenting the revenue graph of GPU as a service market.
In addition, some automakers are looking forward to speed-up real-time response by reducing the time required for parallel algorithm execution in ADAS with the help of parallel processing power of graphical process units (GPU), further boosting this business vertical. In essence, the shifting trends toward the development of autonomous cars is likely to boost GPU as a service industry share in the future.
The latest trend proliferating GPU as a service industry is the growing utilization of 3D graphics in the expanding iOS and Android mobile applications. Undeniably, 3D gameplay, UI, and visual captive content are mandatorily being implemented in every mobile operating system. Each one of these implementations demands the deployment of a graphics card for improved functionality, that would commendably impact GPU as a service market share.
Effectively, the escalating usage of 3D graphics in mobile devices and the development of fancy UIs incorporating 3D graphics will stimulate GPU as a service market size, forecast to cross a revenue of USD 7 billion by 2025.
Author Name : Sunil Hebbalkar