Camera
Global precision farming market share, over the recent years, has been witnessing meteoric rise owing to the laudable initiatives undertaken by regional governments to combat declining agricultural productivity. The farming sector has perpetually been marred with several challenges including a marked increase in the cost of production, restricted employment opportunities, fragmented land holdings, degrading and diminishing natural resources, etc. Moreover, the rapid pace of urbanization and the burgeoning population has further aggravated and contributed toward further deterioration of the farming sector which already is in shambles.
APAC Precision Farming Market Size, By Country, 2018 & 2025 (USD Million)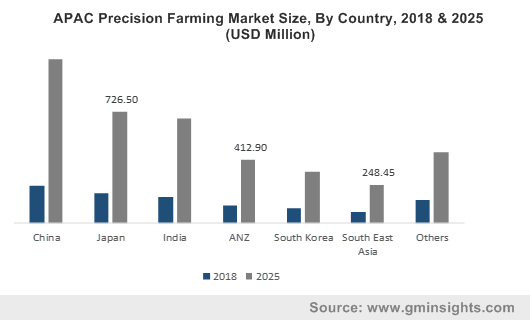 In order to tackle these massive impediments, the farming community across the world is now gradually incorporating numerous advanced precision tools in their farmlands to accomplish various objectives such as greater sustainability, realize higher financial benefits, and to lower environmental harm. Apparently, as a consequence of the aforementioned aspects, the overall precision farming industry size is bound to record commendable growth in the forthcoming years. In fact, as per the statistics noted in the recent study conducted by Global Market Insights, Inc., precision farming market is estimated to register a striking double-digit growth rate over 2019-2025.
Elaborating further, it is quite prudent to mention that the foremost stakeholders of the precision farming industry have been focused on leveraging the prowess of advanced technologies such as big data and IoT. These technologies have proved to be of immense help to obtain precise insights of farming situations which would further aid in better forecasts about agricultural outcomes.
Citing an instance affirming the efficacy of technology deployment is the participation of Israel based precision farming industry giant Evogene in a consortium sponsored by Israel Innovation Authority. As has been reported, the consortium consists of a dozen precision farming industry players and universities which would aim to develop plant phenotyping technologies by deploying comprehensive artificial intelligence algorithms and big data. The real-time analysis of this data is likely to assist farmers in dealing efficiently with unpredictable crop season and enhance systems and tools for precision agriculture.
Get a Sample Copy of this Report:@ https://www.gminsights.com/request-sample/detail/227
Speaking of the prospective growth of the precision farming industry, US is likely to emerge as the strongest contender due to its swift adoption of progressive technologies in the farming sector. The well-developed infrastructure and presence of supportive government policies would further assist in rapid product penetration in the nation.
One of the chief federal agencies of US Department of Agriculture, the National Institute of Food and Agriculture (NIFA), has unveiled a precision, geospatial, and sensor technology program to deliver decision tools that would enhance management capabilities of enterprises partaking in precision farming industry. The program would reportedly address problems such as narrow profit margins and rising global competition in the farming sector. Furthermore, the initiative intends to judiciously monitor, measure, and micromanage the existing resources to accentuate efficiency and increase farm incomes of the producers, processors, and the overall farming community. Therefore, it is quite undeniable that the remedial measures undertaken by the government would revive the fortunes of the US precision farming market in the forthcoming years.
Apart from government initiatives, numerous major US based precision farming industry players have been releasing cutting edge products to retain their preeminence in this highly combative business space. For instance, Illinois headquartered Precision Planting recently launched a total of 3 new products in the precision farming market. The firm has released a 20|20 monitor which offers an advanced agronomic picture which enables farmers to optimize planting and harvest decisions with a smart interface. The second product is named as SeederForce, which is a progression automated downforce control system utilized in the air-seeder market. The third product on the list is a multi-hybrid planting system that allows for two hybrids to be planted in a single field by deploying a meter with a seed selector and a dual compartment hopper.
Despite management of data being one of the major hindrances to the growth of this business space, the application matrix of the precision farming market has encompassed weather monitoring, financial management, field monitoring, waste management, yield monitoring, irrigation management. As the application scope of precision tools increases in the ensuing years, the precision farming market is projected to observe an exponential growth rate, with a target revenue estimation in excess of USD 12 billion by 2025.
Author Name : Saif Ali Bepari
This entry was posted in Sustainable & Smart Technologies and tagged Automated Steering System, Camera, Component, Consulting & Training, Drones, Field Monitoring, Financial Management, Geomapping, Global Navigation Satellite System, Global Positioning System, GNSS, GPS, Hardware, High Precision Positioning System, Integrated Electronic Communication, Integration, Irrigation Management, Maintenance & Updates, Managed Services, Mobile Device, Precision Farming Industry, Precision Farming Market, Precision Farming Market Growth, Precision Farming Market Predictions, Precision Farming Market Research, Precision Farming Market Share, Precision Farming Market Size, Precision Farming Market Statistics, Remote Sensing, Services, Software, UAVs, Variable Rate Technology, Waste Management, Weather Monitoring, Yield Monitoring.