Canister
The global automotive EVAP systems market is estimated to register a commendable growth rate over the ensuing years, on account of the growing air pollution levels worldwide. Air quality is deteriorating day by day posing a huge risk to the environment, human health, and food security. Fuel evaporative emissions undeniably, are a significant contributor to global air pollution levels. The gasoline in the fuel tank gradually evaporates over time, contaminating the air with VOCs (Volatile Organic Compounds).
U.S. Automotive Evaporative Emission Control System Market, By Vehicle, 2018 & 2025, (USD Million)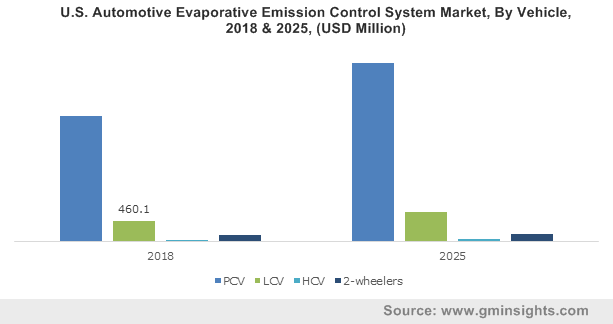 According to the Environmental Protection Agency, there are enough cases of such emissions to contribute to air pollution and pose a risk to environmental and human life. The fuel injected in a car consists of over 150 chemicals including toluene, benzenes and even lead, which can cause headaches, breathing issues, and in worst cases result in death. Hence, it is vital for carmakers to install EVAP systems in their models to control fuel evaporation, which would help expand the global automotive EVAP systems market size.
The need for manufacturers to equip their cars with EVAP systems is further encouraged by the imposition of stringent emission control mandates by governments throughout the world. For instance, Euro 5/6 regulations continue the Euro 4 limit of two grams of evaporative emissions each day. Regulation in the United States limits evaporative emissions to 0.5 grams each day over a three-day diurnal temperature profile.
Even though state regulations don't usually exceed federal regulations, the California Air Resources Board (CARB) permits the imposition of more stringent emission standards. Meanwhile, Japan has jointly developed emission standard by two ministries – The Ministry of Environment and The Ministry of Land, Infrastructure, and Transport. Emission limits in the country are almost similar to Euro 4 standards of two grams of emissions daily.
Get a Sample Copy of this Report @ https://www.gminsights.com/request-sample/detail/3222
It comes as no surprise therefore, that the global automotive EVAP systems industry is heavily governed by regulations. Indeed, according to Global Market Insights, Inc., OEMs presently dominate the global automotive EVAP systems market due to the rising product installations in an effort to conform to government regulations like CARB and Test Procedures to monitor vehicle performance.
One of the most significant reasons for driving the demand for EVAP systems around the world is the increasing rate of passenger vehicle production. In the year 2017, over 80 million passenger cars were produced worldwide, out of which Europe accounted for an appreciable share. Developing nations like India witnessed a significant rise in production from over 3.95 million units in 2017 to nearly 4 million units in 2018.
Recently, Mercedes-Benz Cars announced an investment of over $250 million euros in a passenger car plant in the Moscow region. Through the new plant, Daimler aims to meet the high demand for Mercedes-Benz E-Class SUVs and Sedans in the region. Owing to rising production, automotive EVAP systems market size is expected to witness an upsurge from passenger cars. Rising installation of EVAP systems in passenger cars to enhance fuel economy and reduce fuel losses will drive product demand.
In terms of regional growth, the Latin America market held considerable revenue share owing to rising concerns pertaining to fuel evaporation paired with the imposition of supportive international policies to control air pollution. According to an assessment released by UN Environment and the Climate and Clean Air Coalition, poor air quality and climate change are taking a toll on vulnerable population and environment within the Americas, leading to premature deaths, ecosystem damage, and crop yield losses.
Brazil, which is the fourth largest vehicle market in the world differs from larger economies in terms of policies to promote vehicle-efficiencies. However, the government in these nations and other key vehicle markets in Latin America are working to adopt international best practices regarding emission control to the local economic and policy context. Successful implementation of regulatory practices would further augment the Latin America automotive EVAP systems market share in the coming years.
Key factors such as increasing vehicular emissions, rising awareness regarding poor air quality along with a rise in vehicle manufacturing and supportive government regulations will continue to induce considerable possibilities for industry expansion in the coming years. For the record, the global market is also estimated to surpass a valuation of $65 billion by 2025, according to a research report by Global Market Insights, Inc.
Author Name : Krithika Krishnan
Household Vacuum Cleaners industry size is expected to grow at a rate of 4.6% over the period of 2016-2024. Changing urban lifestyles and demand for precise & real time technologies will mainly drive the household vacuum cleaners market size over the coming timeframe. Tight schedule and active lifestyle makes time saving mandatory. Dual-earning families and middle income groups will face time-constraints to manage household chores. Therefore, accomplishing everyday domiciliary tasks besides the hectic work schedule will propel household vacuum cleaners industry growth.Rising living standards and enhanced consumer spending capacity on luxury appliances will further drive household vacuum cleaners industry revenue. Increasing awareness pertaining to time-efficiency, convenience and benefits derived due to vacuum cleaners use is expected to promote household vacuum cleaners market trends over the coming years. Moreover, swift advancements in technology supporting innovations will make it more energy efficient, economical, and user-friendly.
APAC Household Vacuum Cleaners Market size, by product, 2013-2024 (USD Million)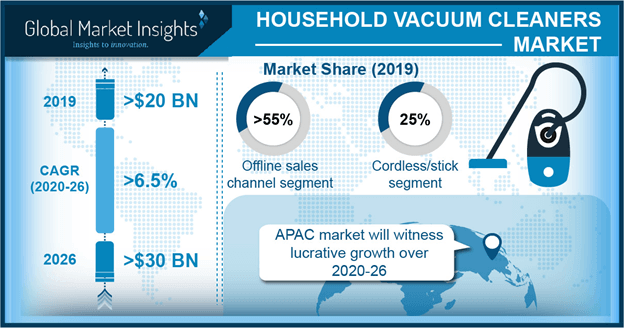 Major household vacuum cleaners comprise Upright, Canister, Central, Drum, Wet/Dry, and Robotic cleaners. Robotic household vacuum cleaners market share will reach USD 3.5 billion by 2024, owing to its innovative features such as acoustic sensors, automated mapping capabilities, self-charging, and sweeping brushes. High demand for mobile support applications is expected to drive its growth over the coming years.
Get a Sample Copy of this Report:@  https://www.gminsights.com/request-sample/detail/709
Upright vacuum cleaners led the product landscape, owing to its small size and high performance ratio. It is anticipated to contribute over 25% of the overall household vacuum cleaners industry share by 2024 and will register a CAGR of 3.2% over 2016-2024. The growth can be attributed to major features such as small size with high suction capabilities and large cleaning surface area which adds to its high performance.
Canister vacuum cleaners market is expected to register a CAGR of 4% over the timeframe of 2016-2025, owing to its user-friendly features.
North America household vacuum cleaners market is expected to witness a high growth over the next few years on account of rising time constraints for home-based cleaning along with heath & hygiene awareness among consumers. U.S. is expected to contribute significantly towards the regional share.
Asia Pacific household vacuum cleaners industry share worth USD 3.7 billion in 2015, is expected to grow at a CAGR of 5.2% over the coming eight years, owing to its high demand.  India, Japan, and China are predicted to boost the regional revenue.
Market players will try to grow their regional presence and ROI through mergers & acquisitions and product differentiation. They will try to compete in terms of price, product branding, technology, performance, energy consumption and quality. The key industry participants include TTI Floor Care, Oreck, Dyson, Stanley Black & Decker, Panasonic, Samsung, Royal Philips Electronics, Eureka Forbes, Haier Group, iRobot, and LG.


Author Name : Ojaswita Kutepatil