Canthaxanthin
Rampant application of carotenoids across food & beverages, cosmetics, pharmaceuticals, and animal feed industries has fueled carotenoids market size. According to Global Market Insights, Inc., "Global carotenoids market share is projected to surpass USD 300 million by 2024." Heavy use of carotenoids in the nutraceutical industry, owing to its positive effect on immune & cardiovascular system are expected to boost the carotenoids industry trends over the coming years. Higher spending on medical & healthcare insurance services along with the growing life expectancy of aging population is further expected to stimulate the global industry size over the next few years. Carotenoids act as a main precursor for amino acids in animal feeds and possess anti-oxidative characteristics, further enhancing its demand across animal feed additives market.
U.S. Carotenoids Market size, by product, 2015 & 2024 (USD Million)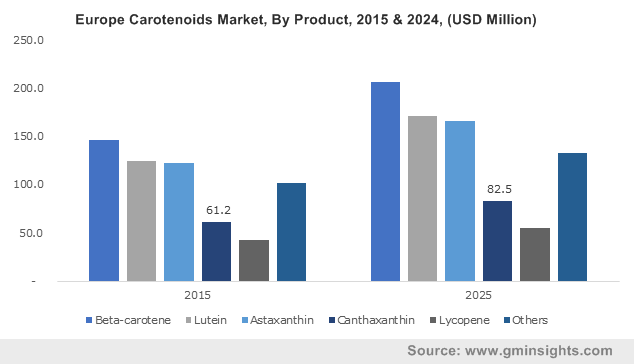 Major carotenoids products comprise lycopene, beta-carotene, astaxanthin, lutein, and canthaxanthin. Beta-carotene industry size worth USD 40 million in 2015, is forecast to register an annual growth rate of 4% over the coming seven years. Heavy product demand can be attributed to its increasing usage as an essential ingredient in diets, to avoid ailments pertaining to the eyes, heart, and skin. Canthaxanthin, which contributed towards nearly 10% of the global carotenoids market share in 2015, is projected to witness a high surge over the next few years due to rising consumer preference for bakery items, snacks, breakfast cereals, fruits, and baby ingredients. Moreover, its extensive usage across cosmetics industry due to its anti-tanning properties will further stimulate the product demand over the coming years.
Get a Sample Copy of this Report:@ https://www.gminsights.com/request-sample/detail/855
Lutein is another major carotenoid product, forecast to witness a substantial growth in the near future. The growth will primarily be driven by its high demand across pharmaceuticals, food, dietary supplements, nutraceuticals, and animal feed applications. Lycopene industry worth USD 15 million in 2015, is expected to grow considerably over the next few years due to its high application in cosmetics and pharmaceuticals sectors.
Shifting focus of consumers towards natural products has pushed growth of natural carotenoids market. Natural carotenoids industry size is expected to register a CAGR of 4% over the period of 2016-2024. The other prominent extraction of carotenoids is from the synthetic sources. Synthetic carotenoids market dominated the source landscape with a market value of USD 190 million in 2015. Low production cost and easy availability of synthetic resources will boost its industry share over the forecast timeframe.
Carotenoids market size in food & beverage sector is anticipated to grow substantially over the forecast period, owing to its large-scale application as food additives globally. Animal feed sector, which accounted for nearly 30% of the overall carotenoids market share in terms of volume, is projected to grow considerably over the coming years. The growth can be credited to its high nutrient content and improved taste. Growing consumer preference towards healthy meat appearance is expected to boost the carotenoids industry growth.
LATAM carotenoids market is expected to witness a considerable growth over 2016-2024, owing to changing lifestyles, rise in per capita income, and high consumer awareness about the benefits of product use. Argentina, Peru, Brazil, and Chile are expected to be the key growth drivers of the region.
Europe carotenoids industry will witness a substantial surge over the coming years due to the rapidly expanding food sector along with heavy product use as food coloring agent. Russia, Germany, Italy, and France are likely to be the key revenue pockets of the region.
Middle East & Africa carotenoids market is projected to witness a significant growth over the next few years, owing to rise in the aging population as well as high demand for the product across health supplements sector.
Market players will try to enhance their share by adopting business strategies such as product differentiation and high R& D investments. Key carotenoids industry players include Cyanotech Corporation, Allied Biotech Corporation, Chr. Hansen, Divis Laboratories Limited, D.D. Williamson, and Naturex Company.
Author Name : Dhananjay Punekar