Car Sharing Market Analysis
The rapidly rising popularity of shared mobility has had a commendable impact on car sharing market trends. This vertical has lately witnessed the penetration of numerous start-ups that have been following the example set by prominent automakers, who are presently experimenting with peer-to-peer car sharing plans for extensive generating more revenue. The strategy that seems to be on the radar is that of upgrading and utilizing the existing vehicles for shared mobility instead of launching altogether new vehicles. This tactic has primarily been conceived to minimize traffic congestion and emission issues. As the awareness among the masses regarding transportation convenience and flexibility increases, car sharing industry outlook is likely to observe a transformation of sorts. For the record, in 2017, car sharing market size had been pegged at USD 1.5 billion, and is anticipated to increase commendably in the ensuing years.
UK Car Sharing Market size, by model, 2017 & 2024 (USD Million)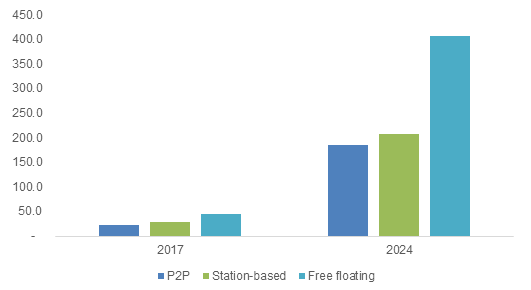 The advent of innovative technologies such as IoT, smartphones, and artificial intelligence have emerged to be rather lucrative for car sharing market players. Tech companies have been harnessing these applications to bring about advancements in cars in order to deem them convenient and user-friendly for shared mobility. The well-known ride hailing provider, Uber Technologies Inc., has recently developed a mobile supported software through which many users would be able to carpool via communication through the smartphone. Considering the ease of software-assisted ride-sharing services, the software is likely to be accepted and implemented by the masses. This further validates the fact that the increasing adoption rate of advanced technologies is slated to boost car sharing industry over the years ahead.
Presently, the competition among prominent participants in car sharing market is rather cutthroat. Companies have been vying against one another to consolidate their position in this business space, on the grounds of which they have been adopting tried-and-tested as well as novel growth strategies. A few days ago for example, renowned luxury car makers, BMW AG and Daimler AG collaborated to overtake ride haling services such as Uber Technologies, Inc. for which they conveniently have merged their car sharing services. The resultant team would comprise Car2Go of Daimler and DriveNow of BMW, thereby creating one of the strongest pooling service providers in car sharing market. In addition, they are also planning to launch smartphone apps for providing taxis, recharging electric autos, and locating parking spots. As other automobile behemoths would continue to follow suit, the revenue graph of car sharing industry is likely to witness an exponential rise.
Get a Sample Copy of this Report @ https://www.gminsights.com/request-sample/detail/719
Taking into account the increasing importance of ride-hailing across the globe, many players in car sharing market have also been planning to expand their geographical presence. One of the growth strategies they are likely to follow in this case is to offer reasonable and cheaper rates to consumers as compared to their rivals. For instance, the U.S. based car rental application operator, Turo is looking forward to expanding its reach across Asia by penetrating the Japan car sharing market by 2020. The company plans to collaborate with Sumitomo Corp. and other firms for the same and has even received a funding of USD 104 million. As of now, Turo has a wide range of customer base mainly across Germany, Canada, and U.S.
With new investors foraying in car sharing market lately, it is rather overt that the competitive scenario of this business space is doomed to be highly fierce in the ensuing years. Numerous service providers – the established ones as well as the new entrants, have been looking forward to implementing innovative technology features to their existing portfolio for attracting more consumers. In fact, it would seem as though the new stakeholders in car sharing market plan to offer cheaper services for establishing a strong user base across several geographies. This would, in turn, have a pivotal impact on the overall car sharing industry size, slated to register an appreciable CAGR of 20% over 2017-2024.
Author Name :Sunil Hebbalkar