Carbon Dioxide
Lifeline's recent launch of the latest edition of Zero 3620 fire suppression system marks another lucrative journey for the car safety giant in fire suppression industry.  Post the gala success of its patent Zero 3620 fire suppression series, Lifeline, somewhere toward the end of 2016, introduced Zero 3620 Firemarshal, reported to be the advanced version of the original system. As claimed by the experts, this state-of-the-art fire suppression technology not only offers outstanding performance but also scores a competitive advantage with regards to its cost when compared with other FIA 8865 approved series. In addition to this, Zero 3620 Firemarshal also meets all the revised fire suppression standards of FIA 8865 and has been especially designed to be used with diesel, unleaded petrol, and E85 fuels, cite reliable sources. Thriving on the foundation of the escalating requirement of fire safety in commercial and industrial sectors, which has pushed leading companies to diversify their product portfolio, fire suppression industry size is certain to widen its horizon in the coming years.
U.S. Fire Suppression Market, By End-Use, 2016 & 2024 (Million Units)

As reported by Global Market Insights, Inc., fire suppression market size will exceed a valuation of USD 16 billion by 2024, with the overall target annual installation to surpass 500 million units by 2024. Tremendous increase in the number of fire accidents and hazards over the last couple of years across the globe is stupendously driving fire suppression market size. Validating this crucial fact- International Rescue Services in one of the latest reports estimated that over 60000 injuries and 20000 casualties were recorded in the year 2014, due to fire. Considering these compelling issues, stringent government norms have been mandated on workers associated with mining and petrochemicals sectors to maintain occupational safety and control loss of property, which again has proved to be a major driver for the global fire suppression market outlook.
Get a Sample Copy of this Report@ https://www.gminsights.com/request-sample/detail/2059
The U.S. government, for instance, has established NFPA (National Fire Protection Association) codes and protocols for the standardization of equipment and protection systems across the country. Undoubtedly, it has brought remarkable proceeds in the regional fire suppression market trends. U.S. is one of those fire-accident prone regions where the record is noticeably high. In fact, National Fire Protection Association, in its latest report, stated that in the year 2015, America accounted for almost 1,345,500 fire accidents. Strong positive outlook toward building safety codes along with growing incidence of fire hazards is expected to stimulate the product penetration in this country. If experts' estimations are to be relied on, U.S. fire suppression industry is anticipated to exceed an annual installation of 150 million units in the coming seven years.
Europe is also claimed to be another lucrative ground for fire suppression market growth, with U.K at its foray.  In fact, U.K fire suppression industry, is estimated to witness a y-o-y growth of 3% over 2017-2024. Spreading awareness among the Europeans with regards to increasing adoption of fire protection system has fostered the regional market proliferation. Additionally, the European Commission estimates that approximately over 70000 people get hospitalized every year from fire hazards with a subsequent damage of almost USD 148.6 billion. Unfortunately, the percentage is increasing day by day, which proves to be a significant contributing factor contributing to the regional fire suppression market share. The British government in this regard, has taken substantial steps toward the development of workplace safety especially across residential and commercial sectors. For Instance, The BAFSA (British Automatic Fire Sprinkler Association) deals with building codes that standardize the installation, design, and sprinklers in residential complexes of U.K. The British government has also mandated that the premises with heavy electrical equipment should have installations of 5kg CO2 extinguisher. For fire suppression industry players, this is a vital factor to be taken into consideration.
Global fire suppression market is characterized by the participation of some of the renowned biggies like TYCO, Amerex Corporation, United Technologies Corporation, National Fire Equipment Ltd., SFFECO, Minimax, and Master Fire Preventions Ltd.  These giants are increasingly focusing on product innovations which are endowed with advanced technological affluences. For instance, Tyco, in the year 2015, introduced a novel ESFR pendent sprinkler for storage and warehouse application with an objective to strengthen its business position in the competitive landscape. Looking at the incessant effort taken by the leading companies toward the upgradation of their product portfolios along with consumers' growing awareness toward fire safety, it is undeniable that fire suppression industry would profoundly enhance its profitability landscape over the forthcoming years.
Author Name :Satarupa De
Gas sensors market is one among the few vibrant business spheres where innovations and technology quite aptly outline the key to profitability and opportunities. The industry participants are thoroughly investing in research activities to bring product improvisations in terms of advancements and sustainability quotients, that in extension is enhancing the product and commercialization matrix of this fraternity.
India gas sensors market, by end-use, 2017 & 2024 (USD Thousand)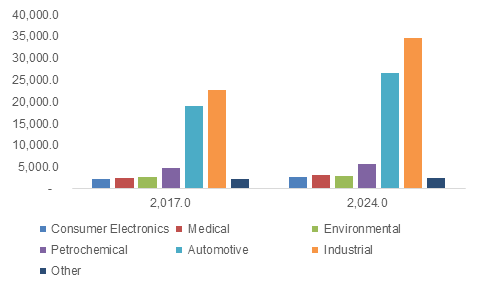 Backing the fact with a recent case in point – Sensirion AG, a leading manufacturer of high-end sensors, has bestowed the marketplace with novel gas sensors that are not only technologically progressive, but are also environmentally viable. As claimed by the experts, Sensirion's upgraded solutions offer precise air quality information based on some of the major environmental grounds such as VOC content, humidity, carbon dioxide presence, temperature, and particulate matter content. Undoubtedly, such exemplary initiatives undertaken by the renowned giants with regards to environmental sensing have opened up a slew of lucrative opportunities for gas sensors market players, in terms of commercialization and sustainability.
In terms of revenue, Global Market Insights, Inc. reports the global gas sensors industry to have surpassed a valuation of USD 2.5 billion in 2017. Safety measures, of late, have become an integral axiom in the manufacturing space, subject to the stringent regulatory framework regarding workplace safety and health hazards due to poor air quality. Gas sensors industry trends is heavily influenced by the growing governmental initiatives across the world. Companies involved in gas sensors industry are introducing innovative application-specific components that comply with the safety standardization such as CSA and ATEX.
Get a Sample Copy of this Report @ https://www.gminsights.com/request-sample/detail/123
In this regard, it is important to note that majority of these air quality standardizations and norms are implemented in industrial and automotive sectors. For instance, EPA's Clean Energy Act has already set limits on some of the air pollutants, that is claimed to be hazardous for the environment. The act also gives the EPA the power to limit harmful emissions of air pollutants from sources like utilities, chemical plants, and steel mills. These mandatory roll-outs have left a huge impact on gas sensors market penetration, subject to the fact that these aforementioned sectors are mandated to install gas sensors in the plants to curb air pollution by efficiently regulating harmful emissions.
Asia Pacific to strongly influence global gas sensors market growth
The expanding automobile sector and rising trend of automation across a myriad range of domains are chronicled to be some of the major factors driving APAC gas sensors market size. Reportedly, China and India are anticipated to be the major revenue pockets for APAC gas sensors industry. The growth in these regions can be primarily credited to the phenomenally increasing technological developments with regards to curtailment of hazardous air pollutant emissions.
Allegedly, China has been remarkably incorporating miniaturized and wireless sensors to enable convenient detection of toxic gases. Moreover, the growing urbanization and demand for technologically upgraded products such as E- compressor and E-turbo is further fueling China gas sensors market share. Beijing and Shanghai are touted to be pivotal contributors to the rapidly deteriorating outdoor air quality, that exceeded the set particulate matter concentration by the WHO by a substantial proportion in 2017, which has further impelled China gas sensors market.
However, in parallel to these developments the industry is also facing some major challenges with the exponentially increasing number of CO and CO2 sensors. The overcrowding of these devices has not only impacted the strategic landscape but has also raised a question on the product differentiation and innovations with regards to these sensors. Keeping this into consideration, the market players are vigorously investing in R&D activities to offer a diversified range of products, addressing the innovation and feasibility parameters. Some of the prominent names in the industry include Amphenol Corporation, Dynament, Bosch Sensortec, City Technology, Figaro Engineering Inc., Honeywell International Inc., Teledyne Technologies Incorporated, Trolex Ltd, and Siemens AG.
With the expanding application spectrum of gas sensors industry across a myriad range of sectors including consumer electronics, medical, environmental, petrochemical, automotive, industrial and the increasing trend of wireless and miniatured devices, it is overt for this business space to record commendable gains in the ensuing years. Statistics project the global gas sensors market size to surpass USD 3 billion by 2024.
Author Name : Saipriya Iyer