Carbon Fiber Composites
The global ballistic protection materials & equipment market is slated to amass hefty returns in the ensuing years, on account of increasing terrorism, rising security concerns, and product design enhancements. The modern battlefield has become a complex theatre of threats, forcing nations to equip their armed forces with latest and finest instruments, thus enlarging the defense budget. For instance, South Korea recently made significant increment in its defense spending and unveiled plans to construct three additional 7,600-ton destroyers fortified with American-made Aegis combat systems & latest ballistic missile interceptors, in a bid to handle maritime disputes more efficiently.
U.S. Ballistic Protection Market by Materials & Equipment, 2014 – 2025 (USD Million)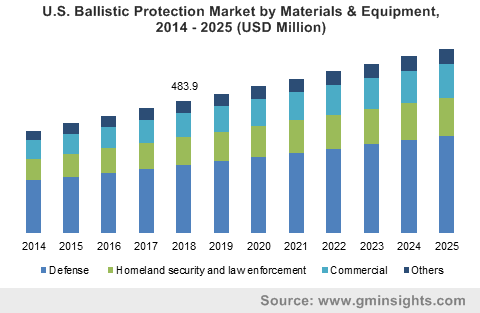 In line with changing battlefield dynamics, the military forces across the world have been supplying defense professionals with robust safety gadgets to safeguard them against treacherous environments. One among the greatest ballistic materials & equipment innovations of the modern age belongs to the Warsaw University of Technology which has designed smart passive body amour made from rheological fluids with nano structures, under its SmartArmour project. This innovative bulletproof vest uses the shear thickening fluid, which changes its viscosity abruptly and reversibly when exposed to an external force, by thickening and getting hard. These fluid based bulletproof vests also offer high comfort and easy wearability compared to traditional solid material based vests which are very stiff and uncomfortable to wear.
Militaries around the world are rethinking the requirements to meet the needs of future forces. Ballistic protection materials & equipment are extremely pivotal for protection against a diverse range of ammunitions such as high velocity bullet, rifle bullet, knife, explosive fragments, etc. The raw materials used in their production mainly include carbon fibers, glass fibers, aramid fibers, etc. Lately, Pro-gard has launched ballistic door panels which provide armed personnel added protection from open fire while inside their vehicles.
Moreover, these weatherproof panels can be deployed on both driver and passenger side doors and are extremely easy to install without any vehicle modification. As potential enemies expand their combat inventories in the coming years, the emergence of ground-breaking defensive technology is likely to be witnessed, capable of automatically detecting and neutralizing incoming threats before they attack the designated target.
Speaking of the current trend in the ballistic protection material & equipment business sphere, the market behemoths are launching products with high strength & light weight characteristics which augment wearing comfort and offer easy usability in miscellaneous conditions. The LJD Aire ballistic helmet by ArmorSource is a classic example of user-centric ballistic protection material & equipment solutions. It is reportedly one among the lightest ballistic helmets available in the defense & law enforcement sector.
Get a Sample Copy of this Report:@ https://www.gminsights.com/request-sample/detail/2089
The revolutionary design of LJD Aire lessens the weight of conventional helmets by over 40 percent while exceeding the ballistic protection properties of other similar helmets. It offers extremely superior protection against a plethora of small fragments in addition to handgun bullets. Besides, it is very comfortable to wear due to its flexible and light weight pad system design.
The competitive landscape of the global ballistic protection materials & equipment market space is characterized by the presence of distinguished contenders such as Waco Composites, Toyobo, Protech Solutions, Inc., Evolution Armor, Armor Holdings, Protective Enterprises LLC, Homeland Security Group Intl, Texas Armoring Corp, DSM, Honeywell International Inc, DuPont, and Teijin Limited. These market majors primarily count on growth strategies such as geographical expansion, capacity enhancement, collaboration, portfolio augmentation, innovation, and mergers & acquisitions to expand their global reach and customer base.
Citing an instance for the same, last year, Texas Armoring Corp. made an announcement that it is setting up a new 40,000-square-foot facility in Honduras, which will allow the organization to more than double its production and allow it to better serve corporate, government, and non-government clients.
Powered by the need to bolster the war capabilities of defense forces, the products available in the ballistic protection materials and equipment market have instituted major changes in terms of weight, design, utility, and comfort. Lately, manufacturers in this business space are capitalizing on their R&D finesse to develop innovative and pioneering products, which can offer them an edge over the competition as well as fetch more revenues.
Author Name : Nikita Chaurasia
Rising end-user preference for lightweight, anti-corrosive, non-abrasive, and robust reinforcements will upswing FRP Rebars Market development. Regional governments have been spending huge capital on construction & renovation activities. In addition, swift infrastructural developments to enhance the urban landscape and promote regional tourism will majorly boost FRP rebars industry trends. For instance, Japan invested more than USD 738 billion in construction projects in 2015, while China allotted funds of over 1.7 trillion for infrastructural growth during that year. According to Global Market Insights, Inc., "Fiber reinforced polymer (FRP) rebars industry, worth USD 590 million in 2015, is expected to hit a targeted revenue of over USD 1.25 billion by 2024."
U.S. FRP Rebar Market Size, By Application, (USD Million), 2013-2024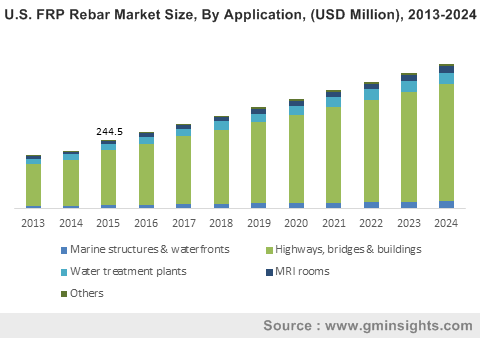 FRP rebars find extensive applications in MRI rooms, bridges & buildings, marine structures & waterfronts, water treatment plants, and highways. FRP rebars market size in the marine structures & waterfronts sector is predicted to grow at a cumulative rate of more than 7% over the coming timeline. An increase in the number of projects for constructing waterfronts and ports near seas and rivers along with the development of waterways as an effective mode of goods transport facility will contribute toward the business expansion.
FRP rebars industry revenue across water treatment plants sector, which was estimated at more than USD 50 million in 2015, is expected to witness a high surge over the coming years. Rise in the number of desalination plant projects and surge in the waste & water treatment plant constructions will impel the segment growth.
Get a Sample Copy of this Report @ https://www.gminsights.com/request-sample/detail/698
FRP rebars market share in MRI rooms sector is projected to record significant gains of more than 6.5% over the period from 2016 to 2024. Favorable features such as heat resistance, magnetic transparency, and electric resistance will boost the product demand.
Considering the geographical landscape, North America FRP rebars industry is anticipated to record a CAGR of more than 7% over the coming seven years. Escalated spending on building new structures along with beneficial legislations supporting infrastructure growth will enlarge the business scope across the region. U.S. FRP rebars industry, which contributed USD 270 million toward North America FRP rebars industry revenue in 2015, is expected to make notable contributions toward the regional share in the future. The country had spent more than USD 1 trillion on construction ventures during 2015.
Asia Pacific FRP rebars market is slated to grow at a rate of 8% over the years to come, owing to high product usage in the resistant edifice constructions along with the renovations of old structures. China, Japan, and India are likely to drive the regional revenue. MEA FRP rebars industry is projected to register an annual growth of 8.5% over 2016-2024, owing to strict regulatory compliances over the construction of new roads, railways, and airports as a result of growing safety concerns. Saudi Arabi and UAE are anticipated to be the major regional revenue pockets.
Europe FRP rebars industry is projected to record a CAGR of more than 6.5% over the coming seven years. Growing renovation activities across the commercial and residential sectors along with high product applications in MRI rooms, cable ducts, radio frequency field, and high-voltage substations are expected to boost the industry size. UK and Germany are predicted to push the regional development.
Glass fiber composites, carbon fiber composites, basalt fiber composites, and aramid fiber composites are the main FRP rebar products. Basalt fiber composites FRP rebars industry is expected to record a CAGR of 9% during the duration from 2016 to 2024, subject to exceptional product features such as magnetic transparency and rust resistance along with abundant product availability. Carbon fiber composites FRP rebars market is projected to grow at a rate of more than 8% over 2016-2024, driven by high product demand in floor slabs, bridge constructions, parapets, parking, ad decks & railings. Glass fiber composites FRP rebars market, which dominated the product landscape in 2015, is foreseen to witness notable gains over the years ahead. The growth can be ascribed to the product's prolific use by the consumers as a perfect substitute for stainless steel & galvanized reinforcements.
FRP rebars are also used in various kinds of resins such as vinyl ester and polyester resins. Vinyl ester FRP rebars market is forecast to grow at a CAGR of more than 9% over the period of 2016-2024, due to the outstanding corrosion resisting and thermal insulating features of the product.  Polyester resin FRP rebars industry, which collected a revenue of USD 460 million in 2015, is projected to witness a considerable development over the coming years. The business expansion can be attributed to the elevated product use as an adhesive in tarnished heritage structures along with its unique dimensional features and cost-effective nature.
Of late, industry players are employing key business growth strategies such as product development, pricing, and strategic partnerships to increase their market share. Fibrolux GmbH, Hughes Brothers Inc., Sireg Geotech Srl, Technobasalt Invest LLC, Marshall Composites Technologies, BP Composites Limited, Neuvokas Corporation, Pultrall Inc., and Composite Rebar Technologies Incorporation are the major participants of FRP rebars market.
Author Name : Dhananjay Punekar