Carbon Fiber
The escalating development of global automotive sector will generate lucrative growth avenues for automotive wheel market. Automobile producers have been adopting new manufacturing techniques to comply with emission control regulatory norms. Researchers have also been implementing novel product designs and improvised concepts to increase the fuel efficiency of vehicles, which in turn, will boost automotive wheel industry size. Rising spending capabilities of consumers across the globe is also fueling the product demand. Of late, consumers have been prioritizing comfort, durability, and product design, which will provide a significant impetus to global automotive wheel industry. In fact, estimates claim automotive wheel market to surpass USD 100 billion in terms of revenue by the end of the year 2024.
U.S. Automotive Wheel Market, By Material, 2017 & 2024 (USD Million)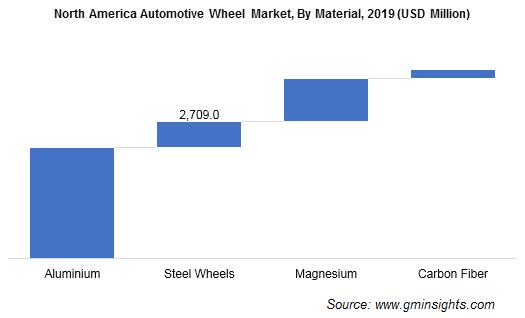 Major automotive manufacturers across North America and Europe are treading towards the production of lightweight vehicles, owing to the increasing concerns over environmental pollution. Aluminum is one of many materials that is used to construct these light weight vehicles, and has also been gaining popularity pertaining to the benefits it provides such as low weight, improved design, and excellent performance. The aluminum-based automotive wheel market will also experience commendable growth in the ensuing years pertaining to enhanced car handling and riding comfort, in tandem with the reduction of unsprung mass.
Surging innovations in product design has generated lucrative opportunities for various OEMs to penetrate automotive wheel market. In fact, OEMs dominated the automotive wheel market in 2017 and the segment is anticipated to retain its dominant position over 2018-2024 as well. The growth in the demand for OEMs in this industry can be appropriately credited to the extended durability, robust performance irrespective of weather, and reduced replacement rates.
Get a Sample Copy of this Report@ https://www.gminsights.com/request-sample/detail/1706
It is prudent to mention that OEMs have also benefitted from supportive manufacturing policies implemented by numerous Asian countries. The Asian zone, as a matter of fact, is anticipated to garner substantial returns in automotive wheel market, particularly on account of the expanding automotive industry in the region and the extensive automobile production across the economies of China and India. Indeed, APAC is known to have been a dominant regional contender and is expected to continue its leadership streak in the global automotive wheel market over 2018-2024. The regional growth can also be credited to the hefty demand for aluminum wheels in passenger cars in tandem with the requirement for aftermarket customization.
Rapid urbanization trends across the globe have changed the consumer standards of living, on account of which consumers across the globe have been giving preferences to passenger cars. Driven by rising passenger cars sales subject to increasing disposable income and high demand for mobility, automotive wheel industry size from passenger cars is likely to depict an incline in the years ahead. In 2018 alone, the European Automobile Manufacturers' Association (ACEA) observed registrations of about 12 million passenger cars, with a growth rate of 2.5% between January-September 2018. Even in China, in 2016, passenger car production was recorded at more than 24 million units. It is thus rather overt from these statistics that the commercialization scale of the global automotive wheel market will experience quite an upsurge from the worldwide demand and supply of passenger cars alone.
OEMs, in recent times, have been making strategic agreements with suppliers to expand the business space. Innovations in product design and manufacturing processes will create numerous growth opportunities for industry players in automotive wheel market. Mergers & acquisitions and joint ventures will continue to remain the key growth strategies that major companies will adopt, in order to stay ahead of their rivals in automotive wheel market.
Author Name : Saipriya Iyer