Carbon fibre composites industry analysis
Carbon fibre composites market is likely to carve out a successful growth path in the years to come, driven by the huge demand for these composites from the aerospace and automotive sectors. Carbon fibre composites are five times stronger than steel but only one third of its weight, making them viable candidates for building any structure that needs to be durable as well as lightweight. These composites are also used in robotics, defense instruments, race cars, aerospace vehicles, sports equipment and any other component that requires low weight combined with speed, thereby augmenting the already vast expanse of carbon fibre composites industry.
U.S. Carbon Fibre Composites Market, By End Use, 2016 & 2024, (USD Million)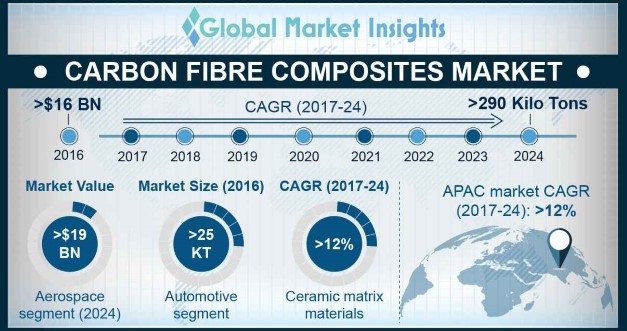 The growth in the aerospace domain is directly proportional to the carbon fibre market expansion, given the widespread use of carbon fibre composites in widebody aircrafts that has proven to be rather profitable in terms of revenue generation in commercial flights. In essence, the deployment of these composites has profoundly benefitted the airline manufacturing sector, since using these products in airplane bodies reduces fuel consumption as well as emissions, reduces maintenance costs, extends the lifespan of airplane parts, and brings down assembly and tooling costs. It also adds value to the passenger experience by damping engine noise and by creating favorable cabin atmosphere to prevent dehydration. It is estimated that carbon fibre composites will be used in the manufacturing of around 9,000 widebody aircrafts in the next 20 years, which is a direct growth indicator of carbon fibre composites market in the next few years. The demand for narrow-body aircrafts will also drive the carbon fibre composites industry, while simultaneously contributing toward making air travel more popular and affordable in the emerging economies of Asia and the Middle East.
The notion of reducing weight to achieve better fuel efficiency is expected to propel carbon fibre composites market from the automotive sector. Renowned automotive manufacturers like BMW have promptly taken note of the benefits of using carbon fibre composites in aircraft. BMW has also partnered with Boeing to tap into the latter's expertise in carbon fibre composites usage and is gearing up to become the largest carbon fibre reinforced plastics manufacturer in the automotive industry. It has been often argued that carbon fibre composites are too expensive to be produced and profitably used in the automotive industry. However, customers fond of high-end automobiles, it is observed, are willing enough to pay for the extended price, that can be mainly attributed to the use of carbon composites in automobiles. In consequence, this would have a commendable impact on carbon fibre composites industry share from the automotive domain. It is also prudent to mention that the use of carbon fibres can reduce the cost of production down the line, thus offsetting the upfront material cost of the raw material, which would prove to further provide an impetus to carbon fibre composites industry size.
Get a Sample Copy of this Report:@ https://www.gminsights.com/request-sample/detail/2180
North America and Europe, with their large aerospace and automobile industries will be the key regions massively driving the growth of the overall carbon fibre composites market. While North America is forecast to account for nearly 35% of the carbon fibre composites market share 2024, the presence of reputed automobile manufacturers in Italy and Germany will contribute to Europe carbon fibre composites market growth. Asia Pacific carbon fibre composites market on the other hand, will register a 12% growth over 2017-2024, driven by the fact that major manufacturers and suppliers of carbon fibre composites have their base established across countries like China, Japan and Taiwan.
Fluctuation in prices of raw material has been a major hindrance for the growth of the carbon fibre composite industry, though the expanding supply chain has stabilized the prices of raw materials in recent times. For instance, in 2005 the carbon fibre composites market was dominated only by 3 suppliers. But at present almost 20 competitors are vying for the top position, which affirms the profitable growth path carbon fibre composites industry has traversed until now.
High production cost and lack of recyclable qualities may also be attributed for a slight hindrance in the growth graph of carbon fibre composites market. But high production cost can be offset by the fact that carbon fibre composites are extremely resistant to corrosion related maintenance. For instance, Boeing 777 uses composite floor beams and in the last 10 years, none of the floor beams of the 565 commercial aircrafts required replacements. As the operational benefits of using carbon fibre composites are becoming more and more evident in aerospace, automotive and defense sectors, the growth path of the carbon fibre composites market is certain to depict a positive curve. As per estimates, carbon fibre composites industry size is expected to surpass USD 31 billion by 2024.
Author Name : Paroma Bhattacharya