Carbon Steel
Increased demand for long distance freight shipping will foster global shipbuilding industry, thereby driving ship plate market trends. The shipbuilding industry continually requires large quantities of structural steel plates primarily to build ship's hull, main deck and sides. The product is designed to offer enhanced features like high tensile strength, corrosion resistance, reduced ship weight and lower cost maintenance. It also provides good welding performance, processing performance and high surface quality.
China Ship Plate Market, By End-user, 2014 – 2025 (USD Billion)

With rapid development in the marine industry, ship plate market will witness exponential growth over coming years. Ship building industry trends such as demand for new, more environmentally friendly ships will further bolster ship plate market size. Moreover, rise in ship renovation and modification activities will augment product demand, fostering ship plate market growth.
Based on the product spectrum, ship plate market comprises two segments namely carbon steel and stainless-steel plates. Modern cargo tanks are mainly constructed using stainless steel plates owing to their superior mechanical properties and considerable corrosion resistance. Stainless steel differs significantly from standard carbon steel, primarily owing to the presence of chromium which reduces surface corrosion and unlike carbon steel doesn't get easily rust when exposed to air and moisture in sea.
These key properties have led to increased traction gained by stainless-steel plates market in the manufacturing of tanker vessels that carry toxic chemical products. Rapid growth in steel manufacturing industry along with development of enhanced materials will augment the growth of stainless-steel ship plate industry size.
Get a Sample Copy of this Report:@ https://www.gminsights.com/request-sample/detail/3734
In the modern ship building industry, a combination of duplex stainless steel and stainless clad steel are used to build cargo tanks which offer greater strength and excellent corrosive resistance. With increasing use of chemical tankers, carriers, and containers, stainless steel plate is expected to dominate ship plate market share in upcoming years.
Asia Pacific will secure about 90% of the global ship plate market share over the forecast period. Factors like increasing shipbuilding activities, availability of shipbuilding infrastructure and supportive government investment will drive regional ship plate market growth. Moreover, presence of shipbuilding conglomerates like China Shipbuilding Industry Corp., Mitsubishi Heavy Industries, Hyundai Heavy Industries, China State Shipbuilding Corp. and Samsung Heavy Industries will support ship plate industry expansion.
Credible reports cite that Asia's shipbuilding industry share is rapidly expanding, with China, Korea, and Japan accounting for over 85% of global production. Technological advancements in the shipping industry is estimated to propel market size. For example, in 2019, China unveiled the world's first intelligent Very Large Crude Carrier (VLCC) with a capacity of over 2.257 million barrels, trends  that are likely to drive ship plates demand.
Adoption of novel shipbuilding technologies coupled with rising investments will accelerate industry outlook in the future. For instance, in 2019, China Shipbuilding Industry Corp. (CSIC) announced plans to speed up development of intelligent manufacturing processes at its shipyards as part of its efforts to build high-end ships. Furthermore, CSIC recently signed agreements worth 14.3 billion yuan (around USD 2 billion) with domestic and global shipowners & customers in the shipbuilding, ship-financing and ship-leasing sectors, thus adding further credibility to the promising forecast for APAC ship plate market.
Increase in number of new cruise ship orders will drive Europe ship plate industry size. The region's shipbuilding industry is renowned for construction of complex vessels like cruise ships, ferries, yachts, and dredgers. It also boasts of a strong position in building submarines and other naval vessels. The region has secured significant number of shipbuilding orders in past couple of years.
In 2019, European cruise firm Riviera River Cruises announced plans to launch its sixth all-suite ship by 2020. In 2018, privately owned European operator MSC Cruises had announced orders for four ultra-luxury cruise ships worth over €2 billion euros (US $2.3 billion), with the first among these expected to go operational by spring 2023. With growing investments and cruise firm expansion, the Europe ship plate market size is anticipated to record momentous growth over the forecast period.
Ship plate market is primarily driven by rising development of new ship vessels and increase in trade activities facilitated by ship freight. Increasing use of stainless-steel plates owing to their excellent mechanical properties and corrosion resistance will boost industry size. Moreover, increasing shipbuilding activity in the Asia Pacific and Europe is anticipated to drive ship plate industry growth. Global Market Insights, Inc. estimates ship plate market size to surpass USD 38 billion by 2025.
Author Name : Mateen Dalal
Considering the increasing inclination toward integrating automation in a majority of the industrial domains, North America precision gearbox market is forecast to carve a profitable roadmap in the coming years. Despite the fact that gearbox technology has always been quite a popular name among manufacturing units since a while, the commercialization of North America precision gearbox industry has gained a remarkable momentum lately. Undoubtedly, technological affluences in major countries like U.S. and Canada has added an extra market value to these gearboxes in terms of reliability and accuracy. Companies involved in the industry are readily adopting long-term supply agreements to maintain the overall product demand, which at the same time would reduce the cost involved in the value chain. This, in effect, is sure to reflect in North America precision gearbox industry share in the coming years, having held a valuation of USD 371 million in 2016.
U.S. Precision Gearbox Market, By Product, 2016 & 2024, (USD Million)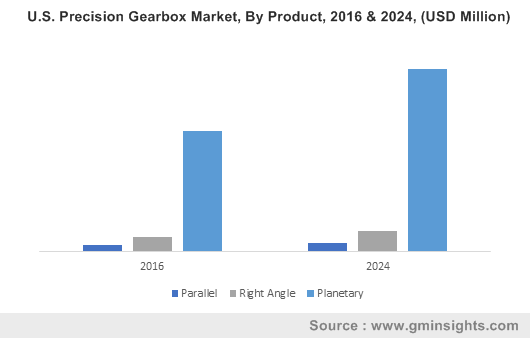 Speaking of competitive profiling, companies involved in North America precision gearbox market have been increasingly adopting some of the conventionally effective growth strategies, product differentiation being at the pinnacle. The recent partnership of Pinion Inc., and Gates Corp. to officially launch low maintenance bicycle precision gearboxes in North America is a validation to the aforementioned fact. As claimed by the company officials, Pinion is planning to opt for low maintenance shifting technology to enable comfortable easy bike rides. Citing another instance, EXSYS Tool Incorporation, another leading name in North America precision gearbox industry has recently enhanced its product portfolio with the launch of a novel type of high-quality EPPINGER gearbox. Reportedly, these new HT-type hypoid gearboxes feature robust and compact designs, suitable for a variety of dynamic and specific solutions. With many other leading giants likely to follow the trend, North America precision gearbox industry is expected to chart out remarkable growth over 2017-2024.
Get a Sample Copy of this Report:@ https://www.gminsights.com/request-sample/detail/2126
Boasting a wide application matrix including healthcare, automotive, agriculture & construction, E-mobility, material handling, façade technology etc., North America precision gearbox market size is forecast to exceed a valuation of 556 million by the end 2024.  Automotive applications recorded a remarkable revenue of over USD 122 million in 2016, and is expected to drive the application matrix over 2016-2024. The expanding automotive sector along with growing popularity of electric vehicles that demands optimum power and energy is sure to upscale North America precision gearbox market penetration.
U.S., having pegged the title of a major revenue contributor for North America precision gearbox market share, accounted for almost USD 332 million in 2016. Stringent regulatory guidelines set by the American National Standards Institute with regards to robotic application, transportation, and packaging are expected to boost the product penetration in U.S. over the coming years. The proliferating food and beverage sector is another important determinant that is expected to catalyze the regional growth, given the relentless innovations in food packaging technology and the growing investments in the developments of food production facilities. As per estimates, overall food and beverage applications is expected to witness a substantial y-o-y growth of 6% over 2017-2024. Having recorded enormous developments in the sectors where the application scope of gearboxes is huge, U.S. alone is slated to cover 90% of North America precision gearbox industry.
Advanced machinery, of late, has become a priority in most of the industrial sectors in North America. Integration of automation has raised the performance bar to great heights and has offered high potential in these industries, by ensuring a strong supply value chain. Technological breakthroughs over the years have further played a significant role in enhancing North America precision gearbox business industry size. As these gearboxes continue to meet a wide array of supply value challenges such as effective pricing and just-in-time delivery, North America precision gearbox market is foreseen to gain a remarkable traction over the ensuing years, with a target market size of 968.9 thousand units by 2017-2024.
Author Name : Satarupa De