Carbon
Owing to considerable rise in sustainable construction trend, the aerogel insulation market is slated to witness remarkable growth in the forthcoming years. Aerogels have apparently been in existence for more than 80 years now, however, it was only through recent advancements in production techniques that the material has been able to attain commercialization on a substantially higher scale. While changes in manufacturing processes have made the material easier to produce, a key factor endorsing the product is its unique structure, which is made up of approximately 99.9% air by volume. This characteristic allows aerogels to provide thermal insulation against the three heat-transfer methods- conduction, radiation and convection.
North America Aerogel Insulation Market, By End Use, 2018 & 2025, (USD Million)
Seemingly, NASA has long been using the material in its space exploration programs, with the most prominent example being its incorporation in the Mars Exploration Rover that was designed to withstand temperature fluctuations ranging from -96°C to 83°C. Driven by the insulating properties of the material and its increasing commercialization, the aerogel insulation market has gained immense traction across a plethora of industrial domains.
Impact of the expanding aerospace industry on the aerogel insulation market
In essence, aircrafts need both thermal and acoustical insulation to make the flight experience comfortable and safer for the passengers. When a commercial aircraft is flying at 35,000 feet, the outside temperature could drop to -51°C and without proper insulation, air travel would become a significantly more uncomfortable experience.
The Drivers: Traditionally, fiberglass batting filled in a plastic pillowcase had been used for insulation in aircrafts. However, since aerogel's insulation capabilities are so robust, as proven by their use in the Mars Exploration Rover, besides the material being light weight, aerogel insulation solutions hold a significant advantage over conventional solutions. Undeniably, the aerogel insulation market is projected to witness substantial gains from its application in the aerospace sector over the forecast timeframe.
The Advancements: In 2018, Aerogel Technologies LLC reportedly invented a new manufacturing technology that allowed aerogel panels to be manufactured with plastic-like durability and having much bigger dimensions. The material was 15 times lighter than plastics, exhibited 34% better insulating ability as compared to Styrofoam and provided soundproofing capabilities a thousand times more effective, making them ideal for insulation in aircrafts.
The Numbers: According to Aerogel Technologies, by replacing approximately 10% of the plastics utilized in a Boeing 737, aerogel insulation could save an airline company such as Southwest approximately $500 million to $1 billion annually in fuel costs alone. Evidently, the aviation industry will account for a sizable chunk of the aerogel insulation market revenues in the imminent future.
Get a Sample Copy of this Report:@ https://www.gminsights.com/request-sample/detail/3333
Impact of the growing sustainable construction trends on the aerogel insulation market
Encouraged by the goals set under the Paris Agreement, the sustainable development trend has gripped the global construction industry. Opportunities for growth in this sector are substantial, as construction and building maintenance accounts for a majority of the world's power consumption and carbon emissions.
The Necessity : As reported by American Ceramic Society, over three-quarters of the electricity used across the United States goes towards making the nation's commercial, residential as well as industrial areas functional and comfortable. With copious amounts of energy being expended on controlling the inside environment through heating and cooling applications, a significant amount of strain is being put on the outside environment as well.
The Solution: Insulation is one of the most effective ways to reduce the total energy consumption, allowing structures to maintain indoor temperatures more efficiently. To that end, researchers at the Swiss Federal Laboratories for Materials Science and Technology, Empa, have developed aerogel solutions like Aerobrick, which allegedly decrease thermal conductivity by nearly 35%.
The Projections: Prompted by the efficiency of aerogel products in reducing power consumption and their ability to boost sustainability across a rapidly expanding business vertical, the aerogel insulation market is projected to accrue over $950 million from the building and construction segment.
In a nutshell, fueled by the growing adoption in aircrafts and crucial applications in the construction sector, the aerogel insulation industry is anticipated to experience substantial demand over the next few years. Reports estimate that the global aerogel insulation market valuation would exceed the $2.5 billion renumeration mark by 2025.
Author Name : Akshay Kedari
Powered by the rising concerns with regard to environmental degradability, global automotive composites market has gained a remarkable momentum over the recent years. The problem of exponentially increasing carbon dioxide emissions has been recognized as a matter of concern at a global level, in response to which, both the government as well as private entities are striving hard to combat this issue. Citing an instance with the regulatory frame of reference, The European Union (EU) has introduced norms that aim to limit the CO2 emission per vehicle to 95g/km by 2020. Reportedly, as of now, each vehicle in Europe emits approximately 133.3g/km of carbon dioxide. Yet another initiative being widely undertaken to curtail these emissions revolves around reducing the overall weight of the vehicles, subject to the fact that the lightweight automobiles depot a high fuel efficiency and a considerably lower rate of emission. The aforementioned fact can be validated by the recent trend of lightweight material adoption in the automotive sector spanning across the interior as well as exterior designs of the vehicles, that has led to a major revolution of sorts in automotive composites industry.
U.S. Automotive Composites Market, By Fiber, 2016 & 2024, (Kilo Tons)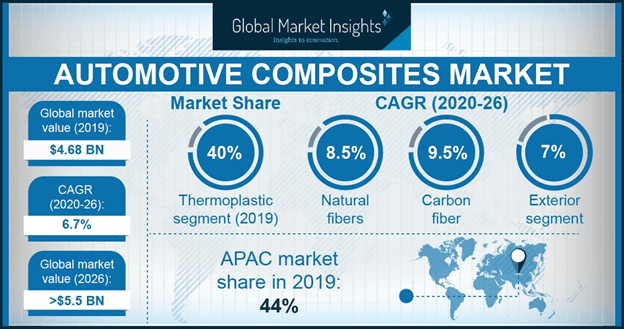 How McLaren Automotive took a step forward toward consolidating their position in automotive composites market
The demand for composite materials is expected to rise several notches higher in the years to come, on the grounds of which various educational research institutes and renowned players of the automotive composites market have been working diligently toward the development of novel composite materials through innovative technology. For instance, the British automotive composites industry player, McLaren Automotive, has recently constructed the McLaren Composites Technology Centre (MCTC) worth GBP 50 million, at Sheffield in UK, wherein the company plans to manufacture lightweight carbon fiber with advanced manufacturing processes. MCTC is also expected to commence the production of carbon fiber tubs for its automotive wings including supercars, sports and racing cars by 2019, further impelling the regional automotive composites market share. The UK government seems to be keenly encouraging education hubs to develop trained composite engineers and scientists in a bid to tackle any future challenges that might arise ahead, with regards to composite materials, that is certain to impel the regional automotive composites industry. Say for instance, the Higher Education Funding Council for England (HEFCE) has granted a fund of GBP 200,000 to the joint projects of the University of Bristol and the University of Plymouth to carry out research related to composite materials. This precedence indeed validates that the increasing involvement of research institutes and industry giants toward enhancing the product portfolio of this business space will stimulate UK automotive composites market size.
Get a Sample Copy of this Report:@ https://www.gminsights.com/request-sample/detail/338
The impact that the Trelleborg-Automated Dynamics deal may have on automotive composites market
It is imperative to state that automotive components manufactured with composites as a raw material have a longer shelf life that ordinary components and require lesser maintenance and less frequent replacements. These components can also be used as an alternative for metal bearings, owing to their massive endurance strength and eco-friendly features, that enable them to function without lubricants. Taking into account the diversified deployment scope of composites for automotive applications, major players in automotive composites market are looking forward to strengthening their position in this business space via mergers and acquisitions. For instance, in 2018, Sealing Solution unit of Trelleborg A.B. acquired the reputed advanced composite components manufacturer, Automated Dynamics, with an aim to improve its technology portfolio using Trelleborg's next-generation composites. It is also expected that the technological expertise that buyers would gain through strategic takeovers would leverage their presence in global automotive composites industry.
Currently, it has been observed that numerous governmental bodies, at the regional as well as international level, have been focusing on the deployment of renewable energy sources for overcoming the shortage of fossil fuel sources – a trend that is predicted to influence automotive components market. The prevalence of a strict regulatory frame of reference mandating specific norms encouraging the adoption of renewable resources will further enable the masses to incline toward electric vehicles. In consequence, this would increase the dependency on renewable energy sources in the future, which seems to be one of the pivotal strategies of the government to expedite the growth of automotive composites industry. In essence, the shifting trends toward green mobility and the elimination of carbon emissions are certain to have a considerable impact on automotive composites market outlook in the ensuing years.
Author Name : Sunil Hebbalkar
In the last few years, advanced polymer composites market has witnessed a remarkable growth graph with the increasing requirement for composite materials across the aerospace, automotive, and construction sectors. With the favorable advancements in the material science technology, researchers have successfully come up with a new range of products that have become alternatives for already existing metallic materials. These composite materials have nearly similar properties to that of metallic materials, but have far less weight density as compared to metal composites.
U.S. Advanced polymer composites market size, by application, 2014 – 2025 (USD Billion)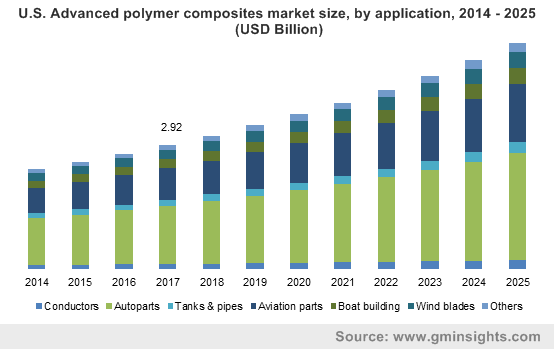 In this regard, the aircraft and automotive manufacturers have been giving preference for these materials for achieving higher fuel efficiency. Taking into account the demand for advanced polymer composites, key industry players have been looking forward to extending their product portfolio and regional reach. Tried-and-tested as well as out0of-the-box tactics adopted by companies to consolidate their position in the market is slated to expedite the advanced polymer composites industry size.
Recently in May 2018, the well-known aeronautical company, Airbus offered a long-term contract to Teledyne CML Composites to supply composite wings components and assemblies to its commercial airliner. In this contract, the UK based composite manufacturer will provide long range of composite parts for Airbus' A350-900 and A350-1000 aircraft wings. In order to manufacture both – the wings structure and fuselage of the A350 series aircraft, it has used a carbon-fiber reinforced polymer that will reduce the maintenance cost and improves components' resistance to corrosion. After receiving the long-term contract from Airbus, Teledyne CML Composites has considerably improved the quality of its composite parts that will help it to gain access to new business opportunities from several other end-users.
Get a Sample Copy of this Report @ https://www.gminsights.com/request-sample/detail/1175
As of now, numerous companies have been replacing metals with polymer composites for reducing the overall weight of the product assembly. In line with the increasing demand for polymer composites, polymer manufacturers have been focusing on new product developments, capacity expansions, and mergers & acquisitions. Validating the aforementioned fact, in the middle of 2018, Mitsui Chemicals Inc. decided to establish its long glass fiber reinforced polypropylene (LGFPP) production facility in the U.S. pertaining to the growing demand for fiber-reinforced resins across North America. This would considerably augment the commercialization potential of North America advanced polymer composites industry, which as per estimates, held 35% of the overall market share in 2017.
Speaking along the same line, Mitsui Chemicals will start its commercial operation by October 2019 with the production capacity of 3500 tons per year that will turn out to be rather beneficial for leading automakers. Owing to the excellent impact resistance, lightweight, better appearance, and hardness, LGFPP is preferred for automotive applications. In the last few years, with the increasing popularity of electric vehicles along with the deployment of strict environmental norms, the demand for LGFPP has increased remarkably. Reportedly, in line with the surging demand for automobiles across India and China, APAC advanced polymer composites market will register a CAGR of more than 8% over 2018-2025.
In addition to capacity expansions, several other contributors in the advanced polymer composites industry have been looking forward to enhancing their product portfolio with the strategic mergers and acquisitions. For instance, in June 2018, global provider of specialized polymer material, PolyOne has acquired leading manufacturer of high-performance and advanced composites, PlastiComp. This deal will become fruitful for PolyOne to improve its existing portfolio, aided by PlastiComp's expertise in the long fiber technology. In the future, PolyOne is planning to launch unique and long fiber technology composite formulations to expand its customer base. The strategies adopted by the players in the advanced polymer composites market to focus on the diverse application scope is poised to boost the industry growth over the years ahead.
The collaborative approach undertaken between the OEMs and product suppliers in line with the on-going product innovation and design changes is likely to impel advanced polymer composites industry trends. The shifting trends toward the development of lightweight components for improving the fuel efficiency and curbing emission also will have a positive impact on the product demand. Reportedly, advanced polymer composites market will surpass a revenue collection of USD 17 billion by the end of 2025.
Author Name :Sunil Hebbalkar