Caseinates
Industry Insights
Global Protein Ingredient Market size was higher than $22.1 billion for 2015 and forecast to record CAGR of more than 7.1% by end of forecast timeframe. Rising customer consciousness about health advantages from nutrient intake coupled with growing importance of its use in cosmetics segment as well as in food & beverages segment is predicted to industry expansion.
Further, favorable impact on cardiovascular health and diabetes prevention coupled with muscle building has positively stimulated the industry demand. Approvals by European Union and Food & Drug Administration to utilize protein ingredients in customer products coupled with its wider adoption in countries like Canada, Australia and Japan are projected to promote global protein ingredient industry expansion. In addition to this, rising penetration of the application in cosmetic items and personal care items due to its healthy features are projected to propel global protein ingredient market trends.
Europe Plant Protein Ingredients Market size, by product, 2013-2024 (USD Million)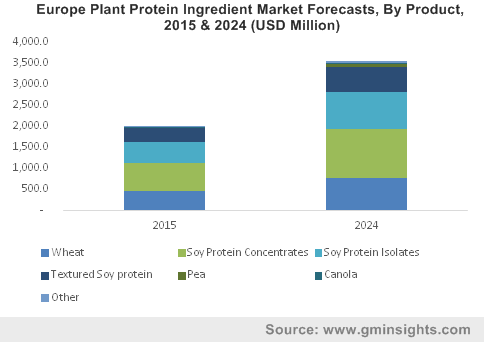 However, low adoption of other ingredients owing to lack of consciousness can inhibit industry growth. Limited supply of soybean as well as rising demand from alternate applications and channels are key factors projected to affect global protein ingredient market price.
View a summary of the "   Protein Ingredient Market size, Industry Analysis Report"
@ https://www.gminsights.com/industry-analysis/protein-ingredient-market

Product Insights
Global protein ingredient industry is segmented into products like dairy proteins and plant proteins. Dairy proteins segment is further sub-segmented into whey protein hydrolysates, milk protein concentrates, gelatin, egg protein, whey protein isolates, caseinates, whey protein concentrates and gelatin. Plant proteins segment is sub-segmented into textured soy protein, wheat, pea, soy protein concentrates, soy protein isolates and canola.
Soy concentrates sub-segment dominated plant ingredient segment demand and was worth higher than $2.1 billion for 2015. Easy digestion, high nutrition value and better fat retention ability are main features stimulating demand of the product. Soy protein use in baked items, poultry, pet foods as milk substitutes for calves and breakfast cereals are key applications driving industry growth.
Among plant ingredient, canola is predicted to experience high gains and predicted to record CAGR of more than 12.1% by end of forecast timeline. Pea protein segment size can surpass 31 kilo tons by end of forecast timeline with higher than 10.1% expansion. Egg protein ingredient sub-segment led the dairy protein segment and was evaluated at higher than $10.1 billion for 2015.
Whey protein hydrolysate which is the sub-segment of plant protein segment is anticipated to record greater than 6.6% of CAGR by end of forecast timeline. Approval by FDA (Food & Drug Administration) and USDA (U.S. Department of Agriculture) to use these products in medicines and bakery items due to its emulsifying features is predicted to drive the sub-segment demand. Further, its rising use in cosmetics sector owing to its enriched supplements in ski and hair items is predicted to fuel demand for the product.
Application Insights
Global protein ingredient market is segmented into applications like animal feed, infant formulation, food & beverages and cosmetics & personal care.
Animal feed segment is further sub-segmented into aquaculture and pet food.
Food & beverage segment ked the application segment and was evaluated at higher than $11.6 billion for 2015. Factors like enhanced nutritional production, decrease in mixture timings and rising food fiber contents contributed for the segment growth. It is predicted to expand in future due to rise in customer purchasing capacity specifically in nations like Indonesia, India, China and Malaysia that can propel global protein ingredient industry development.
Personal care products segment can experience highest gains and is predicted to record CAGR of more than 5.1%. Factors like outstanding skin hydrating features coupled with its natural origin source makes protein ingredients fit for applying in shampoos, skin creams and sunscreens. All these factors are predicted to boost the segment demand.
Regional Insights
Global protein ingredient industry is segmented into North America, MEA, Latin America, Europe and APAC.
U.S. protein ingredient market share led the regional industry demand contributing more than $6.6 billion in revenue terms for 2015. Customer choice for healthy items along with government acceptance to utilize these ingredients in infant formulas, food and cosmetics has fueled the regional industry expansion.
Europe protein ingredient industry contributed higher than $7.1 billion in terms of revenue for 2015 and is predicted to experience heavy industry expansion.
APAC industry is anticipated to register CAGR of more than 7.1% during forecast timeline owing to heavy food & beverage sales in nations like India, Malaysia, China, Thailand and South Korea. Rise in customer expenditure on food supplements, nutrition and healthcare owing to increase in buying capacity is projected to propel regional industry expansion.
Get a Sample Copy of this Report: @ https://www.gminsights.com/request-sample/detail/721
Competitive Insights
Key industry participants profiled in the report include Cargill, Crop Energies Bio Wanze, Archer Daniels Midland, Fonterra, DuPont Solae, CHS, NutraScience, Roquette, Mead Johnson, Rousselot, Bunge, Scoular, Burcon, MGP Ingredients, Tessenderlo and Kewpie Egg Corporation.