Cashless
Over the past few years, the overall self-checkout system market has grown by leaps and bounds courtesy the proliferation of retail outlets worldwide and the rising demand for a hassle-free checkout process. Numerous companies operating in the retail sector have been proactive in embracing cutting-edge technologies to alter the conventional norms of shopping. Citing an instance to highlight the rising influence of these systems, one of the most well-known apparel retailers Zara has recently implemented a self-service kiosk in its stores that let the buyer pick up orders that were placed online. Apparently, this would provide a personalized shopping experience to all consumers both in-store and online and aid them in making the right purchase decisions based on their personal preferences.
UK self-checkout system market size, by application, 2016 & 2024 (USD Million)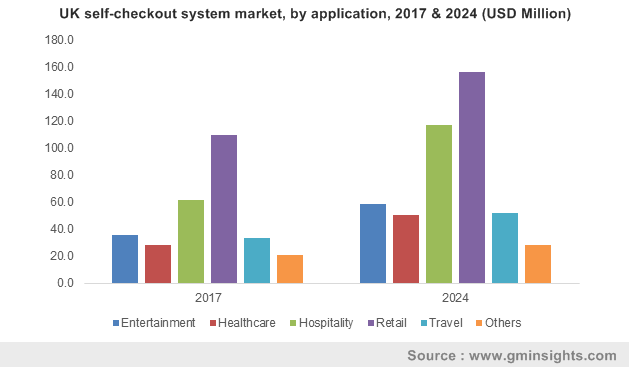 A concise overview of how the rapid emergence of smart self-service devices has impacted the self-checkout system market progression
In this regard, the prominent self-checkout system industry players have been manufacturing stationary self-service kiosks and scanners that assist in lowering the wait time at the check-out counter. Moreover, the rising trend of automation has proved to be rather financially beneficial to various business verticals. Enlisted below are a few instances which go on to reveal the increasing dominance of self-checkout system industry in the overall retail sector:
Get a Sample Copy of this Report @ https://www.gminsights.com/request-sample/detail/2433
It has been observed that multinational retail corporations along the likes of Walmart and Kroger have been optimistic in installing self-checkout systems across their grocery stores. Reportedly, Walmart plans to set up its self-checkout platform, 'Scan and Go', at around 200 stores by the end of 2018. On the other hand, Kroger has recently announced to roll out its self-checkout "Scan, Bag, Go" systems across close to 400 grocery stores. Apparently, these self-service kiosks would await consumers at the end of their shopping, where valid coupons would be tallied, and a final total would be calculated instantly. Needless to say, the development of such unique products by self-checkout system industry participants would assist a large number of retailers to cut costs and make the shopping experience more enjoyable for customers.
One of the foremost firm operating in self-checkout system market, Fujitsu Frontech North America Inc., showcased a new cash handling and cashless self-checkout platform at the National Retail Federation's 2018 Big Show and Expo. Apparently, the latest self-service kiosk is a smaller sized hybrid device that enables easier deployment and reduces remodel costs significantly. With the commercial launch of Fujitsu's self-service kiosk, retailers would be able to provide better customer service by freeing the staff now devoted to checkout procedure. Subsequently, the launch of such innovative products the overall commercialization potential of self-checkout system market appears promising.
In yet another instance that demonstrates the ingenuity of self-checkout system industry players, the Japanese conglomerate Toshiba has recently unveiled the next-gen self-checkout solution. The latest self-service device comes with sleek design complemented with complete modularity. Industry experts claim that the device would enable retailers to respond more swiftly to their business and customer requirements. The conceptualization of the device aims to challenge the prevailing norms by bringing about a drastic change in the retail sector, something which is likely to vigorously impel the growth prospects of self-checkout system market.
While elaborating upon the self-checkout system industry trends, it is quite imperative to mention that there has been a marked increase in the apprehensions regarding jobs being lost over the inclusion of such technology. However, it has been observed that retailers redeploy employees to fulfill immediate requirements within the store and assign complicated tasks that demand human intervention. Hence, numerous businesses have been adopting these systems to reduce costs, boost productivity, and add value to their brand.
Moreover, the escalating requirement of automated solutions across emerging economies and the growing trend of infrastructure development would expand the self-checkout system market share in the ensuing years. In fact, as per a report collated by Global Market Insights, Inc. the worldwide self-checkout system industry size is estimated to surpass an impressive USD 4 billion by 2024.
Author Name :Saif Ali Bepari